"What's the point of killing the theatrical experience?"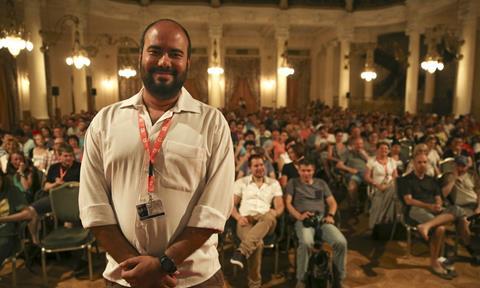 Renowned Columbian filmmaker Ciro Guerra made his big breakthrough with 2015's Embrace Of The Serpent.
The Amazon-set drama won rave reviews and earned a best foreign language Oscar nomination. Since the film's success Guerra admits "many doors" have opened, including to Hollywood, but he chose another Columbian-set film for his next project, the upcoming Birds Of Passage.
Screen caught up with Guerra at this month's Karlovy Vary International Film Festival and asked him about his next two films, the problem with Netflix and the biggest challenges for arthouse filmmakers.
Are there too many film festivals? Do they need to adapt to how the world is changing?
I think the reason why there are so many festivals is because there is a growing audience for them, because people are becoming increasingly tired of the same options.
As corporations devour the theatrical business and the production business on a massive scale, films tend to become equal, they tend to look and feel and sound the same and the audience gets very easily tired of that, so they flock to festivals to find something new.
It used to be that mainstream films could fulfil the wishes and dreams of the audience. It used to be that mainstream films could provide an emotional, intellectual and spiritual enriching experience. That was the case in the past and that is what made cinema so great.
But now people are realising that it is more and more difficult for people to find fulfilment in mainstream films and they are looking for other ways of storytelling, so that is why film festivals are growing. I see that everywhere. It is happening in my country too. We used to have couple and now we have like 60.
A film festival experience is something that Netflix or [another] internet aggregator site cannot buy. It's a different kind of experience.
Speaking of which, what do you think of how Netflix and Amazon are changing the film business?
Sadly these sites are turning into graveyards for films. You make a film, you spend years working on it, it gets financed, it gets made and then it gets put on a pile with literally tens of thousands of other films. It gets uploaded into a server as if it was an episode of a sitcom or a sports event and it loses its quality as a film.
So I think it's OK for people to discover films in any way they can, but films also deserve a chance to be seen on the big screen and to be met with and audience in the way that they are originally meant to be seen. Why attack the theatrical experience? It is like iTunes wanting to kill live concerts. What's the point of killing live concerts? What's the point of killing the theatrical experience?
What did your Oscar nomination for Embrace Of The Serpent do for your career?
It was definitely a life-changing experience. We had never had such a big international success before. Many doors were opened. I was offered Hollywood films, independent films and International films but for me I did not want to rush into making a big international film right away.
We had a project [Birds Of Passage, more below] we wanted to do before the success of Embrace. Personally, I am not thinking that much in terms of a career, I am not career focussed.
What do you think are the biggest challenges for arthouse filmmakers at the moment?
I honestly think that the biggest problem for the arthouse films is the way the distribution system is working and the way the films are being marketed to people. I really do feel that once Hollywood stopped making films for adults it made an opportunity [for the arthouse sector] because there is an audience hungry for these kinds of films. I've seen it and I've felt it personally.
It's an issue of how to distribute it and market it because you are coming up against the biggest corporations in the world. They want to make something homogenous like they would with cars or planes or socks.
But I honestly think that every crisis is an opportunity and right now there is a big opportunity for an audience that has grown up with cinema that has loved cinema and for whom it has become more difficult to find films that speak and appeal to them.
What do you think distributors could do better?
I think there used to be a film culture that was rooted in a love and appreciation around the value of cinema that has been affected by the rise of the internet, by the rise of blogging and tweeting.
This culture of loving film and nurturing film and nurturing the appreciation of film needs to be returned to because people are growing up in a culture where film is not appreciated or valued for the art form it can be. Films are reaching a market in which people have no idea what their value is.
Would you ever consider doing high-end television? And how have big-budget TV shows affected your ability to make films and hire good people?
When you say you want to make a film, everyone goes 'Well, maybe…' Everyone is scared. But when you say you want to make something for TV you have people literally throwing money at you and begging you for material. I say this from personal experience. I was shocked at how big the appetite was for TV from corporations.
The rise of high-end TV has really swallowed up a lot of cinema. A lot of people who really loved cinema have found that series are more engaging than the cinema that is marketed. We need these people to fall in love with cinema again.
It is very demanding to watch a TV show, multiple seasons could run for 50 hours while a film can give you an equally rewarding experience in the space of a couple of hours. It is tremendously generous whilst the point of TV is to make people waste as much time as possible. [TV] definitely has some narrative possibilities, but for me it can never be compared to what cinema can give you and the experiences that they have to offer.
What can you tell us about your next film Birds Of Passage?
This is a project we have been developing for a while. It's the first time that I've co-directed a film, with Christina Guerra, who has produced my previous films. It was a major experience for all of us, a completely different film from what we have done before. It's a genre film, a noir, but also a Greek tragedy, a western, it's also a Gabriel Garcia Marquez tale in a way. We're in the middle of editing now and putting it together, we have a long post-production schedule on the film and hopefully it will be ready next year.
It was definitely the toughest shoot I've ever had because of the extreme conditions, the heat, we shot in the La Guajira desert in the northern edge of Columbia. It's a place where very few films have been shot before, and definitely not a whole feature film. It was a major production, we had thousands of extras, a large crew. It's an epic story. We have never attempted something so complex before. It demanded a lot from everyone.
Right now, we're focused on finishing the film. Thankfully our previous film was very successful and the distributors and people who worked on it were very happy. We're collaborating again with Films Boutique, they were great on the last film and we have a great relationship with them, and I know that several of the distributors who we worked with before want to continue with this film, but right now our focus is to try and turn this material that we have into the best film possible.
How is Waiting For The Barbarians (based on the book by J.M Coetzee) with Mark Rylance coming along?
That project is still moving forward. Hopefully it will be the first time I work in the English language. I'm open to that because of the possibility of working with great talent and an international scale. For me the most important thing is the source material.
Coetzee's Waiting For The Barbarians is one of the great novels of the 20th century and there's been a plan to make a film of it for a long time. It's a challenge and a privilege to able to bring it to the big screen. It's planned to shoot in 2018 and should be released in 2019. It will be the first time that I have made a film a year back to back.