"How the hell am I going to do that?" Phoebe Dynevor admits her first reaction on reading the scripts for Netflix drama Bridgerton was surprise at the range of skills she would require to play Daphne, eldest daughter of the titular family in 19th-century England.
As well as speaking the Regency-era dialogue in the clipped accent of the upper class, Daphne plays piano, dances and has several intimate scenes with Regé-Jean Page's dashing Duke of Hastings. A six-week rehearsal proved essential. "There's a whole monologue in episode one where I'm riding a horse and I have a speech about being a woman," says Dynevor. "You can't go into those scenes without knowing what you're doing, otherwise the acting then fails."
The opening season shot for six intense months from July 2019 — a challenge, particularly given it was Dynevor's first leading role on screen. "I was working six-day weeks, 12-hour days and getting up at 5am — it was a tough job," says Dynevor, but one she adored. "It's such a gift when you get a role like Daphne, where you get to learn so many new skills and have such amazing scripts."
It also helped that Dynevor's experience was mirrored in Daphne's own journey from naïve, sweet youngster to a proud partner and equal to the duke. "The pressure that was on me was also on Daphne. I could relate to what she was going through and tried to use that whenever I didn't feel confident.
"If Daphne was born today, she would probably be running a business," continues Dynevor of her character's ability to successfully navigate the Regency world. "She is in charge — she ends up marrying the man she falls in love with.
"Nothing is out of her control," she adds, "but Daphne is a product of that time. It wasn't a time when women had a lot of freedom of choices. You either get married or you're a spinster; it was as simple as that."
Alongside sumptuous costumes and distinctive dialogue, Bridgerton is notable for steamy sex scenes, all of which were shot with training from and in the presence of an intimacy co-ordinator. Dynevor is passionate about the show's validation of female desire.
"It blew my mind reading the script. Seeing female desire and the female gaze and sexuality, I realised how little I had seen it in the past," she says. "I grew up with James Bond and seeing the male gaze all my life through every film. I was excited and grateful to be a part of this new world, hopefully, that is showing that more and more."
Dynevor also shrugs off the suggestion that shows centred on female perspectives and interests receive less critical and cultural acclaim than male equivalents. "If they did, then this show has proved that wrong for sure."
Streamer record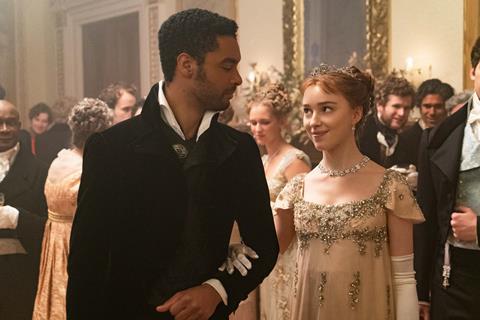 Bridgerton has been an audience hit since launching on Christmas Day 2020. After 10 days, Netflix was projecting 63 million households would watch it — partially or in its entirety — within the first month. It blasted past that figure, becoming the streamer's biggest series ever with 82 million households tuning in worldwide by the end of January 2021.
"At the beginning we [the Bridgerton team] all thought, 'Oh wow, it's doing well. Oh now it's doing really well… oh now it's doing really, really well!'" says Dynevor with a laugh.
That level of exposure changes the dynamic of an actor's job — and their life. "At a certain point you have to switch off from that because it can become overwhelming," she says. "Although I was thrilled with the success, it did get to a point where I felt I needed to step back and not keep such a close eye on everything. I think that has helped in the end."
Stepping back from the attention allowed Dynevor to move forward into her first feature role, in the true story of 20th-century ceramic artist Clarice Cliff in Sky Original film The Colour Room. Cliff was a working-class factory worker from the industrial UK town of Stoke-on-Trent who became a pioneering figure for women artists.
"She represents what I want to do more and more in my career, which is playing these brilliant female characters," says Dynevor. "She changed the pottery industry; and not only that, but how things were sold to women. It was the 1920s and all that was being marketed to women was make-up. So Clarice said, 'Hey guys, what if we market pottery to women, not just men?'"
Dynevor herself hails from Manchester, near where the artist grew up, but Cliff's unique voice still required training from a dialect coach. "Not an easy accent to nail," laughs the actress, explaining that she needed to mix northern English timbres with inflections of Midlands and Merseyside. The film shot for six weeks from mid-March 2021.
Cliff's social background is key to her story — "a woman who came from nothing, and ended up being very wealthy and everyone knew her name. That was unheard of." It is something Dynevor is keen to see given greater space on screen. "These stories aren't being told," she says. "From an actor's perspective, we need to get more working-class actors. That's something that starts from the bottom; and we can push through funding."
The Colour Room is directed by Australia's Claire McCarthy, whose credits include 2018's Ophelia, a reimagining of Shakespeare's Hamlet from the female perspective. Thembisa Cochrane and Georgie Paget of the UK's Caspian Films produce, with the script written by Claire Peate. Women also fill the first, second and third assistant director positions. Dynevor is proud of the female-led production team. "It's very important," she says. "It was a very female-led set. It adds a certain level of comfort."
Speaking in the wake of allegations of bullying and abuse levelled at UK actor and filmmaker Noel Clarke (which Clarke denies), the actress says she was "saddened" by the reports, and recognises the need for positive, open working spaces. "Bullying can come from anyone. We need to make sure we provide a safe environment for everyone, so everyone feels they can speak if they're being treated unfairly."
One such positive space for Dynevor is the Bridgerton set. When speaking to Screen, she had just completed her first day back filming season two in London. "I cried when I got on set, I was so happy to see everyone. It's such a lovely bunch of people and we all genuinely get along so well."
The show is based on Julia Quinn's eight-novel series, with each book following one of the siblings in the titular family. Adapted by Chris Van Dusen for Shonda Rhimes' production company Shondaland, the TV series has been renewed through to season four and will follow the same template, with season two focusing on Daphne's elder brother Anthony, played by Jonathan Bailey.
Shooting on the second season is scheduled to run throughout the summer, for which Dynevor is grateful. "Last time we were pretending it was summer in the middle of January, so that was miserable." Dynevor has no qualms about moving to a supporting role for the coming seasons, which will not feature Page's duke. "I will always want to come back and show support for whoever's story is happening that season. It's such a fun job."