Paapa Essiedu felt a huge responsibility to honour the writing of his friend Michaela Coel, in her groundbreaking series I May Destroy You. Screen talks to the UK actor.
Paapa Essiedu laughs when he remembers being told about I May Destroy You by the show's casting director Julie Harkin. The actor has been friends with the show's creator Michaela Coel for a decade, since their days studying together at London's Guildhall School of Music & Drama. "She had been writing this show for a long time," Essiedu recalls. "I had been with her when she was writing in Berlin, in America…"
Coel had not gone into detail with her friend about what she was writing, and he did not press for specifics. "I got a call asking if I would like to audition for Michaela's new show, and I'm like, 'Do you mean the Michaela who texted me 20 minutes ago?' She didn't mention anything!"
Although Essiedu, who was named a Screen Star of Tomorrow in 2017, shares a "common language" with Coel from their time at Guildhall, the pair had never worked together professionally. He had jobs in theatre (including Hamlet for the Royal Shakespeare Company at age 25) before taking on TV roles in the likes of Press, Kiri and Gangs Of London. And, he says, while all auditions are nerve-racking, this one for his longtime friend made him feel especially vulnerable – "because friendships, especially in England, are based on the idea of taking the piss out of each other".
More seriously, Coel, who was one of the show's directors and executive producers, knew immediately that Essiedu was her Kwame, the gay fitness instructor who is one of a trio of friends – also including writer Arabella (Coel) and aspiring actress Terry (Weruche Opia) – who navigate life in contemporary London after experiencing traumas [please note, spoilers ahead].
Arabella is drugged and raped in the first episode, and the more carefree Kwame is one of the shoulders she leans on as she pieces together what happened. By episode four, Kwame himself is sexually assaulted after a Grindr hook-up goes wrong.
Essiedu says Coel had 12 full episodes written by the time he auditioned, but that during prep and shooting he was able to add further nuance to Kwame's arc. "This version of Kwame kind of grew and changed and evolved over the time that we spent working together on the show," the actor recalls. "It was a very liberating environment to work in."
Essiedu felt a great responsibility to get his portrayal of Kwame right, for several reasons. First, "we just really wanted to make sure we did the character justice and played the truth of the situation, because that is a very real situation for a lot of people," he says.
He also wanted to honour Coel's writing – she penned the show in response to being sexually assaulted herself during the period when she was writing her breakout hit Chewing Gum. To do so, Essiedu spoke in confidence to men who had been assaulted. "I tried to educate myself in as many different ways as possible, and to get some sort of understanding of what that experience is like," he says. "It's sad to think how prevalent it is and how many people are victims of assault, and are unable to talk about it or unable to be listened to."
He adds that his preparation process is similar no matter what the role. "Every character I take on, I do a certain amount of research, to create the scaffolding from which to hang the character. Then it becomes what's on the page, and trying desperately to blow some life into it, and truth, ultimately."
Kwame undergoes enormous change during the 12 episodes of the series. Yet Essiedu had to call up those changing emotions at any given time, as the production did not have the luxury of shooting in chronological order. "The first scene I shot was my first scene, but then the second scene I shot was from the end of episode four," he recalls. "So it was huge leaps in this character. But the source idea and material was so robust. That enabled me to do that with relative ease. Michaela has such conviction in the journeys of these characters."
To capture Kwame at different points in the timeline, Essiedu tried to stay in the moment. "Like in real life, I think anxiety and depression come from too much future thinking and too much past thinking. We always feel like our most authentic selves when we're passionate about connecting to the present. That's also true when you're trying to surmount a character's complex timeline, you've got to focus."
Friendship and trust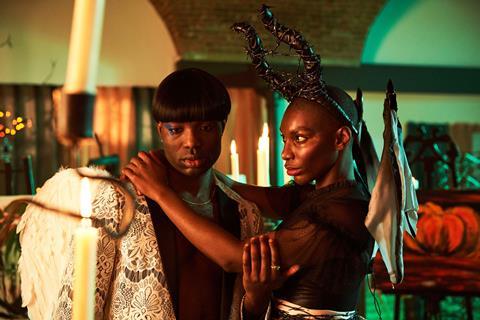 While it tackles heavy themes, I May Destroy You is also funny and showed the importance of the strong friendship between its principal trio. "They were great playmates," says Essiedu of Coel and Opia. "They kept me in the present because they were spontaneous and organic. I wish I could say that [my portrayal of friendship] is down to God-given talent, so that I could crystallise what friendship means," he laughs. "But it's actually as simple as they are good people and lovely to be around. It was fun but there was also a lot of trust between us. Everyone was committed to the project in the same way."
Since it made its debut in June 2020 on the BBC in the UK and HBO in the US, I May Destroy You has been heralded for its frank depiction of sexuality and, in terms of Kwame's character, its authentic portrayal of a gay black man. "Being story­tellers is what makes us humans," says Essiedu. "And the human race has such a multiplicity of types, and experiences, and storytelling should reflect that. It should make space for that. It's sad this feels like a bit of a trailblazer in that aspect. But hopefully that makes space for more bold, more real and different stories to be platformed."
In the year since it aired, the show has been routinely hailed as one of the creative touchstones of the pandemic; Essiedu agrees. "I feel like this show had so much vibrancy and realness and truth and kinship at its centre, back at a time when we were struggling for that."
Essiedu was in the middle of a run of Pass Over at London's Kiln Theatre when the first lockdown hit. He feels lucky to have kept up his screen acting during the pandemic, including in the Sky action drama Extinction and Channel 5 historical drama Anne Boleyn, starring Jodie Turner-Smith.
As he looks to the future, the actor hopes to keep working across theatre, film and TV. "I've got a big love for all three of them," he says. "I continue to learn a lot from doing plays; there's something about having that shared experience in a room with an audience that pushes you into an unsafe grey area where you can learn a lot about yourself. But there's something about the breadth of storytelling in television and film that also fulfils a lot of my artistic ambitions. I'd love to do all three if I'm given the opportunity."