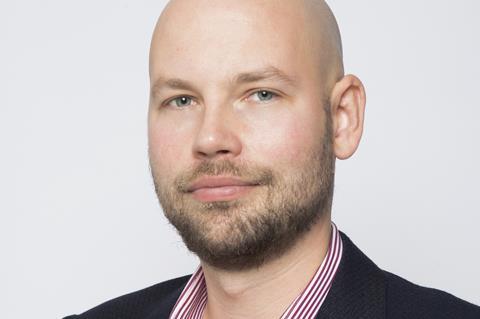 You could say that Chris Rice got off to an early start in the agenting business. At 18, in his native UK, he convinced a record company to put up $2,000 to make a music video, a bit of youthful enterprise that soon led to a job in Los Angeles with Ridley Scott's commercials and video company RSA Films.
Twenty-odd years later, Rice is doing something similar – albeit on a much bigger and broader scale – as co-president of Endeavor Content. And he considers himself "a pretty lucky guy" to now be in the business of helping put together what he describes as "global television shows of feature-level quality that form part of the cultural narrative."
Unveiled last October (just after the formation by WME|IMG of its new Endeavor holding company), Endeavor Content brings together the film and scripted TV finance and sales groups of talent agency WME and sports, fashion and entertainment agency IMG.
Heading Endeavor Content as co-presidents are Graham Taylor, previously head of the WME Global group, whose focus is on film, and Rice, originally brought in by Taylor in 2010 to develop a capacity for the group to do in television what it was already doing in film.
Among the group's early TV projects were The Night Manager (packaged by WME and sold internationally by IMG), The Young Pope (sold by WME|IMG into the US and some international markets) and Britannia (on which WME helped broker the co-production deal between Sky and Amazon).
WME connection
As presently constituted, Rice explains, Endeavor Content is essentially a sales, financing and advisory operation. And it's an operation, of course, with a vital link to what is often considered Hollywood's most powerful talent agency.
"We now have the capability to sell films, scripted television series and documentary features and series into every market in the world," Rice says. "That's something that has been the goal for many years and that is a phenomenal tool for clients of WME to be able to access.
"On the financing side, we work with sixty-plus financiers, again across those three areas. So there's the ability to finance film and television for clients of the agency to tap into.
"And on the advisory services side, that's about working with financiers and producers to help them build businesses. And again clients of the agency tap into that."
The structure of Taylor and Rice's division has been made feasible by what the latter describes as "huge amounts of crossover in terms of talent, business model and financing" between the film and TV worlds.
And the division's scope has made Endeavor Content, claims Rice, one of the few operations "able to combine the talent perspective with a US sale perspective with an international territory-by-territory sale perspective with a financial perspective. As a group we're able to assimilate all four of those mindsets, which helps figure out how to make a television show or movie most valuable and most creatively enhanced."
As for the new Endeavor Content banner, that, says Rice, has "given clarity to what we're doing. And a large part of the way we're trying to set up is about clarity and transparency of operation."
High-profile TV
TV projects currently being sold under the banner include Killing Eve, the BBC America thriller series from Fleabag creator Phoebe Waller-Bridge that was just picked up by the BBC in the UK.
Now in production are The Little Drummer Girl, a second John Le Carre adaptation (after The Night Manager) for AMC and the BBC, and The First, the sci-fi series for Hulu and Channel 4 from House Of Cards creator Beau Willimon.
Damien Chazelle's Paris-set musical series for Netflix The Eddy is in pre-production and in early development is a series based on Fire and Fury: Inside the Trump White House, the controversial non-fiction book by Michael Wolff to which Endeavor Content recently bought the rights.
Under its scripted TV partnership with Chernin Entertainment, meanwhile, Endeavor is making See, a sci-fi drama series from Peaky Blinders creator Steven Knight, and developing Octavia Spencer thriller series Are You Sleeping. Both projects are for eager – and deep-pocketed - new TV buyer Apple.
The partnership with former Fox studio and network chief Peter Chernin's company sees Endeavor "providing some infrastructure and top quality sales and advisory services," Rice reports. "He's interested in the domestic sales ability that we have, the international sales capacity that we have and our experience bringing together all those mindsets."
The Chernin relationship is an example of the Endeavor Content approach, Rice suggests.
"Our whole business is around empowering talent and producers to build their businesses, however they want to do that," he says. "We're involved in a few companies" - he declines to name any of the others - "and we're helping clients of the agency and non-clients build shows so that they can control more than [they do] in the traditional system."
Conflict of interest
Along with the launches of other ventures by the major Hollywood talent agencies, the creation of Endeavor Content has raised concerns in some quarters of the industry over possible conflicts of interest when agencies get involved in financing or producing content.
Rice says it's an issue of which his agency is well aware.
"Firstly, we're very careful about managing that," he reports. "We have worked with third parties outside of the agency in figuring out processes to ensure that conflict is managed. We think it's about providing tools that people can tap into in order to get better deals, more creative control for themselves, more creative freedoms and more ownership. So for us that's not a conflict, that's a service."
"When a film agency moves into television people don't say that's a conflict," he continues. "When an agency known for representing writers then represents producers that hire those writers people don't say that's a conflict.
"Every form of extension of business puts new dynamics into play and the key is that those are managed properly and that everything is transparent and clear. And we do a really good job of doing that."
After the better part of a decade working in the fast-evolving high-end television space, Rice – who between RSA and WME co-founded and ran UK-based kids TV company Cinnamon Entertainment and got his MBA at the London Business School (with an exchange stint at UCLA) – is confident that peak TV is more than just a bubble likely, at some point, to burst.
"I don't think it's a bubble. The push into international markets that happened in film 25, 30 years ago, we're deep into that in television now and there's a hell of a lot of growth still in the international markets," the Endeavor Content co-president insists.
"There are definitely a lot of challenges for certain companies out there - it's not all smooth sailing for sure. But I'm very bullish about the continued growth of premium, global-minded television."