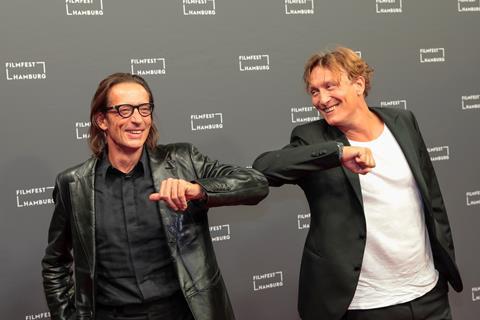 Oskar Roehler's new feature Enfant Terrible, sold by Picture Tree International, is the veteran German director's homage to Rainer Werner Fassbinder, the prolific, provocative, brilliant and deeply polarising filmmaker who died of a drugs overdose aged 37 in 1982 having made over 40 features.
The film, chosen for the Cannes 2020 label, opened the Hamburg Film Festival this week. It is released in Germany on October 1 by Weltkino. On the eve of its premiere, Roehler spoke to Screen about what drew him to a sacred monster like Fassbinder, why he shot in a studio and why he cast Oliver Masucci (Adolf Hitler in Look Who's Back) as Fassbinder.
He also reflected on the honour of being selected for Cannes - and the disappointment of not being able to present the film there.
How did you first encounter Fassbinder?
I grew up in a boarding school and saw my first Fassbinder movie at the age of 13 or 14 in a little cinema in my school. From 1973 to 1980, I saw the whole output of his production. At the age of 18 or 19, I went to Berlin. This was the beginning of the 1980s, when Fassbinder shot Querelle [in 1982], his last movie. I had this relationship of the fan to the idol. I was the little fan who saw all the movies. Berlin had 10 hot spots for the underground scene. It was like a village. There was the Paris Bar, there was The Jungle, then there was a place called Tom's Bar, which was a place for homosexuals. I knew all these places. I looked through the windows of the Paris bar. The inner circle of his actors, wow, it was overwhelming to look through the window and to see them.
I didn't really dare to mix at this time because I was too shy. The Jungle was a new-wave discotheque, very stylish, with aquariums. They reserved the first floor for Fassbinder, where you could stand in the gallery and look at the whole place. He arrived in black leather with four or five people dressed in black leather from head to foot, with sunglasses. After an hour, they opened this space to the public. Then I went up and stood in the distance, two or three metres, just to watch him and see what kind of guy he was. I think he was full of drugs. It was half a year before his death. He was not really on the earth any more.
You subsequently worked with several of Fassbinder's actors in your own films.
I used some of those inner circle actors I most adored when I was very young. I worked with Margit Carstensen, Volker Spengler and Udo Kier. I heard a lot of weird stories of power and submission which was one principle of how [Fassbinder] ruled his gang. I heard a lot of very funny and intriguing stories. I thought this could be very entertaining so that people just know that the movie business could be very neurotic and sado-masochistic. This was what I was interested in.
Why did you decide to make Enfant Terrible in the studio?
If I have the possibility to shoot in a studio, I would do that with every movie I could. I am not so interested in this very realistic, documentary-style which is very common at the moment.
Oliver Masucci, who plays Fassbinder, is 51. Fassbinder was 37 when he died. Did you consider casting a younger actor?
For me, it was the charisma [of Masucci]. I think I was very egotistical. I wanted to shoot the movie with people I really would like to go for dinner with and talk [with] long after the shoot. I wanted to do a film with the actors of my generation. It was very difficult for me to get Masucci for the role because everybody said 'you must go much younger 'but I said, no, it's very boring to have all these younger people who have no idea of the time. I want to talk to people who have the same experience like me, more or less. If they're really good, everybody will be irritated [by their age] for the first five minutes and then you will forget about it.
How have people around Fassbinder, for example Juliane Lorenz [head of the Fassbinder Foundation] reacted to the film?
We had a very hard time with her (Lorenz). She came up with the idea that I should make the movie and that I would be the only one in Germany who could make a movie about him. But then, when she read the script, she was totally disgusted and took every advantage away to use any of his work. It was not possible to talk to her and we kept her out of everything. We had to keep her out.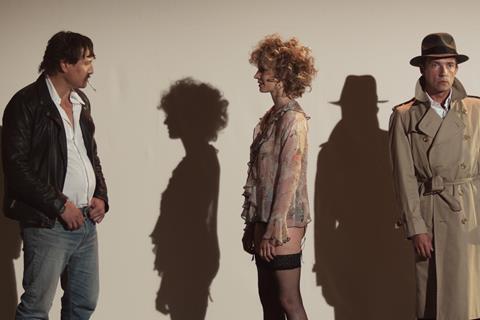 What about his old actors? Have they seen the film?
They were put, I think, a little under pressure because they didn't want us to use their real names. I don't know what happened on this side. At a certain point, they came up, called us and asked 'please, don't use our names'. Something must have happened. I don't really know what it was.
Fassbinder could be such a monster and treat people so badly but they still wanted to work with him. Why do you think that was?
In Germany, we say 'if you don't like heat, don't work in the kitchen.' It was very hot there. The actors are intelligent enough to know that no other filmmaker in Germany would have been able to supply them with these roles in these films. I think when people are treated bad somehow, it has to do with this old game of dependency. He supplied them with everything and they took it. They took the poison too.
There is a masochist aspect with some of the actors he worked with. For example, he worked with Kurt Raab. He is an extraordinary character, a great actor, my favourite somehow, but I think he had a very sick relationship to [Fassbinder]. He was an actor but he was the servant. He did everything for him. Maybe he cleaned his ass when it was necessary, I don't know. But the women [in Fassbinder's films] were much more intelligent, much more independent and much colder than the other guys. If they don't like it any more, they would leave and maybe come back three years later but they were not so dependent, like some other people.
Are you envious of the fact Fassbinder could make seven films a year when it is such a struggle for most European directors today to make a single one?
This was extraordinary. Am I jealous about him? Not any more. It was like in the silent movie era, when they made 10 or 20 films a year just by improvising and just by putting the camera here or there, making sketches and making jokes. He lived in an El Dorado. He financed his very small movies and he shot them in six or seven days sometimes. He got they money from the TV. They just provided him with money. He didn't need much. He shot one film for $100,000 and the next was financed and he shot the next. For me, the phenomenon was that he was able to write so many pieces in one year. This is extraordinary. For me, this is the real magic, the secret of his genius.
How has the lockdown affected you? Were you very disappointed to not to be able to present the film in Cannes?
Yes, Hamburg is the first festival [for the film]. Cannes? When they called and said they would take it in the official selection, I cried loud and shouted loud because I like it to so much I achieved this aim. I was very joyful. We drank a lot, Masucci and me, and really had fun. I have a very nice relationship to the festival of Cannes now, to [Thierry] Fremaux and his right hand. They really liked the movie. But, at the end, it was disappointing [not to show it because of Covid]. What can I say. It's my destiny that sometimes things like that happen. But I can live with it.