The current market is focused on smart money and smart deals, not volume of product. Jeremy Kay examines the prospects for deals and new packages at Berlin's European Film Market (Feb 6-14).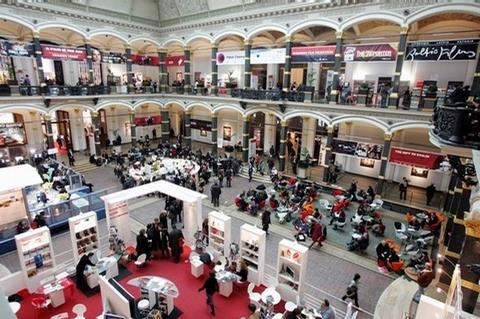 A common refrain in the days leading up to Berlin's European Film Market (Feb 6-14) is that the congested nature of the winter season makes it very difficult to assemble new packages for Berlin. The AFM and holiday season bite a chunk out of the last quarter of the year, leaving sales companies scrambling for product.
Berlin is typically a time for the Europeans to flourish, yet if the timing is right on select packages then US companies prosper too.
Offerings across the board tend to be more modest in scope as everyone scours for Cannes juggernauts. Recent acquisitions of international or world sales rights to a Sundance title are timely, particularly if the film also plays in selection at Berlin. Such titles this year include Nick Cave doc 20,000 Days On Earth, 52 Tuesdays, Boyhood, Calvary and Love Is Strange.
Unusually, there is widespread optimism among companies from North America as people look to the BRIC markets, the gradual roll-out of digital and the recent declaration of European expansion by Netflix as potential new watering holes.
The first major market of the year arrives too at a time when the independent landscape continues to be flush with capital.
The problem is, the money comes with strings attached. Courting financiers remains a tricky business and these days investors are more demanding than ever about allocation and recoupment.
"It's a good time to be in the business, but that said it's challenging," says Aldamisa International COO Jere Hausfater, who notes that the actor sweet spot remains small.
Hausfater and his colleagues will focus on the thriller Captive. It stars Bruce Willis, who is still a draw because he is a proven commodity with global cachet.

A-list options
The veteran executive says that stars and A-list directors are willing and able to work in the independent space, however assembling the package is as difficult as it has ever been. And once a project is set up, it has to demonstrate broad appeal. Buyers will not take out their wallets for a mediocre slate-filler unless it is part of a package deal, in which case the sweetener has to be special.
The AFM in November is a case in point: business was solid if unspectacular. Buyers were prepared as always to respond to the right material, but nobody went crazy for the sake of it.
Exclusive Media president of sales and distribution Alex Walton agrees there is "optimism around the business", yet he notes everyone must work hard to get results. "You need to focus on your strengths and be much more careful about the movies and make sure you aren't overstretching," says Walton. "That's true of volume as well as movies you want to get into."
Exclusive had one of the buzz titles of EFM 2013: Black Mass. Later in the year, Johnny Depp pulled out when he was asked to take a pay cut. However in recent weeks Depp is understood to have rejoined talks to star in the Whitey Bulger crime drama, with director Scott Cooper replacing Barry Levinson.
Walton is keeping his own counsel as to how the situation might play out and knows as well as anyone the alchemy required to transform a script into a movie. A single sloppy clause, unrealistic expectation or over-indulged ego can ruin what was shaping up to be a killer package.
Exclusive Media itself has gone through a time of consolidation after a formerly top-heavy structure had raised costs. Budgetary constraints were felt all the more acutely in the wake of Rush's below-par worldwide performance despite its critical acclaim.
Some senior executives did not renew contracts and have moved on as part of a reshuffle. Cynthia Kim departed for Blumhouse International on the eve of Toronto and Gabrielle Stewart came on board as svp of international sales and distribution. Matt Jackson jumped ship last December to head US production at IM Global, while former Imagine Entertainment executive Sarah Bowen arrived as svp of production.
"We are going to have a more level-headed approach this year, certainly in terms of sales," says Walton. "Volume isn't something we have ever looked to have, however the marketplace is so cautious that you have to be very careful what you present… but the market is still hungry for commercial films. Berlin is a good market; it's never a huge market for new movies. There's never too much volume there. I'm anticipating we'll have two interesting new projects."

Cast is king
The exodus of producers, directors and actors to TV means it has become more difficult to achieve momentum on film slates and quality material is tricky to come by.
Walton and his peers, however, remain unperturbed and believe the buyers will always be there as long as quality continues to flow into the market at the right price.
Two other buzz-worthy projects from a year ago were the Jeremy Renner thriller Kill The Messenger and Kevin Macdonald's submarine thriller Black Sea starring Jude Law. Both were introduced by the now-defunct Focus Features International (FFI). The projects remain on track and might end up under the auspices of Sierra/Affinity, which is believed to be negotiating for the outstanding FFI slate and would certainly be a good fit.
CEO Nick Meyer and co-president and COO Marc Schaberg are quietly building the foundations of an empire at Sierra/Affinity. Inheriting the FFI slate is a finite proposition, but for Sierra/Affinity the longer-term play with exciting potential is the production focus.
With Panorama co-founder Marc Butan, an old Meyer colleague from their Lionsgate days, as co-president, the company will look to build a slate, own the intellectual property and seek greater control of its destiny.
At press time, little was known of major new titles headed for Germany, but they will come. Lionsgate International can always be relied on to bring something to the table and IM Global is involved in sales on the Mattel property Max Steel.