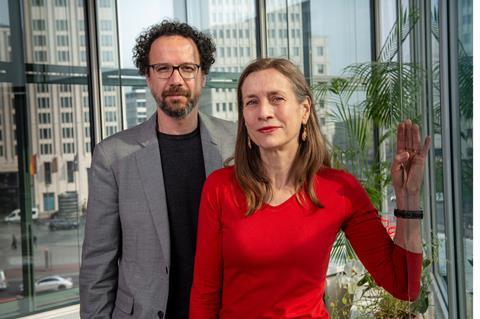 As the Berlinale prepares to make its first fully in-person return since 2020, festival co-heads Carlo Chatrian and Mariette Rissenbeek talk about the challenges of mounting a festival for a city and industry completely transformed since 2020, the impact of the pandemic and forging closer ties with the US.
The two also discuss how this year's selection balances harsh realities with escapism, why there are no titles from Russia, receiving a funding boost from the German government, and their own futures with the festival.
What are your ambitions and goals going into the first physical Berlinale since 2020?
Mariette Rissenbeek: We want to celebrate cinema. After years of complications for theatres and audiences, now is the time to really celebrate that we can all come together again.
Carlo Chatrian: Berlin is quite unique as it is a place to host important guests and stars but also a big festival for the public. In terms of the ambition of the programme, it was to put together films that are daring, bold and entertaining for audiences. We have combined films that provide a very real view of the world such as Sean Penn's documentary Superpower with those that take audiences away from the harshness of reality, like Steven Spielberg's The Fabelmans.
What have been the biggest challenges going into this year's festival?
Rissenbeek: After two years of the pandemic, we thought we'd go back to the same routine as our first Berlinale in 2020 but everything has changed. We've had to renegotiate with all the locations, technical service companies and even catering and hotels. Because of the war [in Ukraine] and the energy crisis, you might start negotiating with someone in August but when you finalise the deal in December, the price has gone up. It has made things much more difficult. Also, arthouse audiences have partly come back but partly not. We see it as our role to motivate people to return to the cinema and experience watching films together.
What Covid safety measures will be in place, if any, this year?
Rissenbeek: We won't have any Covid measures in place, unless the situation and law changes in Germany but we don't have any expectation that they will.
How did you approach building this year's selection of films?
Chatrian: I hope the selection will be seen as fresh. It's a good mix of recognised and established filmmakers such as Margarethe Von Trotte, Christian Petzold, Philippe Garrel and Rolf de Heer, but we are also happy to give room to new voices in cinema with young filmmakers and movies that have young protagonists. We have also tried to be as eclectic as possible, bringing in films that usually don't find a place in Competition such as animation Suzume and documentary On The Adamant by Nicolas Philibert. Cinema is a special art form that mirrors society and after two years of disruption, we thought it would be great to start again, with all the components film can offer.
There are no new US studio films in the selection. What is the ideal situation to secure those kinds of films for Berlin, not least for your audiences?
Chatrian: It's true that we don't have any big studio films in the main Competition. We do have BlackBerry from Paramount, but maybe it's not the kind of big studio film you are referring to. However, we do have movies that are open to everyone and come with expectations in a different way. Superpower is a film that comes with a lot of expectation. If you combine that with The Fabelmans, you have both side of reality. We invited TAR, which is with Universal and Focus, because the project is very close to Berlin.
But making a festival in a city for the public should not be categorised along with other festivals. It allows me and the team more freedom to give a wider view on what is new in cinema. Two years ago, we showed Nous (We) by Alice Diop when nobody knew her. The film won Encounters and was the starting point for her to make Saint Omer, which has been saluted as one of the most interesting films of the past year. We're a festival that opens pathways for new filmmakers and new ways of telling stories.
How did bringing on Jacqueline Lyanga and Ryan Werner help with US relations this year?
Chatrian: Jacqueline and Ryan have two different profiles that are very complementary. Ryan works to support communications for many films, so he knows everyone, follows a lot of films during their award campaigns and can get the right connections for me. I've known Jacqueline since my time at Locarno and she was head of AFI Fest so understands that programming is not only choosing films but also composing a programme. The work is shared but having Jacqueline based in LA was fantastic. One of our goals was to bring back US cinema to every element of the festival, which we have achieved.
Did you receive any submissions from Russia?
Chatrian: We did receive submissions from Russia, mainly from independent filmmakers. We watched some films with interest but didn't select any fully Russian movies. We do have a Russian filmmaker [Malika Musaeva] based in Berlin who shot a film [The Cage Is Looking For A Bird] in her homeland of Chechnya. You know, it's hard nowadays to support a Russian movie, even if it's done totally independently, because the question is always where this film will be shown after the premiere. This is one of the reasons why we had fewer Russian submissions than in the past.
What has the impact of the last two years had on the finances of the Berlinale?
Rissenbeek: Our costs have been much higher than expected. The energy crisis caused a lot of companies and locations to become much more expensive than we had expected so the government gave us additional support. The government normally gives us about 35% financing of our total budget. They gave $2.36m (€2.2m) more this year so now finance about 45% of our budget. It shows how important the festival is for the government and how important they think the festival is for the film industry here in Germany and in general.
Can you remind us for how long you've both been at the Berlinale?
Rissenbeek: Four years, one more to go. We are on five-year contacts.
Do you hope to stay at the Berlinale for another five years after that?
Rissenbeek: We'll see. We'll concentrate on putting the next festival through and then we'll see how the world looks.