Trueba's Queen Of Spain features in this year's Berlinale Special programme.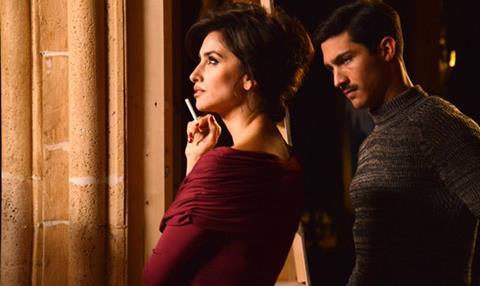 Eighteen years after making The Girl Of Your Dreams, Fernando Trueba has revived that film's protagonist Macarena Granada, the glamorous Spanish movie star, in The Queen Of Spain. She is once again played, appropriately, by glamorous Spanish movie star Penelope Cruz.
In the new film — which screens as a Berlinale Special Gala today (Feb 13) — Macarena returns from Hollywood to Spain to star in a big-budget period drama as Queen Isabella. It marks the third collaboration between Cruz and Trueba. They first worked together on Trueba's Oscar-winning Belle Epoque in 1992, one of Cruz's first film roles.
"She was very serious from the beginning," Trueba remembers of his first encounter with the 18-year-old actress. "She prepared, she worked a lot. She was a perfectionist… and she still is."
Cruz today is now "more experienced" than in the days of Belle Epoque, he adds, and she knows more "things about life and work". But the director says her work ethic has not declined in the slightest even as her fame has risen. And, no, she does not have any airs and graces.
Trueba says that originally he had no intention of making a sequel to The Girl Of Your Dreams. However, he was continually asked what had happened to the characters in the first film. Eventually, he gave way and decided to revive them, setting The Queen Of Spain in 1956, when Americans were beginning to come to Spain to make big runaway productions such as Alexander The Great and The Pride And The Passion.
Looking forward, the director is now working on the long-gestating follow-up to his 2010 animation Chico And Rita. The film, which has the working title Tenorio's Story, is still being scripted. It will be set in 1960s and '70s Latin America and the story will unfold against the backdrop of the coups in Brazil and Argentina during that period. Trueba will work on the project with his Chico And Rita co-director Javier Mariscal. "We've started doing drawings and they look beautiful," he adds.