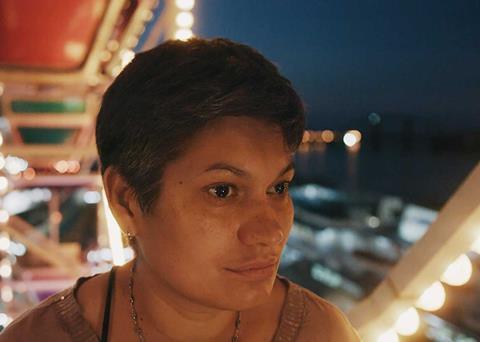 As the Russian invasion of Ukraine enters its second month, international film festivals are facing complex programming dilemmas.
Denmark's CPH:DOX, running March 23-April 3, is the first major European film event to take place since the war started on February 24. The festival responded to the situation by adding three Ukrainian films to its programme as part of a special sidebar, Ukraine - A Sovereign State: Sergei Loznitsa's Maidan, Iryna Tsilyk's The Earth Is Blue As An Orange and Alina Gorlova's This Rain Will Never Stop.
"This is our programme in support of Ukrainian filmmaking and also the Ukrainian nation," says Niklas Engstrom, who took over as artistic director last summer. "This is also a response to a cultural war threatening Ukraine in the sense that [Russian president Vladimir] Putin has denounced Ukraine as a real nation, saying it is an artificial construct."
By showing Ukrainian films, CPH:DOX makes itself "another small voice saying that Ukraine exists," says Engstrom. "That's at least one thing I think we can do as festivals."
There have been furious calls from some Ukrainian filmmakers and producers for festivals to boycott all Russian titles, regardless of their provenance. In early March, the Glasgow Film Festival dropped two Russian titles, Kirill Sokolov's No Looking Back and Lado Kvataniya's The Execution. Sokolov responded in the New York Times that he accepted the decision but found it "really strange…it's like they shut our voice down".
Balanced approach
For many festivals, excluding films on anything other than artistic grounds is totally against the grain.
"I don't fully agree with my Ukrainian colleagues although I totally sympathise and understand their point," says Engstrom. "I don't think it is the right place to stand to say that no Russian voices whatsoever should be heard. Right now we need to hear the clear dissident voices in Russia.
"In normal circumstances, we would go extremely far to defend the rights of anyone screening their films in the festival with no exceptions whatsoever."
While festivals including Cannes, Venice, Berlin and Toronto have decided not to exclude Russian filmmakers entirely, CPH:DOX has taken a similar approach and is screening three films with anti-Putin themes: Vera Krichevskaya's F@ck This Job, a UK-German co-production about the rise and fall of an anti-government TV station; Antoine Cattin's exploration of Russia's many public holidays, called Holidays; and Canadian director Daniel Roher's US feature and Sundance premiere Navalny, about the jailed Russian opposition leader.
"We ended up with a balanced approach, saying we are not going to cancel Russian filmmakers per se," notes Engstrom. "That would be absurd especially because the documentary films that we screen, or many of them, would naturally be critical of Putin and the regime. We ended up saying that we would not screen films that had been supported by the state of Russia."
However, CPH:DOX did "de-select" one Russian title, Ekaterina Selenkina's Detours, a hybrid film looking at drug-dealing, the dark web and everyday life on the Moscow streets.
"It is not a pro-Putin film at all," says Engstrom. "[The filmmakers] are good guys but they contacted us and said, 'If you think that the best thing is to not screen our film, we are totally in support of it'. And I think, at the moment, that film would just drown. The discussion would be about [the war] instead of being about a great film being screened by us."
As Sokolov pointed out in the New York Times, "probably 99% of Russian movies receive state backing". That is why some festivals are resisting blanket bans of Russian films. Instead, they are refusing to host official Russian delegations and filmmakers with direct links to the Russian government.
Total boycott
Some Ukrainian filmmakers passionately decry what they see as this "toothless" approach, as director Roman Bondarchuk puts it. He suggests that by screening any Russian films at all, they are at risk of becoming "complicit in what Russia is doing to Ukraine".
The rawness of feeling was underlined last week when Ukraine's Loznitsa was expelled from the Ukrainian Film Academy after coming out against the boycott of Russian filmmakers "who are speaking out against the crimes of Putin's regime".
Loznitsa himself had resigned from the European Film Academy (EFA) because he felt the first EFA statement a few days after the beginning of the war was too "conciliatory towards the Russian aggression. They did not even have the courage to call the war a war".
"Russian cinema, like all Russian culture, is a powerful weapon," says Bondarchuk, whose credits include Ukrainian Sheriffs and Volcano. "Part of it is aimed at brainwashing, propaganda, it is focused on internal [Russian] audiences. It has created an alternative post-truth reality and 71% support for Putin's actions [in Russia].
"Russian elite culture and cinema work mainly on external audiences and, by the fact of their existence, cover up the medieval savagery into which Russia has slipped. This elitist culture has no effect on the Russians, and therefore on real politics. Both types of culture are financed from oil money – through the state, or through oligarchs associated with the state."
Ukraine festival moves to Poland
Bondarchuk is also the artistic director of the Docudays UA international documentary film festival, which has moved this year's edition to Krakow Film Festival in Poland in late May due to the war. "We are very grateful that these films will be seen by the audience, critics, and our jury will be able to award the prize," he says.
Bondarchuk says he would withdraw any film of his from a festival that also programmed a Russian film. "If this is a hybrid war, we can get rid of the aggressor's most dangerous weapon, [the one] that strikes the mind."
However, he is pragmatic about what can be achieved. "We cannot demand a boycott of all films about Russia," he concedes. "But in times of war, such films should be accompanied by annotations, immerse the audience in context so that they do not take what they see for granted."