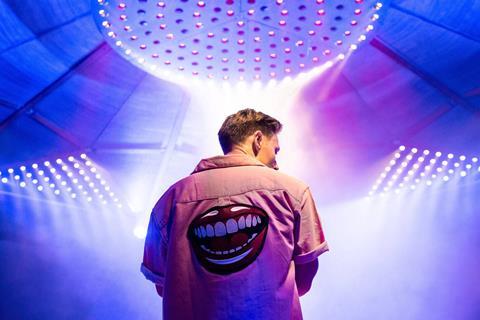 At the Edinburgh Fringe, the F word still looms large: everyone is wondering what could be the next Fleabag.
Sure, there have many other success stories of Fringe talents, but Phoebe Waller-Bridge brought her one-woman show Fleabag to the Fringe in 2013 (soon after she was selected as a Screen International Star of Tomorrow 2014) and has gone on to a major career across the screen industries as an actor, writer and producer.
So the search is on at the 2022 Edinburgh Fringe, which runs August 5-29 and includes comedy, theatre, circus, music, magic, cabaret, drag and some especially weird stuff in between. Now that the Edinburgh International Film Festival (EIFF) has returned to its August slot (after running in June since 2008), there are more synergies being explored between the Fringe and the film festival.
Screen Scotland worked with the Fringe in 2019 for a pilot of its Screen Fringe programme, which helps film and television producers, commissioners and agents engage with the Fringe and discover new talents – and their IP. In the post-pandemic world, and with EIFF now back in August alongside the Edinburgh TV Festival running August 24-26, Screen Fringe was back this year larger than ever, managed by Sophie Ellwood and assisted by Matthew Gray.
Ellwood, who has both a production and agency background, oversaw a number of bespoke activities to connect film and TV experts to the Fringe – networking brunches and drinks and industry talks such as stage-to-screen case studies and pitching advice. Screen Fringe also offered bespoke introductions, suggestions and assistance with ticketing – a huge help because of the overwhelming size of the Fringe programme, which includes a mind-boggling 3,500-plus shows at about 250 venues around the city.
The more-than 150 companies registered with Screen Fringe 2022 include Bad Wolf, Kudos, BBC, Netflix, SunnyMarch, Big Talk Productions, Blueprint Pictures, Mubi, AMC, Film4, WME, Sony, FilmNation, HBO, See-Saw Films, Disney, MGM and NBCUniversal.
Ellwood says she's seeing film and TV commissioners being especially open-minded about future talents to work with: "They're very interested in working with writers who think outside the box."
She is also encouraged by the authenticity coming through in Fringe shows, and the range of inclusive voices being championed. There have been a crop of shows about "climate change, disability, immigration and under-represented communities – and a lot of commissioners are looking for that kind of work," she notes.
Amir Amirsolimani, development editor at Benedict Cumberbatch's production company SunnyMarch, was up from London for a week to look at new talents across the film festival and Fringe.
"It's exciting to see an even bigger range of talent at both events," he says. Amirsolimani thought the curation of the film festival this year was especially strong in terms of "curating interesting voices" thanks to new creative director Kristy Matheson and her team of programmers. He planned to see about five Fringe shows per day while in town, and added, "I'm not defined by genre, I'm looking for performers or writers who have a clear sensibility to them. We're looking for new, exciting voices."
While impossible to highlight all the buzzy acts at this year's Fringe, a few shows and talents that Screen hears industry execs are excited about include: Celya AB, Michael Akadiri, Mary Beth Barone, Kate Barron, Luca Cupani, Jessica Fostekew, Jordan Gray, Liz Kingsman, Yuriko Kotani, Julia Maslin, Atsuko Okatsuka and Chloe Petts.
Hot theater tickets include Boy written by Carly Wijs; Brown Boys Swim by Karim Khan; Exodus by Uma Nada-Rajah; Far Gone by John Rwothomack; Feeling Afraid As If Something Terrible Is Going to Happen by Marcelo Dos Santos; In The Weeds by Joseph Wilde; Kathy And Stella Solve A Murder by Jon Brittain and Matthew Floyd Jones; The Last Return by Sonya Kelly; Ode To Joe by James Ley; Opal Fruits by Holly Beasley-Garrigan; one-man show Rob Madge: My Son's A Queer (But What Can You Do); Room by James Theierre; Sap by Rafaella Marcus; Silkworm by Vlad Butucea; Wilf by James Ley; Wreckage by Tom Ratcliffe; and We Were Promised Honey! by the collective YesYesNoNo.
Glasgow-based James Ley wrote two of those buzzy shows – Wilf and Ode To Joy. "It's exciting to be at an event like this where you can meet producers and development executives," he said at a Screen Fringe networking brunch. "It's not just emailing someone and sending someone a script, you can invite them along to see your show, so it pays off."
Ley is already adapting his 2018 Fringe show Love Song To Lavender Menace for the big screen, with John McKay's Compact Pictures. He is repped by Kelly Knatchbull at Sayle Screen.
EIFF encourages 'diving in'
Instead of worrying that its film festival guests might sneak off to comedy shows, EIFF actively encourages these synergies found across such a busy city.
Kristy Matheson, EIFF's new creative director, said during the film festival's opening night, "Our city is teeming with people who are on their hunt for ideas and excitement and culture. And they're finding that across the whole city, with the Edinburgh festivals; it's a real joy for us to bring the festival back to August and to centre film into that larger cultural conversation. I hope that you are going to indulge in the only way you can in August in Edinburgh: you will see lots of people at the book festival, you will watch lots of great films, you will see plays, you will see dance, you will see art… We'll all come out of the other side of August as different people from the things that we've experienced and seen so I would urge you all to dive in."
Stephen Kelliher, managing director of Bankside Films, came to the festival with Bankside titles Flux Gourmet (sold to Curzon) and LOLA. He told Screen, "I have always been a supporter of the Edinburgh Film Festival being held in August. I have many wonderful memories of film premieres and industry events taking place alongside the Edinburgh Fringe. It was a delight to be back this year celebrating the UK premiere of LOLA with the wonderful Edinburgh team in exciting new venues with sell-out audiences.
"The city was vibrant and buzzing with excitement – despite the rain – and it felt like the festival was back in its rightful place. The ability to do the festival alongside the Fringe brought much excitement and I highly recommend Brennan Reece's show Crowded which had me in fits of laughter."
The festival also had an official collaboration with the Edinburgh International Festival, which had commissioned folk music documentary The Ballad Of A Great Disordered Heart, a collaborative feature documentary by Aidan O'Rourke, Becky Manson and Mark Cousins, with a world premiere hosted with EIFF.
Across the festivals, Edinburgh continues to be a great place to look for creatives wearing mwany hats. For instance, Scottish actress Adura Onashile was the talk of the town for her performance in Medea from the National Theatre of Scotland.
Having been named a Screen International Star of Tomorrow in 2021, Onashile is also in post-production on her anticipated debut feature film as a writer/director, Girl, produced by Scotland's Barry Crerar – who themselves have just been named Rising Stars Scotland in a new talent collaboration between Screen and Screen Scotland launched this month at EIFF.