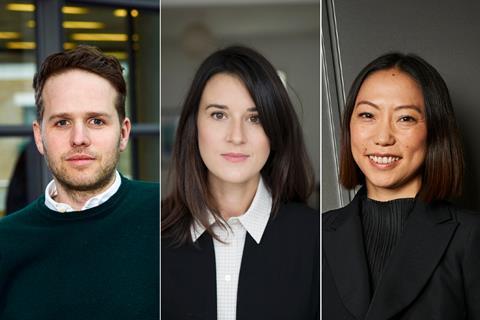 "This is where it gets strange for all of us," says Julia Oh, senior commissioning executive at Film4, of the 2021 Sundance Film Festival, which is taking place mostly online.
Film4's creative team, led by head of creative Ollie Madden and senior commissioning executives Oh and Lauren Dark, are used to attending the packed cinemas and snowy streets of Park City in person to support their films. This year, Film4 has backed two of the films playing at the festival and the team's experience is very different.
Prano Bailey-Bond's horror title Censor kicked off the Midnight strand. It stars Niamh Algar who the director first met when they were both selected as Screen Stars of Tomorrow in 2018.
Film4 has also backed Rebecca Hall's anticipated debut feature Passing, a black-and-white 1920s race drama starring Tessa Thompson and Ruth Negga, which debuts in US Dramatic Competition.
"We had such a wonderful time as a team at Sundance at the start of 2020," says Oh. (Film4 titles Florian Zeller's The Father and Euros Lyn's Dream Horse both launched at Sundance last year.) Like the rest of the international industry, the team will now be tuning into the festival from home.
And after nearly a year of working from home under the leadership of Film4 director Daniel Battsek, they are eager to talk about the films they hope to shoot this year. The production slate includes as-yet-untitled films from regular Film4 filmmakers Martin McDonagh and Jonathan Glazer, and Oliver Hermanus' Ikiru adaptation Living. All are eyeing shooting dates from May onwards.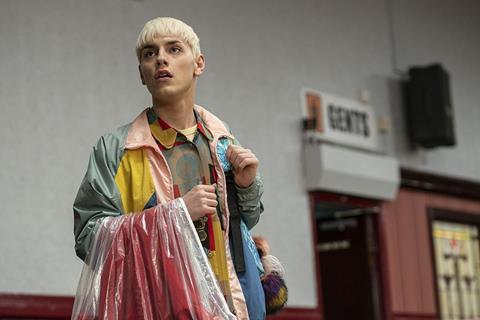 New Regency has just boarded the thriller I Came By, Babak Anvari's third film following Under The Shadows and Wounds. Film4 is financing the development of the project.
It is Film4's third recent collaboration with New Regency following Steve McQueen's Widows and Jonathan Butterell's Everyone's Talking About Jamie which is expected to come out later this year.
A new film from Lynne Ramsay is "in advanced development", with Rose Glass' follow up to horror hit Saint Maud also in the works for this year plus Nadia Latif's debut feature Welcome.
Titles in post-production include Eva Husson's post-First World War drama Mothering Sunday starring Olivia Colman, Colin Firth and Josh O'Connor, which shot last autumn, Earwig by Lucile Hazihalilovic, and Titane from Raw director Julia Ducournau.
Also in the works with the Film4 team are multiple projects with Yorgos Lanthimos, one of which is being developed as the latest title in Film4's longstanding relationship with Searchlight Pictures, and hopes to reach production this year.
First to shoot
Enys Men, the next film from Bait director Mark Jenkin, is set to start principal photogorapy in Cornwall at the end of March.
"It was due to shoot in March 2020 and was one of the first films to get shut down," says Dark. Set in 1973 and described by Jenkin as an "ecosophical horror", it centres on a woman living alone on an island off the Cornish coast who thinks a large stone is moving towards her cottage.
"Mark has a specific way of shooting with a fairly reduced crew; he takes on a lot of the roles himself," adds Dark. "It will be easier to manage from a protocol point of view."
Madden says Film4's £25m annual production budget remains intact for 2021, provided by parent company Channel 4 through commercial revenue. The company expanded its commercial strategy in 2016 to take larger financial stakes in films and Madden says it now fully funds the development of "not all, but the vast majority" of the projects with which it works.
"There aren't many places worldwide where you can get your development fully funded, where there's an appetite for innovating, taking risks and acting off a spark of an idea," he says. "And still having the world as your oyster in terms of who you can work with and how your film is financed and distributed."
Madden, Dark and Oh each lead as executive producer on separate films, with Madden running the whole department. "We have a huge amount of autonomy in terms of the films we develop and put up for greenlight," he says. Head of development Ben Coren works across the whole development slate as well as dipping in to individual titles.
Sue Bruce-Smith
The UK industry was devastated by the death in May 2020 of Film4's long-time deputy director Sue Bruce-Smith. A new role of distribution executive has been created that Oh describes as "Sue's legacy"; Madden says the role has been filled and will be announced soon.
The executive will work closely with filmmakers on the best release strategy for their films, dedicated to securing deals such as the worldwide pact with Amazon Studios for Michael Pearce's sci-fi Invasion. It shot last year in California starring Riz Ahmed, Octavia Spencer and Rory Cochrane.
The pandemic has meant the team are not only away from Channel 4's London headquarters, but connecting with filmmakers in person has reduced significantly, both before and during production. Aml Ameen's Christmas romantic comedy Boxing Day went from pitch to greenlight without the Film4 team ever physically meeting the filmmakers. "I waved at the crew from Tower Bridge at a distance," says Dark of the London shoot.
They hope this illustrates that a broader, more representative UK industry can emerge from the pandemic, both geographically and ideologically. "Voices [in London] are not the only ones that we need to support," says Oh.