Liz Shackleton spotlights the hottest productions from the Chinese mainland, Hong Kong and Taiwan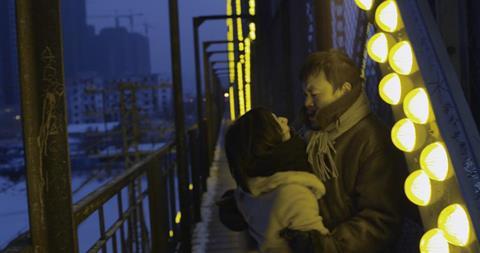 Chinese-language cinema is on a roll after a strong showing at Berlin International Film Festival - where Diao Yinan's Black Coal, Thin Ice picked up the Golden Bear and a Silver Bear for best actor, while Lou Ye's Blind Massage won a Silver Bear for outstanding artistic contribution.
While both these films are mainland Chinese productions, Hong Kong and Taiwan were also strongly represented in Berlin with each offering two world premieres in the Panorama section. Hong Kong had Fruit Chan's The Midnight After and Dante Lam's That Demon Within, while Taiwan had Cho Li's The Rice Bomber, about an activist farmer, and Midi Z's Ice Poison, a Burma-set drama touching on drug addiction.
The Midnight After and That Demon Within are moving on to Hong Kong International Film Festival (HKIFF) as one of the two opening films and the closing film, respectively. Pang Ho Cheung's highly anticipated family drama Aberdeen is another opening film at HKIFF, which is also premiering other local films such as Amos Why's indie drama Dot 2 Dot, columnist Chip Tsao's directorial debut Enthralled and documentaries Lessons In Dissent by Matthew Torne and Flowing Stories by Jessey Tsang.
In addition to festival recognition, Chinese-language films have been enjoying unprecedented commercial success across Greater China. Box-office records are constantly being toppled on the mainland, where recent hits include Chinese New Year release The Monkey King, co-produced by Hong Kong's Filmko Entertainment and a host of mainland companies, which grossed $167m. More recently, Chen Sicheng's Beijing Love Story had taken a healthy $65m by March 10.
Recent domestic hits in Taiwan include Chinese New Year time-travel comedy Twa-Tiu-Tiann, directed by Yeh Tien-lun (Night Market Hero), and sports drama KANO, produced by Wei Te-sheng, which grossed $2.2m on its opening weekend (February 27-March 2). Comedy Golden Chickensss, starring Sandra Ng, topped the Hong Kong box office at Chinese New Year, reversing the past few years' trend of Hollywood films dominating during the holidays.
While the Chinese box office often slows down at this time of year before the big summer releases, there are plenty more potential hits in the pipeline. The following pages highlight some of the hot projects being sold at Filmart from film companies across the three major Chinese-speaking markets of China, Hong Kong and Taiwan.
Hot projects at Filmart
Aberdeen
Dir Pang Ho Cheung
After shooting Love In The Buff in Beijing, Hong Kong's favourite maverick director returns home for this anticipated drama revolving around different members of an extended Hong Kong family and the challenges they face. The cast includes Louis Koo, Gigi Leung and Miriam Yeung, who starred in both Love In A Puff and its sequel Love In The Buff. The film was produced by Making Film Production and CKF Pictures with backing from Sun Entertainment and Huayi Brothers. Hong Kong's Bravos Pictures is handling international sales.
Contact Ricky Tse, Bravos Pictures ricky.tse@bravospictures.com
Black Coal, Thin Ice
Dir Diao Yinan
Diao Yinan's third feature follows a former detective (Liao Fan) investigating a series of murders, who falls in love with a woman (Gwei Lun Mei) who is linked to all the victims. The film is the first to emerge from a partnership between Jiangsu Omnijoi Media Corp and Daniel J Victor's Boneyard Entertainment China (BEC). Diao previously directed critically acclaimed dramas Uniform (2003) and Night Train (2007).
Contact Will Lin, Fortissimo Films will@fortissimo-hk.com
Coming Home
Dir Zhang Yimou
Gong Li and Chen Daoming star in Zhang Yimou's latest drama, based on Yan Geling's acclaimed novel The Criminal Lu Yanshi, which follows a Chinese intellectual over several decades. Bill Kong and LeVision Pictures' Zhang Zhao produce and Lava Bear Films' David Linde serves as executive producer. Paris-based Wild Bunch has international rights to the film while Sony Pictures Classics recently picked up rights for North America, South America, Australia and New Zealand.
Contact Emmanuelle Castro, Wild Bunch ecastro@wildbunch.eu
The Crossing
Dir John Woo
Scripted by Wang Huiling (Lust, Caution), Woo's two-part romantic epic follows three couples from different backgrounds travelling from mainland China to Taiwan in 1949. Produced by Woo and Terence Chang's Lion Rock Productions, Beijing Galloping Horse and China Film Group, the $50m film has a stellar ensemble cast including Zhang Ziyi, Takeshi Kaneshiro, Korean actress Song Hye-kyo, Huang Xiaoming, Tong Dawei and Japanese actress Masami Nagasawa.
Contact Ronan Wong, Beijing Galloping Horse huangguoxian@xmbt.com.cn
Ex-Files
Dir Tian Yusheng
Pop star Han Geng stars in this romantic drama about a young entrepreneur who meets a new love interest at his ex-girlfriend's wedding ceremony. He decides to put his bachelor days behind him but his ex-girlfriends continue to get in the way of his new relationship. Beijing-based Huayi Brothers is producing the film, which also stars Yao Xingtong (Chinese Zodiac) and Zheng Kai (Personal Tailor).
Contact Annabelle Hao, Huayi Brothers annabelle.hao@huayimedia.com
The Four 3
Dir Gordon Chan
The third instalment in Gordon Chan's hit action franchise, backed by Beijing-based Enlight Pictures, continues the story of the four members of the Divine Constabulary, who each have special powers. Deng Chao, Liu Yi Fei, Collin Chou and Ronald Cheng resume their roles as the four crime-fighters, with Anthony Wong again playing their chaperone. The first film in the franchise grossed $30m in 2012, while The Four 2 grossed $28m last November. The third film is in post-production.
Contact Ying Ye, Arclight Films ying@arclightfilms.com
Golden Chickensss
Dir Matt Chow
Recent Chinese New Year hit Golden Chickensss is the third instalment in a comedy franchise that tracks changes in Hong Kong through the eyes of a prostitute played by Sandra Ng. Picking up the story some 10 years after the second instalment, Ng's character is now a tech-savvy madam managing a stable of high-end prostitutes and hosting parties for rich men. When a former flame is released from prison after 16 years behind bars, she tries to help him adjust to the new Hong Kong. Ng produced through Treasure Island Production. The film has so far grossed more than $5.7m in Hong Kong.
Contact Katherine Lee, Treasure Island Production kat@wedistribution.com
The Golden Era
Dir Ann Hui
Directed by Ann Hui (A Simple Life), The Golden Era is a biopic of the female writer Xiao Hong, who lived through turbulent times in China at the beginning of the last century. Tang Wei (Lust, Caution) plays the writer while acclaimed actors Feng Shaofeng, Zhu Yawen and Wang Zhiwen play the male writers with who she had relationships before dying of tuberculosis at the age of 31. Produced by Stellar Mega Films, China Film, Edko Films and Cheerland, the film is scripted by Li Qiang, who also wrote Hui's The Postmodern Life Of My Aunt and Vicki Zhao's 2013 hit So Young.
Contact Julian Chiu, Edko Films chiujulian@edkofilm.com.hk
Helios
Dirs Sunny Luk, Longman Leung
Sunny Luk and Longman Leung's highly anticipated follow-up to 2012 hit Cold War revolves around a South Korean criminal who uses stolen uranium to make a nuclear bomb that is scheduled to change hands in Hong Kong. The pan-Asian cast includes Hong Kong's Jacky Cheung, Nick Cheung and Shawn Yue; Korea's Ji Jin-hee and Choi Si-won; China's Wang Xueqi and Taiwanese star Chang Chen. Backed by Media Asia, the action thriller is in post-production.
Contact Fred Tsui, Media Asia frederick_tsui@mediaasia.com
KANO
Dir Umin Boya
The directorial debut of Chinese-aboriginal film-maker Umin Boya, this $10m sports drama is produced by Wei Te-sheng and Jimmy Huang, who worked together on Wei's hit period drama Warriors Of The Rainbow: Seediq Bale.
Set in the 1920s, when Taiwan was under Japanese rule, KANO tells the story of a multi-ethnic baseball team making its way to Japan's high school baseball championships. Their coach is played by Masatoshi Nagase, whose credits include The Hidden Blade, and the cast also features Takao Osawa, Maki Sakai, Togo Igawa and Tsao Yu-ning. The film was released in Taiwan on February 27.
Contact June Wu, Ablaze Image junewu@ablazeimage.com
Kung Fu Jungle
Dir Teddy Chen
Currently in post-production, Teddy Chen's big-budget action thriller stars action supremo Donnie Yen and popular mainland actor Wang Baoqiang.
Wang plays a vicious killer who starts targeting martial-arts masters in Hong Kong. Yen plays a martial-arts expert who was imprisoned after accidentally killing a man and offers to help the police catch the killer in return for his freedom.
Contact May Yip, Emperor Motion Pictures mayyip@emperorgroup.com
The Master
Dir Ke Zhou
Mainland Chinese director Ke Zhou's The Master is based on real-life historical figure Chen Xiang who invented the Choy Li Fut style of kung fu. The story follows Chen as he opens a martial-arts school and conquers fighters from Russia, Japan and Germany. But he is pushed to his limits when his students are kidnapped and forced to fight for the corrupt Qing dynasty. The cast includes Shi Hongbo, Cheng Ni, Shi Tianlong and Mai Jintong.
Contact Clarence Tang, Golden Network Asia info@goldnetasia.com
The Midnight After
Dir Fruit Chan
Based on a popular internet novel, Fruit Chan's thriller revolves around 17 passengers on a late-night minibus, who upon exiting the Lion Rock Tunnel, slowly discover they are the only people left alive in Hong Kong. Produced by Amy Chin and executive produced by Winnie Tsang's Golden Scene, The Midnight After features a cast of veteran Hong Kong actors, including Simon Yam, Kara Hui and Lam Suet, along with rising stars such as Wong You-nam, Janice Man and Chui Tien-you.
Contact Will Lin, Fortissimo Films will@fortissimo-hk.com
Rise Of The Legend
Dir Roy Chow
Marking the first film about legendary kung-fu master Wong Fei-hung in almost 20 years, Rise Of The Legend reunites producer Bill Kong with director Roy Chow and screenwriter Christine To following their collaboration on Nightfall. Eddie Peng plays the role immortalised by Jet Li in the Once Upon A Time In China series. The cast also includes Sammo Hung, Jing Boran and Zhang Jin. Behind-the-camera talent includes Yuen Woo-ping as action director and Ng Man Ching as DoP.
Contact Julian Chiu, Edko Films chiujulian@edkofilm.com.hk
Temporary Family
Dir Cheuk Wan Chi
Taking a sly dig at Hong Kong's overheated property market, Temporary Family is a comedy drama about four investors in a luxury penthouse who end up having to live there together when their plans to turn a fast profit go awry. Produced by Hong Kong-based Irresistible Films, the film stars Nick Cheung, Sammi Cheng and Angelababy. Cheuk Wan Chi is a screenwriter, DJ and stand-up comedian who made her directorial debut with Kick Ass Girls (2013).
Contact Julian Chiu, Edko Films chiujulian@edkofilm.com.hk
The Taking Of Tiger Mountain
Dir Tsui Hark
Tsui Hark's highly anticipated 3D spy movie, based on the novel Tracks In The Snowy Forest, follows a battle of wits between a small military unit and a gang of ruthless, heavily armed bandits in Northeast China during the 1940s. Huang Jianxin is producing the film, which is currently shooting with Zhang Hanyu, Tony Leung Ka-fai and Lin Gengxin heading the cast. The film is backed by Bona Film Group, which also produced Tsui's Flying Swords Of Dragon Gate.
Contact Virginia Leung, Distribution Workshop virginia@distributionworkshop.com
That Demon Within
Dir Dante Lam
Dante Lam's psychological thriller stars Daniel Wu as a police officer who accidentally saves the life of a crime-gang leader, played by Nick Cheung. When the leader is betrayed by his own men, the cop starts working with him to bring down the gang but is haunted by disturbing visions. Produced by Emperor Motion Pictures, the film received its world premiere in the Berlinale's Panorama section. It will open in Hong Kong on April 17.
Contact May Yip, Emperor Motion Pictures mayyip@emperorgroup.com
The White-Haired Witch Of Lunar Kingdom
Dir Jacob Cheung
Jacob Cheung's 3D wuxia epic centres on the romance between a young sorceress and a righteous Taoist leader, working together to protect famine victims in the twilight of the Ming Dynasty. Fan Bingbing and Huang Xiaoming head the cast, marking the first pairing of these two popular actors, while the award-winning creative team includes costume designer Tim Yip. Backed by Bona Film Group, the film is in post-production.
Contact Virginia Leung, Distribution Workshop virginia@distributionworkshop.com
Z Storm
Dir David Lam
Marking David Lam's return to directing after a 10-year hiatus, this $6.5m crime thriller revolves around Hong Kong anti-corruption police investigating a charity that is involved in a ponzi scheme. Louis Koo stars as the officer investigating, while Gordon Lam, Dada Chan and Lo Hoi-pang also star. Co-produced by Pegasus and China's Sil-Metropole Organisation, the film is in production.
Contact Kat Yeung, Pegasus Motion Pictures kathy.yeung@pegasusmovie.com