Korean cinema continues its strong run at home and abroad. Jean Noh profiles some of the highlights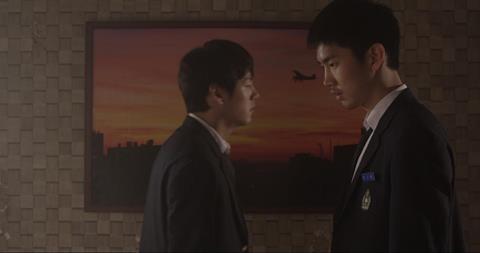 10 Minutes
Dir Lee Yong-seung
Screening in the Indie Power section at Hong Kong International Film Festival (HKIFF), Lee Yong-seung's debut feature made its world premiere last October in Busan's New Currents competition, where it picked up the KNN audience award and Fipresci prize, and went on to an international premiere in Berlin's Forum last month. The story of a young man getting ready to pass the tests for his dream job as a TV producer, the film follows his dilemma when he is offered a stable job that will better help him support his family.
Contact Lotte Entertainment r333@lotte.net
Confession aka Good Friends
Dir Lee Do-yun
Currently in production and set to wrap in April, Confession (aka Good
Friends) is the feature directorial debut of Lee Do-yun. Starring Ji Sung (Whatcha Wearin'), Ju Ji-hoon (I Am The King) and Lee Kwang-soo (The Scent) as best friends since childhood, the film follows what happens when one of them is asked by another's mother to stage a robbery at her illegal gambling arcade as part of an insurance scam.
Contact United Pictures dannylee@upictures.co.kr
The Fatal Encounter
Dir Lee Jae-kyoo
Directed by Lee Jae-kyoo, who is best known for his TV series credits including Beethoven Virus and The King 2 Hearts, The Fatal Encounter is a historical drama of palace intrigue featuring the politically embroiled King Jeong-jo, his dedicated servant Gap-soo and mysterious assassins. The film stars Hyun Bin (Late Autumn and TV series Secret Garden), Jung Jae-young (The Plan Man, Confession Of Murder), Cho Jung-seok (The Face Reader, Architecture 101) and Han Ji-min (The Plan Man).
Contact Lotte Entertainment r333@lotte.net
For The Emperor
Dir Park Sang-jun
Currently in post-production, For The Emperor is a crime action film directed by Park Sang-jun (Bank Attack). The film stars Lee Min-ki (Very Ordinary Couple) as a disgraced ex-baseball player who joins a loan-shark ring headed by Park Sung-woong (New World), and meets the seductive bar owner Lee Tae-im (Days Of Wrath).
Contact United Pictures dannylee@upictures.co.kr
Miss Granny
Dir Hwang Dong-hyuk
Currently on release in Korea, Miss Granny has clocked up more than 8.5 million admissions and is set for a market premiere screening at Filmart.
Starring Shim Eun-kyung (Masquerade, Sunny), the comedy is directed by Hwang Dong-hyuk (Silenced, My Father). When 70-year-old Mal-sun's hysterical temper lands her daughter-in-law in hospital, her family decides to put her in a nursing home. Before she goes, Mal-sun has her photograph taken at a studio and is transformed into her 20-year-old self.
She changes her name and decides to join her grandson's band.
Contact CJ Entertainment lhj0524@cj.net
Night Flight
Dir LeeSong Hee-il
Director of films such as White Night and No Regret, LeeSong Hee-il's gay-themed Night Flight made its world premiere in Berlin's Panorama section last month and is screening in HKIFF's Indie Power section. A film about isolated minorities, Night Flight tells the story of three friends who grow apart when they reach high school, a place of betrayal that risks leading them to disaster. Lee Jaejoon and Kwak Siyang make their feature debuts.
Contact Finecut cineinfo@finecut.co.kr
One For All, All For One
Dir Park Sa-yu, Park Don-sa
Headed for the upcoming Jeonju International Film Festival's Korean Competition, where it will make its international premiere, Korean-Japanese documentary One For All, All For One is co-directed by Park Sa-yu and Park Don-sa. Despite the Japanese government's discriminatory policy not to support Korean schools in the country, the rugby team of Osaka Korean High School heads into competition under the slogan of 'One, Trust, Victory'.
Contact Indiestory kay@indiestory.com
Thread Of Lies
Dir Lee Han
Set for a market premiere screening at Filmart, Thread Of Lies opened at the top of Korea's box office on March 13. Directed by Lee Han (Punch) and starring Kim Hee-ae (The 101st Proposition), Ko Ah-sung (Snowpiercer, The Host), Kim You-jung (Commitment) and Kim Hyang-gi (A Werewolf Boy), the film is based on the bestselling novel Elegant Lies. After her youngest daughter's suicide, a mother and her elder daughter set out to solve the mystery of her death, insinuating themselves into the life of the girl who bullied her.
Contact CJ Entertainment lhj0524@cj.net