Tim Grierson is Screen's senior US critic, based in Los Angeles, he has written for the publication since 2005.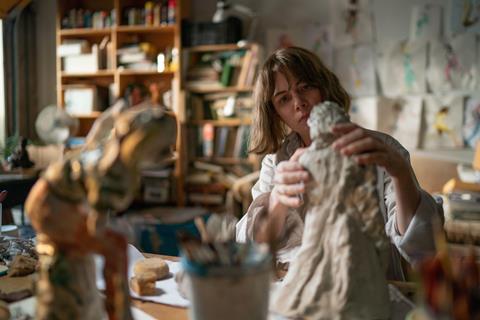 Read our other critics' top tens here.
Top 10
1. Aftersun
Dir. Charlotte Wells
A brilliant meditation on memory — how it imposes its will on us, how it's always shifting, slipping through our fingers like water — Wells's feature debut tells a delicate story with piercing intimacy, following a young dad (Paul Mescal) and his pre-teen daughter (Frankie Corio) on a Turkish vacation, nothing much happening but also everything all at once. Filtered through the perspective of the now-adult daughter (Celia Rowlson-Hall), who's trying to wrap her arms around the phantom father she still doesn't understand, Aftersun deftly collects its shards of half-remembered fragments to craft a beguiling mystery that is never fully solved.
2. Showing Up
Dir. Kelly Reichardt
With all due respect to Michelle Williams's radiant turn in The Fabelmans, her finest performance in 2022 was contained in this precise, sneakily funny portrait of an artist whose life hasn't quite worked out. Teaming up with the Oscar-nominated actress for a fourth time, director Reichardt harnesses her inexhaustible talent for turning seemingly minute drama into a universal tale full of deeply felt observations about family dysfunction, unfulfilled dreams and the annoyance of having a terrible landlord (The Whale's Hong Chau, also giving her best performance of the year). Like the main character's idio­syncratic sculptures, Showing Up grows more distinctive and beautiful the more time you spend gazing at it.
3. The Eternal Daughter
Dir. Joanna Hogg
A continuation of The Souvenir series, albeit in a different genre and register, The Eternal Daughter finds Tilda Swinton superbly playing both mother and daughter as they celebrate the older woman's birthday in a spookily isolated Welsh hotel. Writer/director Hogg transforms the anxiety of possibly losing a parent — her own mother died during post-production — into an emotionally charged ghost story with a spectral elegance.
4. TÁR
Dir. Todd Field
A wholly absorbing study of an artist in the modern age, writer/­director Field's first picture in 16 years is guided by Cate Blanchett's gauntlet-­throwing performance. Like the filmmaker, she doesn't expect you to love the fatally flawed Lydia Tár — but she makes absolutely sure you'll never forget her.
5. One Fine Morning
Dir. Mia Hansen-Love
This semi-autobiographical drama is so delicate and wistful that it can be easy to overlook the care and wisdom writer/director Hansen-Love brings to a story of a widowed single mother (an excellent Léa Seydoux) navigating a new romantic relationship (Melvil Poupaud) and the mental deterioration of her father (Pascal Greggory). One Fine Morning makes the minor details of a life feel monumental, as the random assortment of second chances and inevitable heartbreaks build to an exquisite finale.
6. EO
Dir. Jerzy Skolimowski
7. The Fabelmans
Dir. Steven Spielberg
8. Dos Estaciones
Dir. Juan Pablo Gonzalez
9. Triangle Of Sadness
Dir. Ruben Östlund
10. The Novelist's Film
Dir. Hong Sang-soo
Best documentary
1. Descendant
Dir. Margaret Brown
The director of The Order Of Myths once again focuses on the racial tensions in her hometown of Mobile, Alabama, incorporating the recent unearthing of the final slave ship that made its way to the US in 1860 as a jumping-off point for a divided community still wrestling with the country's unresolved sins. Descendant is both an indictment of the past and a reason to be hopeful about the future.
2. De Humani Corporis Fabrica
Dirs. Verena Paravel, Lucien Castaing-Taylor
The creative team behind Leviathan plunge inside the human body, their tiny cameras revealing just how fragile and extraordinary our physical beings are as we witness procedures in stunningly up-close detail. But Paravel and Castaing-Taylor are no less entranced by the very mortal people at the French hospitals they visit, intrigued by the expertise, faults and exasperation of those dedicated to prolonging their patients' lives.
3. All That Breathes
Dir. Shaunak Sen
Sen's documentary follows two brothers in polluted New Delhi safeguarding its imperilled population of black kite birds. Part family drama, part ecological warning,All That Breathes has an elemental force, sensitive to the brittle bonds between lifeforms, whether on land or in the air.
Performance of the year
Dolly de Leon in Triangle Of Sadness
Dir. Ruben Östlund
Lowly cleaning lady Abigail isn't part of the horrendous elite frolicking on Triangle Of Sadness' superyacht. But De Leon's marginalised commoner becomes more central to Östlund's angry satire of haves and have-nots. De Leon hides in plain sight, waiting to strike during the film's audacious final third, delivering a performance both darkly funny and quietly menacing. Like the pampered one-percenters aboard that yacht, viewers weren't prepared for what this Filipina actress brought to the party.