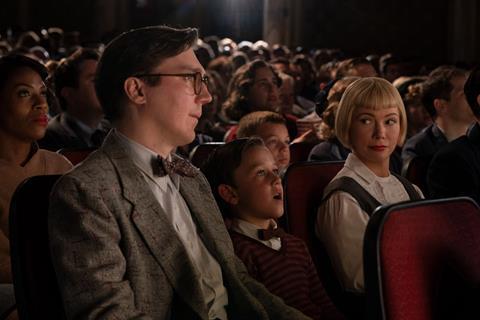 Toronto International Film Festival (TIFF) kicked off with the world premiere of Sally El Hosaini's Netflix film The Swimmers on September 8 and closed over the weekend with Steven Spielberg's The Fabelmans winning the audience award.
During the festival, people from the industry and public milled about, reunited with old friends, watched films and got some work done. Many attendees said it felt like the North American festival was properly back in action.
Below are some of the key talking points.
TIFF returns with a bang
With impeccable timing, TIFF returned to the limelight with a loud, fun and fully in-person event that reclaimed Toronto's role as an essential element of the fall festival trifecta and a big-deal, buzzy public-facing event. It felt, at least to many North American industry attendees who spoke to Screen, like the first proper return to a festival since 2019.
It can't have been easy lying low for the past two years and playing second fiddle to Venice while Alberto Barbera defied the pandemic with starry in-person editions. Yet CEO Cameron Bailey put on a show that offered must-see world premieres and embraced the best work from the festival circuit this year.
Lido selections like Alejandro G. Inarritu's Bardo, Noah Baumbach's White Noise and Olivia Wilde's Don't Worry, Darling were unable to live up to expectations and TIFF brought the house down with world premieres of The Fabelmans and Rian Johnson's Glass Onion: A Knives Out Mystery.
Could TIFF use more A-list world premieres? Yes. Could the ticketing system be improved? Yes. Should press be allowed to ask live questions at press conferences? Yes. However it's fair to say that when all is said and done, TIFF's standing as an awards season launchpad went up a notch this year.
Autumn box office looms
Will the older audience turn up? Much industry talk centred on the autumn box office corridor and whether, in the absence of Navy fighter pilots, dinosaurs, superheroes and cute one-eyed yellow creatures, arthouse and awards-bait films can bring in the seniors.
Until Warner Bros unleashes Black Adam on October 21 and Disney brings the second Black Panther: Wakanda Forever on November 11, the next few months will be a litmus test of the cinema-going habits of the older audience, which is in and of itself a crucial issue for specialty distributors as this is their bread and butter.
The prospect of new Covid variants is one thing; arguably the greater concern now is whether senior citizens have forgotten the cinema-going habit and will show any desire to get it back. Re-releasing Avatar and Halloween might satisfy young crowds and theatre chains, but independent specialty distributors and the number-crunchers at the corporate headquarters which own smaller divisions will be scrutinising autumn box office.
One poor performance too many could shape the future of specialty theatrical distribution. That could spell good news for streamers, who are always hungry for content (even though there's been a shift away from acquisitions) and are free of the mandate to spend money on theatrical releasing.
TIFF was a slower acquisitions market than usual
TIFF has never been a major acquisitions market, offering instead a chance for the industry to watch completed films and assess awards prospects in private screenings or in front of a public audience, which is one of TIFF's great strengths.
This time North American deals were even thinner on the ground than usual, mostly because many of the hot-ticket titles were already spoken for. At time of writing the only major on-site buy of a festival title was Neon's acquisition of Daniel Goldhaber's Platform selection How To Blow Up A Pipeline. Focus Features paid around $30m for worldwide rights to Alexander Payne's off-festival The Holdovers, which will open in 2023. Buyers have been circling the likes of Jalmari Helander's Midnight Madness entry Sisu and Zachary Wigon's Sanctuary in Special Presentations.
Deals will close in the coming weeks, but there weren't that many appealing titles available.
Streamers quiet on the acquisitions front
With a new emphasis on the bottom line, the platforms are focusing more on original content and less on acquisitions as evidenced by the fairly high volume of selections including Netflix's Glass Onion, The Wonder and All Quiet On The Western Front, and Prime Video's My Policemen and Hawa. Bailey has always said he wants to bring the best work to the festival, regardless of a film's provenance, and he stayed true to his word.
As buyers, the platforms stayed away. Netflix is still reeling from two quarterly earnings reports it wants to forget and has been trimming staff levels, while the HBO Max acquisitions team is in a holding pattern while Warner Bros Discovery head David Zaslav works out what he wants to do with his company. All that said, never count against a platform coming in and paying top dollar at an auction on any day of the year.
Feature count, festival withdrawals
TIFF's "slimline" roster of around 200 features remains large but not quite as unwieldy as in pre-pandemic times. It was, inevitably, up from 100 and 50 in the past two years but ended up being 25% smaller than the 250-or-so features of years gone by. Bailey and his team will review the number and would do well by film critics and representatives of smaller discovery titles to stick to this year's size.
Two films were pulled from the festival this year. TIFF removed Austrian filmmaker Ulrich Seidl's Sparta following an article in Germany's Der Spiegel which raised concerns over the safety of child actors on the production about a man with paedophiliac urges who renovates a decaying school into a hang-out for young boys. Seidl has denied the allegations and Sparta will play San Sebastian; however, the director cancelled his trip to the festival, and Filmfest Hamburg has said it will not present Seidl with its Douglas Sirk award.
Meanwhile, Vera Drew's Midnight Madness queer coming-of-age film The People's Joker, with its titular DC villain and another inspired by Harley Quinn, may have raised a red flag over rights issues and unauthorised use of DC characters. Reports out of TIFF said Warner Bros Discovery conveyed their concerns to the filmmakers, who withdrew their selection after the world premiere.