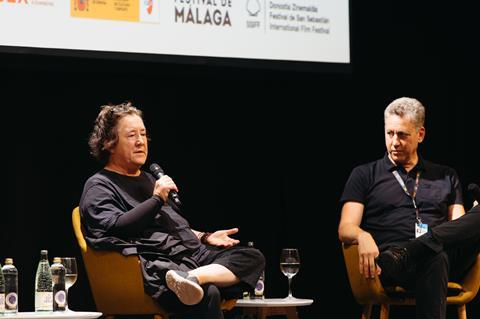 Leading international film and entertainment executives met at San Sebastian's inaugural Creative Investors' Conference this week (September 19-20) to thrash out some of the most pressing issues facing the film industry.
The high-profile selection of international execs who took to the stage included Wild Bunch International's Vincent Maraval, Killer Films' Christine Vachon, Cinetic Media's John Sloss, Good Chaos' Mike Goodridge, Head Gear Films/Bankside/Bohemia founder Phil Hunt, Brouhaha Entertainment's Gabrielle Tana, Louverture Films' Karin Chien, Kinetic Energy Entertainment's Diana Williams, Kim Magnusson of Scandinavian Film Distribution and Scandinavian Film Funds, 30West's Trevor Groth, Silver Reel's Claudia Bluemhuber, Wild Bunch's Cecile Gaget, Premier PR's Jonathan Rutter and Snowglobe's Katrin Pors.
From the Spanish industry, participants included Domingo Corral and Fran Araujo from Moviestar Plus+, plus filmmakers Rodrigo Sorogoyen, Isa Campo, Isaki Lacuesta, Javier Méndez and Maria Zamora.
The event also gave the opportunity for 10 majority Spanish projects to pitch to the room for potential financing, sales and distribution opportunities, and included Iceland-Spain co-production Whalemen (At The Ends Of The Earth), directed by Baltasar Kormákur, and Raqqa, directed by Gerardo Herrero, the Oscar-winning producer behind Juan José Campanella's The Secret In Their Eyes.
The conference was organised in partnership with CAA Media, with sponsorship from the Spanish government.
From the tussle for survival for theatrical, to the need for a gambler's mentality to thrive, here are five key talking points from the event.
"One of the hardest jobs on the planet is being an independent producer"
US producer Christine Vachon of Killer Films and John Sloss of New York-based talent management, content, sales and strategic advisory company Cinetic Media discussed the challenges facing independent producers in a market increasingly dominated by streaming behemoths in the closing keynote interview. "Apart from cleaning septic tanks, one of the hardest jobs on the planet is being an independent producer," said Sloss.
Vachon, whose producer credits include Zola, Still Alice and Carol, admitted financing is a minefield: "There aren't that many companies left [outside of Killer Films] that know how to piece together very bespoke financing, and somehow out of all that, make something that's worth watching."
"The seven main streamers are in this race for survival globally. In 2022 I would put their aggregate content budgets at about $120 billion. That dwarfs anything that's ever been in the history of content creation – that's the good news," added Sloss. "How that gets allocated and spent is more complicated. It doesn't necessarily benefit traditional independent storytellers."
Vachon also addressed the impact of changes to budget structures on talent, particularly as more funding has to be allocated for in-demand and experienced crew. "There's a big learning curve for cast right now. We're hitting it on almost every movie, which is the cast and their representation have not really caught up to the fact that the business has changed so radically," said Vachon. "A lot of talent doesn't understand back ends don't exist anymore, and don't understand the above-the-line scenarios where actors were paid an extraordinary amount of money and the below-the-line was at a minimum just doesn't make any economic sense anymore, because you can't make anything good."
Sloss admitted he "wanted to start a movement" to address the thorny issue of streamers retaining intellectual property [IP] rights indefinitely. He suggested streamers pay less for films, but have the rights across a shorter window. "Say to them [a streamer]: 'I know you want to overpay wildly for this film, but how about you pay a little less, and only own it for 18 months as opposed to in perpetuity, because that's how long it's valuable to you.'"
"Theatres don't have a birthright to make everyone come back"
The ongoing turmoil facing theatrical was, unsurprisingly, a recurrent theme across the two days.
"Theatres don't have this birthright to make everyone come back," said Sloss. "They have to make it a collective experience that is worth it for people to leave the house."
Cecile Gaget, head of film at Wild Bunch, was optimistic: "Theatrical is here to stay. Franchise matters. Quality matters. Event films matter." She called on distributors to be "constantly curious, try new things".
Gaget spoke on the 'Navigating finance in 2022 and beyond' panel alongside Trevor Groth from US entertainment investment advisory company 30West – a company that orchestrated deals for titles ranging from Cannes Palme d'Or winner Triangle Of Sadness to Netflix hit Tiger King. "We believe in the theatrical business. Moviegoing is a habit for people. The pandemic broke that habit, especially for the older demographic, but you can retrain them. It comes down to specific films that can light the fire in the zeitgeist," said Groth.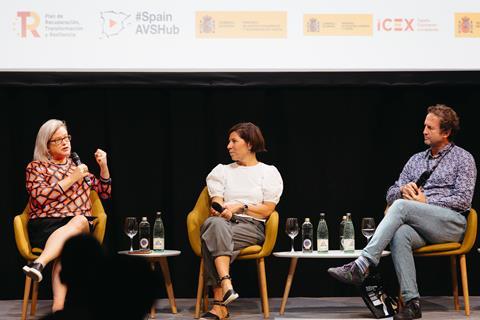 For Groth, trying to hold on to rights is important as it allows producers to share in the success of a project. Referring to his deal with Netflix on Tiger King, he said: "When we were negotiating with them [Netflix] it was a long negotiation, trying to fight to hold onto some of the rights. We lost that, but we leveraged for the sale price.
"When we did the deal, it was the biggest non-fiction sale I'd ever heard of. As it turns out, they ripped us off – it was such a monster [hit] for them. If there was some type of back-end, I could retire to San Sebastian."
Phil Hunt, the UK founder and managing director of Head Gear Films, co-managing director of Bankside Films and founder of Bohemia Media, rallied for the industry to embrace more diversity in distribution on the 'Storytelling's new horizons' panel. "It's about making problems your assets. How can we create something wonderful out of something that's failing? Let's get into AVoD [advertising video on demand] in a bigger way in the UK, let's start a FAST [free ad-supported streaming TV] channel."
"Consolidation is happening"
"When Disney bought Fox, it took a lot of buyers off the market for producers," noted Diana Williams of US media studio Kinetic Energy Entertainment on the 'Storytelling's new horizons' panel. "The same thing is going on with Warner Bros. If they start to get creatively conservative, that means they're only going to be going to 'the list' – and that's the same eight white guys to make the same tentpoles that all start feeling the same. They're not going to look at any other creative voices coming into the ecosystem – that's a concern."
"In five years, I don't see the same players," said Gaget of the streaming market. "We can't go on like this."
"Consolidation is happening," added Groth. "I also think there will be opportunities for new companies to come in, like Mubi expanding into the US. Production costs are increasing, I don't know if we'll ever pull that back. People aren't going to work for less, but maybe distribution and marketing costs can come down and open up new lines to get films distributed, and new players to fill into that place."
"You have to have a gambler's mentality"
Taking risks in business was another running thread throughout the event. Opening keynote speaker Vincent Maraval reflected on his failure to take a risk on Darren Aronofsky's Oscar winner Black Swan – a feature he rejected three times. "It would have made me the richest guy, I could have invested in films forever. I still think it's a gambling business."
He is, however, taking a risk with casting Johnny Depp in Jeanne du Barry, a role that will be his first since the Amber Heard trial. "We are doing Johnny Depp playing Louis XV. People said don't do a movie with him, but we liked it. I remember the discussion we had with the producer behind it who said, 'Do you think we are doing something stupid?' I said, 'Probably, but what's left if not?'"
"Failure is an important part of the creative process," said Groth. "On the business side, it's a little scarier. I was inspired hearing Vincent [Maravel] talk – this business is so unpredictable. If you look at the huge films recently, like Everything Everywhere All At Once, Parasite, those were risky bets to take. There's some risk mitigation when you finance, but you do have to have a gambler's mentality."
"Drama is the most difficult"
The genre that, across the board, is proving most challenging for business, is drama. "Forget about pre-selling drama right now, it's almost impossible," admitted Claudia Bluemhuber of Zurich-based film financier, Silver Reel, with soft money becoming increasingly integral to financing. Bluemhuber was speaking on the 'Crossing borders' panel.
"Drama today is the most difficult part," said Maraval. "Drama used to be director oriented. It's easier to sell genre – horror, science fiction, there is a market everywhere. Drama is depending on the execution – you don't know if it's going to be great. It's much more difficult to identify the minimum value of a drama, because it could be zero."