It may have started as a dare, but irreverent UK TV comedy Fleabag has gone on to international acclaim.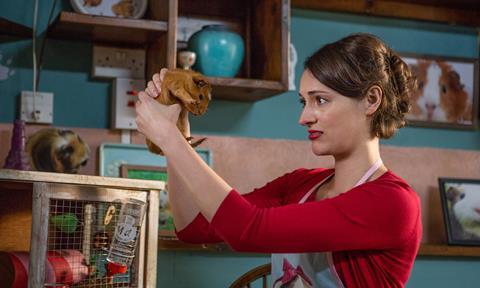 Phoebe Waller-Bridge is having a moment. An enduring moment, in fact, that has seen her dazzle on film, stage and TV — most notably in her raw and raucous BBC and Amazon Studios hit, Fleabag. The six-part show, about the exploits of a sexually voracious Londoner with a penchant for chiselling away at the fourth wall, has thrust the west London dramatist and actress into the Emmys race.
Not bad for something that, as Waller-Bridge recalls with a throaty chuckle, started out as "a bit of a dare". A friend persuaded her to perform at an open-mic night, so the Royal Academy of Dramatic Arts graduate, who had by then appeared in The Iron Lady, threw together a few anecdotes and took to the stage. The audience loved it and, unbeknown to her, friends including Drywrite Theatre Company co-founder Vicky Jones — who would direct the stage version — booked Waller-Bridge a slot at the 2013 Edinburgh Festival. Writing a play was not at that time part of her "grand plan", so she felt little pressure beyond the looming deadline and wrote Fleabag in three weeks.
"I just wrote a character that I would love to play, who was basically this dark, contradictory, lying, acerbic sex addict," Waller-Bridge says dryly. "I thought that would be fun. And people really related to that."
So much so, in fact, that Fleabag won a Fringe First award in Edinburgh and the BBC commissioned Waller-Bridge to write a pilot. Eventually, Amazon Studios partnered on the six-episode season, which aired in 2016 and was hailed as one of the most original shows to come along in a while.
Waller-Bridge, now 31 and married to documentarian Conor Woodman, has also written and stars in the Channel 4 sitcom Crashing, which Netflix streams in the US. Yet while that show wears its broader comedy heart on its sleeve, Fleabag is an entirely different animal.
Beyond the uproarious setpieces and anarchic, parenthetical asides to the camera, there is a loneliness to Fleabag's sexual appetite. As she engages with paramours, her dysfunctional family and a dead best friend, it becomes clear she is never far from the precipice, particularly as she fumbles with a devastating secret.
That is why, when Waller-Bridge discussed expanding her play with the BBC, she felt there could only be one format. "After Edinburgh, there was interest in it being either a half-hour comedy or an hour-long series with another channel — about six hours for their drama department — and there was talk of making it into a movie," she notes. "So it was really interesting trying to work out what the best form was for it. What I knew I'd get from it being a half-hour comedy at the BBC was that the audience who were coming to it would be ignorant of the [final episode] twist. I always thought it was important to sell it as a comedy, so that you could pull the rug out from underneath the audience and break their hearts."
Creative collaboration
Waller-Bridge has enjoyed working with the BBC and talks of the "dreamy" process of collaborating with Amazon Studios. "They are so wonderful and open-minded," she says. "They are so relaxed and put so much faith in you as a creator."
Comedy can be a notoriously fickle traveller, yet she notes the US bought into the tone of the show wholeheartedly, and only raised the odd question mark over "vocabulary" issues here or there.
The one significant call occurred in episode five, when Fleabag undergoes a routine breast cancer screening and, in one early take, finds the doctor pleasuring himself at the end of the consultation. "It's horrible, horrible," Waller-Bridge says, amid an attack of the giggles. The footage was funny, she says, although everyone felt "icky".
"I realised it was because suddenly Fleabag wasn't the only one who was thinking in perverse ways," she explains. "The whole story is about how she perceives the world in an over-sexualised way and everybody else is going about their lives, and suddenly you've got this seriously wanking doctor. It felt like the world had betrayed itself in its innocence in that moment."
The Fleabag world is populated with delicious characters, from the monstrously passive-aggressive stepmother played by Olivia Colman — a friend from The Iron Lady and ITV crime series Broadchurch — to Hugh Dennis's disenchanted Bank Manager, Sian Clifford as Fleabag's sexually repressed sister Claire and Jamie Demetriou as the surprisingly prudish Bus Rodent. While the Fleabag milieu draws on personal experience and the sharp observation of a seasoned performer, the show is not autobiographical. That said, the protagonist's name — never mentioned aloud in the show — is rooted in reality.
"It's actually my family nickname," she says, amid peals of laughter. "I'd been trying to find a name for the Edinburgh show and was really stressing out because we had a press deadline, and had to think of something at the last minute. I was with the whole team and my mum rang and called me 'Fleabag' on the phone. I turned to my company and said, 'This is a terrible idea but I think I've got the title.'"
New horizons
An escalating career has brought exotic opportunities. The Doctor Who rumours remain no more than that, but Waller-Bridge is exploring sci-fi with an unspecified role in the untitled Han Solo Star Wars anthology film, due out in 2018. Shooting was underway at the time of Screen International's interview, and the Londoner was naturally cautious about discussing her role. "I so wish I could say but I'm not allowed. I feel like they listen to every word I'm saying. It is extraordinary and brilliant and obviously the most fun I've ever had in my whole life."
Also coming up in film is a role as a reporter in Goodbye Christopher Robin, Fox Searchlight's biopic of Winnie-The-Pooh creator AA Milne, which Waller-Bridge describes breezily as "quite an edgy film" and "beautifully done". She is writing a show about a female assassin for BBC America, though will not star, and says next year she would love to write and direct a feature.
Will there be a Fleabag sequel? A tiny pause. "We're still discussing it," she says. "The story to me in so many ways has kind of ended because the arc is complete, but it leaves the characters' stories open. I want to have the right idea and the right structure to crack that story open again. They [BBC and Amazon] are giving me some space to think about it, but hopefully I will crack it because I would love to do it again."
Waller-Bridge has since revealed that she hopes to shoot another series in November for an expected broadcast in 2018. "We are all trying to make it work and have the same team back," she said at the Broadcasting Press Guild Awards.
Waller-Bridge is so adept at summoning mischief and despair in Fleabag, it begs the question of how deep she is sucked in when she writes. "I'm always thinking about material and what would be a cool twist or a way into a person," she says, adding in a trademark aside, "It's kind of exhausting, really."
When it comes to writing tragedy, she takes a strategic approach. "I think to myself, 'That would be sad,' in quite a clinical way. I don't go into a dark place and dig it out. I want the audience to experience something here, and think how I can do that. I probably have to go there in some way, the darker corners of my mind. It's quite healthy. It's like spring cleaning."