Screen reports from the fifth edition of genre film market Frontières, which returned to BIFFF for its second European edition.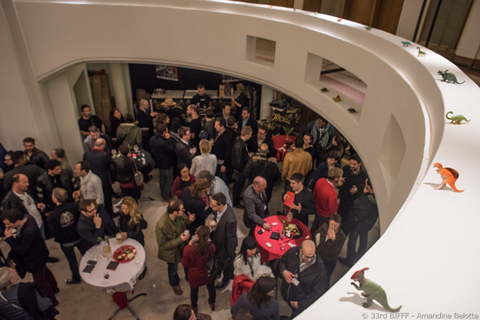 From drug-fuelled Voodoo hallucinations and possessed violin sonatas to apocalyptic pregnancies and demonic hospitals, via an eventful night in a Parisian kebab joint, it's fair to say the fifth edition of Frontières International Co-Production Market had projects from across the genre spectrum.
Running its second European edition at Brussels International Fantastic Film Festival (BIFFF), Frontières held the pitch sessions for its 16 projects on Thursday morning [April 9] with over 230 film industry professionals in attendance across the market's three days.
78/52
Kicking off proceedings in fine fashion was Alexandre Philippe's 78/52, a "cinematic tribute" to the iconic shower scene from Alfred Hitchcock's Psycho.
Philippe noted that "If Psycho changed the way people shower, it's safe to say that after watching 78/52, you will never look at the shower scene the same way again."
Produced by Kerry Deignan Roy of Exhibit A Pictures (Doc of the Dead), the documentary will be stylistically unique with interviews being composited into the world of the film (in black-and-white) and will also feature fictional recreations with Janet Leigh's body double, Marli Renfro.
The poster for the film [pictured], created by The Walking Dead artist Charlie Adlard, was unveiled during the pitch and sees a silhouette of Hitchcock standing behind the infamous shower curtain.
Interviews have already been held with the likes of Elijah Wood, Neil Marshall, Breat Easton Ellis and Hitchcock's granddaughter Tere Carrubba. The pitch also promised that 78/52 will look at the impact of Psycho as a whole and will feature an "epic melon-stabbing sequence".
Skin and Bones
From melons to mercenaries, the pitch for Skin and Bones saw director Casey Walker (whose A Little Bit Zombie was a festival favourite in 2012) in self-deprecating form.
Set at Fort William in Ontario at the decline of the fur trade, the film is a revisionist history which sees an American mercenary having to unite a trading party to face off against an ancient evil, the Ojibwe myth of the Wendigo.
Walker believes that "the isolation of wilderness setting will heighten the overall tension and cement the terror of the story," and an auspicious concept trailer gave a strong sense of the film's tone, with clanging shackles the only sounds as a slow reveal of the monster unravels.
"It is a journey into the darkest recesses of our core being and a study of the ancient evil that resides in all of us: hunger," added Walker.
Familiar faces
Walker was one of the returning faces to the Frontières market having attended previously as a producer on The Void, with other returnees including Turbo Kid producer Anne-Marie Gélinas with new project Jessie's Demons.
Speaking to Screen, Frontières market & industry director Lindsay Peters believes this is reflective of the genre community as a whole. "The genre community is such a strongly knit and very supportive community and I think that's why Frontières works as well as it does, because we have a core group of very dedicated professionals who get projects done very efficiently."
She continues: "We are always going to have projects from regulars who we definitely want to support, but the key is to keep ensuring that new talent gets folded into the mix. The great thing about Brussels and doing two editions per year is that it really gives us access to the European market in a way that we didn't automatically have with Fantasia, which has really been effective."
Zombies
As ever, zombies were not far behind. The Night Devoured the World, produced by Haut Et Court's Carole Scotta, centres on an agoraphobic survivor of a zombie apocalypse, while Viva Berlin!'s director Moritz Mohr and producer Benjamin Munz were at pains to avoid the Z word.
Adapted from their 40-minute mini-series, Viva Berlin! follows a group of "hedonistic and egocentric freaks, born and bred in Berlin's night life" who have to survive against an outbreak of infected 'Grinners'.
Zombies they may not be, but the concept of the Grinners - who just kill and sleep around (more colourful language was used) - and the premise of a horror/party film set in a walled-in Berlin is certainly a unique one.
Spare / Sinners
Other stand-outs from the session included body horror Spare and UK-France psychological thriller Sinners.
Written and directed by Kevan Tucker and produced by Andrew Corkin (Martha Marcy May Marlene), Spare will take a Black Swan-esque look at the fashion industry and follows a struggling model who discovers (and kidnaps) a successful doppelganger.
While Sinners, directed by Mum & Dad's Steven Sheil, will star former Screen International Star of Tomorrow Rosie Day as Roberta, a follower of a Christian cult, described by Sheil as a "Scottish version of Westboro Baptist Church", who goes on a killing spree targeting modern day sinners.
Future plans
This edition also saw a Market Spotlight of four projects from the European Genre Forum at Tallinn Black Nights Film Festival and Blood Window at Ventana Sur, an intitiative that Peters is keen to continue.
"For the next few years, we are very much aiming to develop the market and expand our guestlist to include more people from beyond America and Europe. The Market Spotlight was a way to establish a community and get a circuit going of genre industry events," outlines Peters.
"A project can't just go to one market and get all of its needs met, so the idea is we're hoping to continue this with different markets each edition and even start to partner with markets that don't necessarily specialise in genre."
Accreditations for this year's BIFFF edition were up 20% on last year.
Peters concludes: "Four years ago when Fantasia decided to start up Frontières, I think there was a bit of scepticism on whether it was going to work, so we're very happy by how it's grown by leaps and bounds and every year the projects are continually upping their game and bringing great presentations to us."
Frontières is a collaboration between Fantasia International Film Festival, BIFFF and Vision-in-Motion. It is supported by Creative Europe, Telefilm Canada, SODEC and of Visit Brussels, Brussels Film Office, Brussels Capital-Region, Fédération Wallonie-Bruxelles, Wallimage, Image Brussels, the Netherlands Film Fund and Creative Scotland.
The sixth edition will take place at Fantasia in Montreal from July 23-26. The deadline of project submission was recently extended to April 24. For further information, visit its website.