Screen selects and profiles the talents who are already making an impact on the film sales landscape.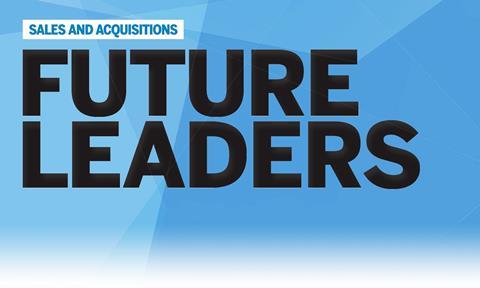 Scroll down for the full list
Since 2012, Screen International has been selecting its annual Future Leaders list and presenting it at the Cannes Film Festival. It shines a spotlight on the rising stars of the international film business, and each new list is always eagerly anticipated.
This year our focus is on sales and acquisitions.
Screen writers have selected 38 rising stars of sales and acquisitions; the executives beginning to make an impact in their businesses and a name for themselves at international markets.
All our Future Leaders say they are invigorated by the dynamic transformation the sales and acquisitions business is undergoing. "It's fast, frenetic and competitive — a bit like a game of blackjack," says Altitude Films' Ellie Gibbons of working in acquisitions.
What jumps off the page when reading about these whipsmart executives is their passion and dedication to the film industry. In their hands, the future looks bright.
For profiles of the 2017 Future Leaders, head over to our DIGITAL EDITION
Future Leaders 2017: sales and acquisitions
Maite Alvarez, The Orchard (US)
Ed Caffrey, Vertigo Releasing (UK)
Chantal Chateauneuf, Mongrel International (Can)
Anne Cherel, Studiocanal (Fr)
Anna Chettle, HanWay Films (UK)
Christy Choi, One Cool Pictures (HK)
Mike Dougherty, Radiant Films International (US)
Diane Ferrandez, Wide Management (Fr)
Ellie Gibbons, Altitude Distribution (UK)
Zach Glueck, Bloom Media (US)
James Gold, The Weinstein Company (UK)
Martin Gondre, Indie Sales (Fr)
Gabor Greiner, Films Boutique (Ger)
Tassilo Hallbauer, Beta Cinema (Ger)
George Hamilton, Protagonist Pictures (UK)
Mirva Huusko, Nonstop Entertainment (Swe)
Lindsay Jensen, Films We Like (Can)
Paul Jun, Covert Media (US)
Cate Kane, Curzon Artificial Eye (UK)
Moritz kleine Bornhorst, Picture Tree International (Ger)
Derek Lui, LevelK (Den)
Danny Lee, Contents Panda (S Kor)
Inge de Leeuw, Stray Dogs (Fr)
Gaetano Maiorino, True Colors (It)
Sofia Marquez Moreno, Mundial (Mex)
Anne-Sophie Martel, Gaumont (Fr)
Brian Mates, The Exchange (US)
Bianca Obermaier, Weltkino Filmverleih (Ger)
Isabelle Hyejin Park, Atnine Film (S Kor)
Francesco Polimanti, Leone Film Group (It)
Emmanuel Pisarra, Doc & Film (Fr)
Mia Sin, Universe Films Distribution (HK)
Josh Spector, Gravitas Ventures (US)
Ioanna Stais, Heretic Productions (Gre)
Isabelle Stewart, Focus Features (UK)
Anna Strunevskaya, Art Pictures Studio (Rus)
Gaetan Trigot, Celluloid Dreams (Fr)
Bryce Tsao, iQiyi.com (China)
Find our more in our digital edition, or subscribe to our print magazine.
Read more:
Future Leaders 2016: Agents