The Mexican actor, producer and director discussed fun, friends and his future at the Sarajevo Film Festival.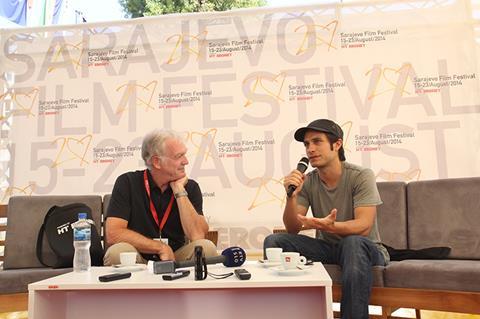 On the plane to this year's Sarajevo Film Festival (Aug 15-23), Screen was sat behind two rows of young women who were shaking with excitement, whispering to each other and giving furtive looks over the seats in front with glee.
Two rows ahead was Mike Leigh. Who knew the British director caused such a reaction with his trademark brand of realism cinema? It was only at the baggage carousel that things became clear as Mexican actor Gael Garcia Bernal stood waiting, with an intense look of brooding and an air of moodiness.
Rather than creative ennui, it turns out this intensity was down to around 30-hours of travel and the fact that the airline lost his luggage. However, when he sits to discuss his career over a coffee at the festival's main square, he is full of the smiles and warmth that has secured his admirers.
"It's strange to be here as I never thought I was going to be an actor in films," Bernal tells an intimate gathering of festival delegates.
Despite being the son of an actor and actress, it was never preordained that he would follow in his parents footsteps.
"There's a saying that if you're from a family of ironmongers, you'll be a fisherman or a carpenter. I wanted to be something other than an actor – but the waters took me in that direction," he recalls.
Boredom and breakthrough
Born in Guadalajara, he read philosophy in Mexico but moved to study theatre in London because he was "bored" of his studies.
His breakthrough role came in 2000 with Alejandro González Iñárritu's Amores Perros, in which he played a working class dreamer. The film was shown at Sarajevo's Open Air Cinema on the opening night of this year's festival, forming part of a focus on Mexico.
The jet-lagged Bernal looked overwhelmed on stage, in front of the thousands of cinemagoers, as he accepted the Honorary Heart of Sarajevo award.
The following morning, the actor says: "I never thought I was going to be an actor in films, specifically because there weren't many films made in Latin America at that time.
"When we finished the last scene of Amores Perros, I asked the producers for a VHS copy so I could show my family, not thinking it would be seen. So to be screening it 16 years later in Sarajevo is amazing."
Hollywood games
His follow-up role in Alfonso Cuaron's Y Tu Mama Tambien cemented his arrival on the scene and Hollywood came calling. But it was not a call Bernal was ready to take.
"I had to play a game that I wasn't ready for," he says. "I also didn't feel the need to play that game, which was very empowering but made a lot of people desperate. I felt at that point a strong sense of freedom – not being a US actor that had to go through that process.
"People wondered why but I was young and not ready to do those things. And why wouldn't I do The Motorcycle Diaries or No so I could make an equivalent elsewhere?"
Although his English is excellent, he also feels the limitations of his second language. "I have a lot of disadvantages working in English or other languages," he says. "I can't fly as easily as when I speak Spanish."
Directing over acting
Bernal has directed one feature, Deficit (2007), as well as a few shorts. "Alfonso Cuaron said to me 'The first time you direct, you won't be able to act anymore unless you're doing it with friends' – and he was right," says Bernal.
"I would rather direct than act and I want to make another film soon, hopefully in Mexico or Argentina. I feel a strong sense of revenge to return."
He will next be seen in front of the camera in a few exciting projects. There is border control drama Desierto, directed by Jonas Cuaron.
Working with the son of Alfonso, who directed Bernal in Y Tu Mama Tambien, he says: "I want to be disciplined in working with people with whom I have a complete friendship and creative collaboration like Jonas."
Smiling, the actor adds: "It is the first time I have been directed by someone younger than me. It was funny to have my little nephew tell me what to do."
Bernal also plays the lead in Rosewater, the directorial debut of The Daily Show host Jon Stewart, about a journalist detained in Iran for more than 100 days and brutally interrogated in prison. It will premiere at the Toronto International Film Festival next month. "That's a really interesting one," he says.
Bernal will also be seen in Roberto Sneider's upcoming comedy adaptation Deserted Cities
Return to TV
The actor will return to New York to film Amazon series Mozart in the Jungle, in which he plays a maverick classical music conductor.
"I haven't done TV for ages so thought it would be fun – even if people may criticise my conducting skills," he laughs.
"The one thing I want to do is keep having fun as an actor. I don't want to become like the musician that stops enjoying the music. I want to keep enjoying acting and not fall into the industrial whirlwind."