The director, producer and star of TWC's awards-season contender Lion discuss the challenges of shooting in India and Australia.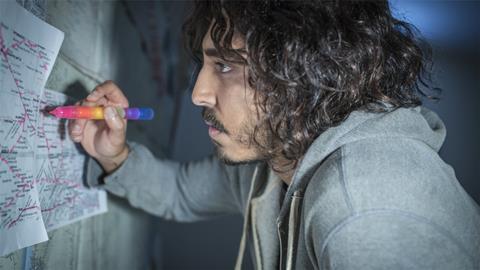 See-Saw Film co-founders Iain Canning and Emile Sherman were at Sundance with Top Of The Lake in 2013 when they heard about Saroo Brierley's memoir A Long Way Home, the incredible true story of how he was separated from his family in rural India and adopted by an Australian couple. Decades later, he found his birth mother with the help of Google Earth.
"We are interested in doing international stories coming out of the UK or Australia," explains Canning of the London and Sydney-based company he founded with Sherman in 2008. "We said, 'That's an important story to adapt'. It's about identity and who we really are, and what connects us. It's also a positive message about love."
There were already more than 20 parties bidding for the rights, but See-Saw had an advantage because Sherman is based in Australia and could meet personally with the Brierley family. Canning and Sherman mentioned the project in passing during Sundance to commercials veteran Garth Davis, who had co-directed Top Of The Lake. "He said, 'I've got to direct that'. He was lobbying to direct it even before we had the rights," Canning recalls.
"It was an incredible story," Davis says of his immediate interest in directing the film as his first feature. "It had a very refreshing quality to it, traversing two worlds, it was epic in scope but also intimate and emotional. It has all the qualities of films I love and wanted to make. I'm a spiritual person and I thought there was something going on here a lot deeper."
Davis says the timing was "quite serendipitous" because before the team started working on the script he was able to tag along with a crew from US TV show 60 Minutes as they took Saroo and adoptive mother Sue Brierley to meet Saroo's birth mother Kamla in rural India. "It was such a big moment for Saroo to have these mothers meet. I feel like I got straight inside the inner circle quite quickly," says Davis. The footage is included in the film's credits sequence.
Two journeys
After the rights were secured, the team brought in screenwriter Luke Davies, who had written the Australian drama Candy in 2006 — which was the film that introduced the future See-Saw partners: Sherman had produced the film, sold by Canning when he worked at Renaissance Films. Davies had also written a 2015 See-Saw feature, Anton Corbijn's Life.
The story of Saroo's journey presented itself as a unique challenge to structure as a feature film. As Canning puts it, "It was an external journey in the first half and an internal journey in the second half."
Davis adds, "We spent a lot of time debating the structure. I love taking the audience on a journey and they cannot believe where we're going; he's on a train, then in an orphanage, then on an airplane. You are propelled through this remarkable journey."
Davies worked closely with the team as he wrote — and didn't have the luxury of time. He was attached in July 2013, delivered a first draft in February 2014 and a second draft in March 2014, with revisions rushed to deliver in time for financing at Cannes in May 2014, so the shoot could go ahead in India before monsoon season. "Luke was on a 24-hour cycle," Canning recalls. "He'd wake up and get notes from me from the UK, then do more writing and send to Garth and Emile in Australia, then go to bed. It was a real write-a-thon."
One challenge was making sure the true story didn't become too treacly. "I like to tell stories that are emotional but not sentimental," Davis says.
"A lot of design has gone into the emotional texture of the film," the director adds, pointing to something seemingly tiny like adult Saroo and his girlfriend Lucy skipping down the street, reflecting Saroo's childhood playing in the streets. "India comes back to him in non-narrative ways; all that is sitting under the surface. His Australian life was a reflection of his Indian life. There were a lot of elements that we could play with."
Davis embraced the fact the film would have a tonal and pacing shift once it moved from young Saroo in India - in his colourful, exciting and scary adventures on the streets - to older Saroo in Australia, using Google Earth to track down his birthplace. "I found that exciting. They are meant to feel very different and everyone needed to experience India so that when we were quiet [in Australia], we still had India with us," says Davis. "The balance was honouring the contemporary story with so much rocket fuel coming behind it. You have to put the audience through the experience. If he just finds home, that's no journey."
Even with the script's challenges - the first hour is not in English, and a lot rests on the shoulders of a six-year-old - Harvey Weinstein saw the project's potential. Weinstein had already worked successfully with See-Saw on Oscar winner The King's Speech and Australia-set Tracks.
"Harvey has worked with us consistently, but we also wanted to hear from TWC why they cared so much about this film," Canning explains. He says Weinstein understood the kind of film the team wanted to make, comparing its spirit to films such as Bicycle Thieves and Cinema Paradiso.
Passage to India
Weinstein, who served as executive producer on Lion, also has special connections to India. "I was moved by the piece," he says simply. "Twelve years ago I started seeing Georgina [Chapman, now his wife]. She's involved in fashion, and her inspiration has always been India. Her family had lived there and we named our now six-year-old daughter India, and Georgina started a school in Delhi to take kids off the street, the Rose Home Shelter. This story was very appealing - because of these kids and what happens to them - for me on a personal note."
The film was financed by TWC, which acquired rights outside of Australia and New Zealand. Transmission took Australia/New Zealand rights, with further backing coming from Screen Australia. In addition to See-Saw's Canning and Sherman, the third producer is Angie Fielder of Australia's Aquarius Films. Fulcrum Media Finance cashflowed the Australian Producer Offset and Sunstar Entertainment acted as co-producer. "It was relatively simple for an independently financed film given other structures we have put together," Canning says of the production.
A cast that 'goes deep'
UK actor Dev Patel, who plays adult Saroo, was determined to be a part of Lion, even before the script was written. "I was way too premature, they had a big white board with post-its on it at that point," Patel says of his first meeting with Davis and Davies.
Davis admits he was at first skeptical about Patel being right for the role. "I think he's special, but it wasn't an instant convince for me. I had to test him, he hadn't done a performance like this before. I tested him for four to five hours at a workshop in London. I really worked him hard, he was amazing and I suddenly could see, he's going to do this."
Patel understood Davis needed to see him as more than "that chirpy guy from Marigold Hotel. For him it was important to see if I could fully submit myself to the direction of the film; "it puts you in some exposing places," he says. "I wanted to show him I was more than that. I was a serious actor; I wanted to go deep with this journey."
Patel indeed committed himself to the role with many months of diligent daily Skype calls to a voice coach in Australia, as well as bulking up physically for the role of surfing enthusiast Saroo.
Nicole Kidman, who plays his adoptive mother Sue Brierley, also pursued an early meeting with Davis after she heard about the project being developed. Canning says, "There's a real tenderness and maternal instinct to Nicole. This story went to her very core as a mother who has adopted."
Casting Rooney Mara as Saroo's girlfriend Lucy followed a suggestion from Weinstein, who had just worked with her on Carol. "She has this old-world charm to her," says Patel. "She's the ray of light in this script, her character is so important because Saroo stops being present, and Rooney's character is the one that makes him 'be here now.'"
Of course, the trickiest role to cast was young Saroo. "The biggest challenge was finding this kid who was going to have the film on his shoulders," Canning remembers. In a process that saw them meet up to 2,000 children, they found five-year-old Sunny Pawar through his charity-funded school (he was six when the film shot).
"When I saw him, it was something about his natural state that was instant," says Davis. "I just thought he was Saroo. I'd been dreaming of this character for so long and I saw him."
Davis held extensive rehearsals and workshops with Pawar and crafted a bespoke children's book of the story for him to understand. Davis says they had to "completely create an environment where he was supported but not hero-worshipped" on set.
Davis' approach also impressed the adult actors. Patel explains, "With a lot of directors, you feel like you're being observed, judged and told what to do. Then there are other directors who are in the trenches with you, they'll tell you about the emotions, their own history, and he's that kind of director."
A challenging production
The film started shooting in January 2015 in India, moving to Australia in April, where filming took place in Hobart, at Mount Wellington, and Cockle Creek in Tasmania. In India, the production shot in Kolkata's Howrah Station and Howrah Bridge, and Shalimar Station, Flurry's Cafe and the bankside of the Hugli River (some of the actual locations where young Saroo was lost). For the film's earlier scenes, production was based in Khandwa, Dewas Quarry, Dewas Station and Gavalu Village (which stood in for Ganesh Talai).
Davis' meticulous advance preparation paid off. "Garth is one of the most prepared directors I've come across. He's 80% prepared, then allowing room for 20% magic to occur," Canning says.
The logistical challenges in India included shooting many scenes on trains and in railway stations, as well as shutting down a bridge to film a scene in which Saroo runs on it. "We were given four hours with no traffic," Canning says.
In Australia, shooting was logistically easier but the team had to be sensitive to the fact the Brierley family still live locally. "We had to make sure we didn't wade in like some big Hollywood film," Canning says. Production in Tasmania kicked off with a barbecue that included the cast and crew alongside the real Brierley family.
During prep and shooting, Davis was able to lean on his DoP Greig Fraser, with whom he has worked for 20 years on commercials. "This movie is a complete expression of a language we have developed together in many ways," Davis says. He says they both like to work in "real locations with a sense of place and atmosphere".
Davis adds: "The big challenge for us was telling it from a little boy's point of view." Fraser had to design a new camera rig to keep the camera at the correct level to immerse the audience in young Saroo's world.
Lion premiered at Toronto in September, where it was the runner-up for the coveted audience award. It has gone on to play widely on the festival circuit. TWC released Lion in the US on November 25. The film will be released in Australia on January 19 and the UK on January 20.
Audiences have been moved and inspired to get involved in helping children suffering a similar plight to the young Saroo in India, and See-Saw and TWC are now working with The Charity Network for a social impact campaign. It uses the hashtag #LionHeart, and provides financial support for non-profit organisations serving vulnerable children on the ground in India.
For Patel, Lion is ultimately "an anthem of love. It's about a guy who is a product of two loving environments, a single mother in India, and he's given a second chance at life by this gracious woman Sue in Australia. He's got these two pillars of love".