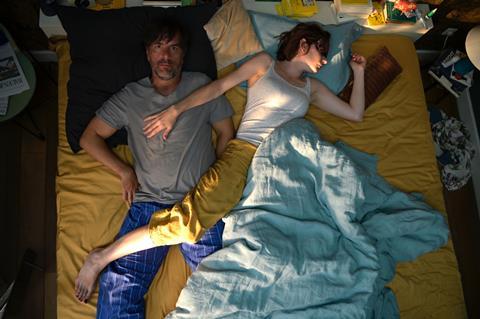 Film productions of all sizes in Germany are getting back on set thanks to the country's new Covid-19 health and safety guidelines.
With the introduction of lockdown measures in mid-March to combat the coronavirus pandemic, the German production sector saw projects big and small closing down overnight.
The most prominent of the affected productions were Warner Bros and Village Roadshow Pictures' Matrix 4 and Sony Pictures' Uncharted, both of which had just begun shooting. Both were able to resume production in the summer at Babelsberg Studios and in Berlin.
However no further US productions are lined up to shoot in Germany in the near future due to German restrictions on who can enter the country.
Several high-profile local productions were also put on hold, including actor Daniel Brühl's directorial drama Next Door, Detlev Buck's Thomas Mann adaptation Felix Krull and Tobis Film's Catweazle, based on the popular UK children's TV character.
In the weeks after this shutdown, Covid-19 health and safety standards guidelines for film production were put together by the Professional Association for Energy, Textile and Electronic Media (BG ETEM). Additionally, over 200 industry insiders came together to launch the WirSind1Team initiative, to provide further detailed practical advice for every department working on a film production.
It has certainly made for a difficult time. Producer Jan Philip Lange of Hannover-based Junifilm was due to start shoot in Kolja Malik's coming of age drama Las Vegas in mid-April to but had to re-schedule to shoot from early August.
"The greatest challenges were coping with the interruption to the preparations, the budgeting and financing of the additional costs related to corona as well as drawing up and maintaining a hygiene concept before and during the shoot," explains Lange.
Some productions have been able to keep close to their originally scheduled shooting dates. Helena Wittmann's second feature Human Flowers Of Fleshbegan began principal photography on August 12, just days after having been presented one of the projects at this year's Locarno Film Festival's 'Films After Tomorrow' selection of international projects.
"We only made the final decision to go ahead about two months before the start of shooting and only after it became apparent that travel restrictions were being lifted throughout Europe," says producer Julia Cöllen of Hamburg-based Fünferfilm. "There was a slight shift of two to three weeks."
Having an international cast and crew and shooting at three different locations outside of Germany (France, Corsica and Algeria) presented the production company with additional challenges. Director Wittmann admits to experiencing "constant moments of trepidation […] because I was aware of how had bold and risky the production was under the new conditions."
The film wrapped on September 11.
Even seasoned directors have found working under the new guidelines a daunting prospect but are adapting to the new normal. "I was very concerned that working with the actors might suffer from the fact that the crew behind the camera was having to wear masks, but that [concern] was quickly dispelled," says the Oscar-winning Florian Gallenberger, who started shotoing his latest feature, the comedy It's Just A Phase, Honey Bunny, in Cologne and Munich at the beginning of August. It is produced by Majestic Filmproduktion and is set to wrap at the end of September.
'"We tested the actors twice a week so that they could interact normally with each other in front of the camers," he explains. This naturally also included all the extras, which meant quite an expense."
Insurance fund shortfall
While Germany's filmmakers have been keen to get back to work as quickly and safely as possible, producers have had to contend with the fact no insurance company will cover for interruptions or stoppage caused by Covid-19. The producers' association lobbied Monika Grütters, state minister for culture and media (BKM) for state support and, in mid-September, she followed the lead of other European countries such as Austria, France, Netherlands and the UK to launch a €50m insurance fund. It is part of the German government's €1bn Restart Culture programme.
The fund can support feature films and high-end TV series with up to €1.5m if production has to be stopped or even abandoned due to a Covid-19 infection. However, it can only be accessed by projects backed by those funds under her auspices: the German Federal Film Fund (DFFF), the German Motion Picture Fund (GMPF),the BKM's cultural film funding programme, and the reference and project funding of the German Federal Film Board (FFA).
However as none of these funds support TV production (apart from the GMPF which backs high-end TV), there are calls for the federal states, broadcasters and streaming services to make a financial contribution to a second insurance fund which would specifically cover Covid19-related risks on TV productions; particularly as over 80% of the film content produced in Germany is destined for the small screen.
An open letter signed by 39 film industry associations pointed out that "TV productions form the economic basis for filmmakers and producers in Germany", and that any delay to establishing such a fund could also affect the ability of the German film and TV industry to compete at an international level.