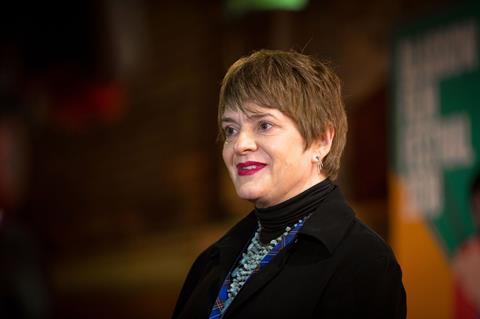 At the age of 15, the Glasgow Film Festival (20 Feb-3 March) is firmly established in the festival calendar. It hosts over 100 UK premieres and sells 40,000 tickets (up from 14,000 in 2005). According to festival programmer and co-director Allison Gardner, GFF also has increasing relevance for the UK industry - one reason why it receives such strong support from the BFI and Screen Scotland (formerly Creative Scotland).
"I think they (Screen Scotland and the BFI) think we are really filling a gap in terms of looking at the journey for young and upcoming filmmakers," Gardner says of the national agency which is holding an open session at the festival this week led by Screen Scotland executive director, Isabel Davis.
One word Gardner uses again and again is "accessibility." GFF is not one of those events where industry delegates and special guests hide away from the public in VIP areas. Everybody mingles together. If you buy a ticket to the opening film (this year, Jonah Hill's Mid90s), that guarantees you an invitation to the opening party.
"We want everybody to be a part of this. I don't want it to be elitist. I mean Cannes is lovely because you're in the south of France but it is a very elitist festival. It's expensive."
Nor is the festival snobbish about genre fare. It has a long-standing partnership with Frightfest and this year will be holding a screening of horror classic The Blair Witch Project in a secret location (Gardner won't disclose where but insists that anybody who does attend will be properly terrified.)
Recent months have seen festivals and awards events shuffling their dates. The Oscars and Baftas have come forward while Berlin announced recently that its 2020 edition will begin on February 20 - a fortnight later than this year. Yes, Gardner confirms, GFF will also be shifting next year too, to a likely Feb 26 launch. Next year, the events will therefore overlap. Sometimes, though, the festival can "piggyback" on Berlin's guests. There is also now an established pathway for films with UK distribution which will see them play in Sundance, Berlin and Glasgow before being launched in UK cinemas.
While Gardner wants the festival to continue growing, she is not obsessed by numbers. One key target is to ensure that every screening is at least 60% full. "That is an important figure because it gives the filmmakers a better experience; it gives the audience a better experience."
Nor does Gardner fret about celebrity. GFF continues to welcome big names, from Richard Gere (who turned up for the premiere of Time Out Of Mind in 2016) to Michael Palin, Matt Bomer, Carlos Acosta and Karen Gillan this year, but Gardner reckons that festival audiences will get more out of a Q&A with an impassioned first or second time director than from catching a passing glimpse of a star on the red carpet.
The next generation
Unlike many other more established festivals, GFF successfully attracts younger cinemagoers. The Sound & Vision strand, exploring the bonds between music and film, has been especially useful in this regard. "Glasgow is a very roots up sort of culture and music is a big thing in Glasgow and we wanted to reach that local, vibrant music community. That has really worked."
It also helps that GFF has its own youth event, run in September, which nurtures young film lovers, many of whom go on to attend the festival. Ticket prices for 15 to 25-year olds are kept at £6 and there are also free screenings. For example, all the screenings in the 1969: The end of innocence strand are shown without charge (these include such classics as The Wild Bunch, Midnight Cowboy and Easy Rider). Nor is this a festival that exploits young workers. All interns are paid. Box office staff members are paid the Glasgow living wage.
GFF will be working with Everyman Cinemas for this first time this year. "I never see people as competition. I always see them as partners," Gardner says of the partnership. "We all have a common goal. We all want to show great movies." The Everyman is providing a screen to the GFF - and the festival is trying to programme films on this screen that may broaden their audience.
The festival is also putting a spotlight on figures who should prove inspirational to young would-be filmmakers, for example Amma Asante and Joe Penna (who presents his film Arctic). "They've done the road work. I think they're good role models," Gardener says of them.
Look through the industry guests and you will notice that a large proportion of them are women. Six out of the 10 films contending for the audience award are directed by women but the festival isn't making a fuss of the fact. "I said to the industry team that I don't want to do anything on diversity. I don't want to do a panel on diversity. I don't want to talk about diversity (but) I want to see a whole range of different people involved…I don't want to have discussions about what we should be doing. Let's just do it."
When the festival was launched in 2005 under director Nick Varley, the organisers were responding to analysis in European journal which suggested that cities with film festivals have audiences that will see a broader range of work.
"We thought we need some of that," Gardner, who was involved in the festival at the outset, remembers. She and Jaki McDougall, Chief Executive of Glasgow Film, were determined to broaden the range of films shown at the Glasgow Film Theatre throughout the year and to engage younger audiences.
Gardner and critic Allan Hunter became co-directors in 2007. "With Allan's superb knowledge and expertise, we've really grown," Gardner pays tribute to her colleague.
Now, the challenge is to grow further without losing the qualities that make the festival special in the first place. One idea Gardner is exploring is setting up a coproduction market - but this won't happen unless there is clear demand for it.
"We would like to do that but once we can do it properly," Gardner says. "We're just after Berlin so we have to make sure we've got the right people; that people aren't too tired."
Even without a market, GFF is attracting more and more distributors, among them Dogwoof, Modern and Altitude this year. The festival's relations with the studios are also improving. "We've got a film from Sony this year, Bo Burnham's Eighth Grade, and we've never had a film… we went to them and they're delighted. They seem really, really happy with how we are managing their event."
Ask Gardner how she would like to see the festival evolve and she acknowledges expansion is crucial. "It is either grow or die." She would like to have more filmmakers present and to increase the industry activities. She would like to have more screens at Cineworld. The growth, though, will always be on the festival's own terms.