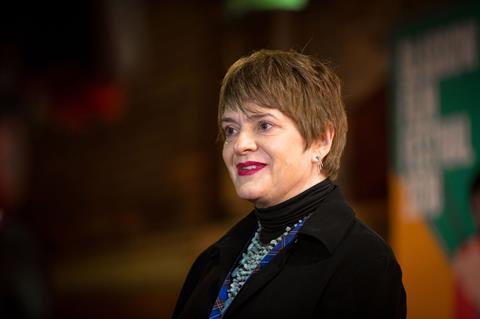 Glasgow Film Festival (GFF) is gearing up to launch its first online-only edition with a raft of premieres and industry activity.
The 17th edition of GFF, running February 24 to March 7, will open with Lee Isaac Chung's awards contender Minari and close with Suzanne Lindon's Spring Blossom, and includes six world premieres, two European premieres and 49 UK premieres.
The industry platform will feature interviews with 1917 writer Krysty Wilson-Cairns and The Mauritanian director Kevin Macdonald among others; a country focus on South Korea; and panels on disability in film, intimacy coordination in the age of coronavirus and a focus on black Scottish films, filmmakers and history.
The festival has also partnered with global streaming platform Mubi on a new 'ambassador' initiative, aimed at highlighting under 30s talent in the GFF programme, with director Ben Sharrock among those on board. Sharrock willl also present a case study of his award-winning feature Limbo.
GFF co-director Allison Gardner runs the festival with co-director Allan Hunter. Gardner is also the chief executive of Glasgow Film. She talks to Screen about what she has learned about virtual festivals in the last 12 months, budgeting for an online event and the creation of a new year-round platform 'Glasgow Film at Home'.
What have you learned from the online festivals you have 'atttended' in the past year?
The first one was virtual Cannes, but those key Competition and Un Certain Regard titles were missing so it was much more marketplace-esque. Then it was virtual Toronto, which was a better experience. They had more titles and it seemed better signposted.
I learned to treat a virtual festival as if it's a real one, which includes pacing yourself and taking breaks in between films, as if you're walking to another screening or doing something else. If you don't and you're online all day, you lose concentration very quickly. I've scheduled GFF Online as if it is a physical festival, spreading out films across each day, rather than having five films overlapping.
What online platform at your using for GFF Online and did that involve a costly outlay?
We looked at four or five different vendors but went with Shift 72, the same as Toronto. We have two separate platforms: Glasgow Film at Home, which is public facing, and another for press and industry, in which we have invested more because it will also host events and more.
In terms of outlay, it's not massive but also depends on how invested you are in online. We will be using it for Glasgow Film Theatre (GFT) all year round and are calling Glasgow Film at Home our fourth screen (GFT has three screens). Going forward, after screening at GFT, we could extend a film's life using the online platform.
Not being able to sell tickets to physical screenings this year, and perhaps associated income around that, how is GFF coping financially through this period?
We work as a team to look at cash flow every three months, because that's really important in this quite tricky period at the moment. We had set a budget for GFF 21 but that was all scrapped. Then we set a new budget around our hybrid model, which was later adapted when we went fully online. You're entirely correct about physical tickets. Online will not ever match that so in terms of the income, it has been drastically reduced but we have also able to reduce our costs as well.
Are you getting financial support from the government or elsewhere?
Yes. As part of the UK government's package to the Scottish government, through Screen Scotland, we received funding from the Independent Cinema Recovery and Resilience Fund. We are also receiving some rebate on our rates, which all businesses can access. The Coronavirus Job Retention Scheme has also been fantastic and we have topped that up to make sure that we are paying our permanent staff 100% of their wages while they are furloughed, and have been doing since lockdown on March 17, 2020, when we closed GFT's doors.
It's hard but I genuinely believe - based on a brief time that we reopened last year – that people are desperate to come back to the cinema. What might be trickier, when we do reopen, is making sure we've got the right product in place. But we could create our own seasons, for example. It's just a waiting game.
What has your mood been through the highs and lows of planning GFF Online?
I'm an optimist but I'm also a pragmatist. I'm like, "What are this week's problems? What do we need to solve this week? What can we get done this week?" If this week's problem was long-term strategy planning, then that's just going ti have to come off the table, because we don't know what's going to happen from one week to the next.
I will say that when I realised we weren't going to have our 23 partner cinemas on board [when GFF had to move from hybrid to online-only], I burst into tears. But it was all solved within a couple of hours by going for a very long walk and having a very large glass of red wine. I thought, "Right, okay, you're not in control of this situation. There's a new variant around. I'm obviously not in charge of that. So what do we need to do to look after both the staff and the audience?" And that was when we decided… let's go online.
What are your ambitions for GFF beyond the 2021 edition?
I think there'll be some casualties in the festival world but I certainly think Glasgow Film Festival is in a very good position to go forward. The reason I feel optimistic is because we have constantly engaged with our audience since the first day of lockdown. We took Twitter chats, we created free resources for schools and parents to download, and we've invested in an online platform that I think will also keep us engaged with those audiences.
For GFF 21, we've created a finely curated programme that reflects the ethos of the festival in what a normal year would be like, except there are slightly fewer films than usual. We're also focussing on emerging filmmakers through our new Mubi under 30 talent programme because they will really need our support in this upcoming year, and we have also agreed to split profits from our online screenings 50-50 with either the filmmaker, sales agent or distributor. All these things give me hope for the future.