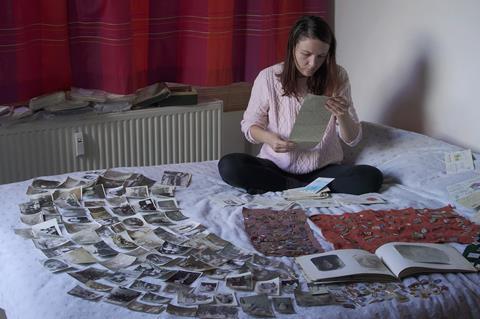 Having won this year's Berlin Golden Bear for her powerful graduation short My Uncle Tudor, Moldovan filmmaker Olga Lucovnicova is at Re>Connect this week to present her equally as personal feature debut Last Letters From My Grandma, which is being produced by Belgian outfit Off World. The documentary feature will explore the life and death by suicide of her father's mother.
The director talks to Screen about why she feels it is so important to look within her own family history for her first films, and how she manages to be so vulnerable on screen.
Last Letters From My Grandmother is an incredibly personal project; why did you decide to tell this story at this time, and in this way?
When I was little, I thought my father was a cosmonaut, because I believed that Russia was a different planet. When I was 21, we travelled there for the first time and I met my Russian family. It seemed that everyone was happy to see each other but, in the silence between superficial conversations, I experienced unbearable tension. Later I learned that this tension was caused by a family secret — the death of my grandmother. She died of suicide in 1989, the same year when the USSR collapsed. I know about her only from my father's stories: that she was a child of World War II, her father died on the battlefield, her mother, invalid from childhood, had to take care of six children alone without any help from the state. Then my grandmother took care of her mother all her life, sacrificing her career, health and personal life.
A few years ago, I found letters between her and my father and, although we lived in totally different eras, I noticed many repeating patterns, like strained family relationships, interpersonal conflicts and tormenting insomnia. So, I wondered to what extent my grandmother's life story affected my personality. This film is a personal quest to come to terms with the past of my family and fix the broken family ties.
Your Berlin-winning short My Uncle Tudor is also a very personal film. Is it a challenge to be so vulnerable in your craft?
In My Uncle Tudor, I discovered how a first-person documentary can change my life and how my personal story can move the planet. This experience taught me that it is impossible to run away from problems, trauma and pain, but if I confront them in films, then these films can become a lifeline for others. I cannot change my past, but I can change the present.
Of course, it took me a long time to gain the courage to look with my camera in my own inner world.I believe that cinema is an art that does not tolerate lies and pretence. Therefore, if I do not exhaust my personal topics, which I consider strong and necessary for the world, then I will not have the moral right to talk about others. If I, as an author and filmmaker, don't explore my own traumas and problems in the film, how can I ask others to do so?
What stage of production is Letters at?
The film is in the early production stage. The shooting is planned for 2022. It is produced by well-established Belgian film production company Off World; the producer is Frederik Nicolai, who was my teacher in DocNomads, an Erasmus Mundus Master program in documentary filmmaking, and the supervisor of the My Uncle Tudor film.
In his classes, Frederik told us never to approach a producer with the words "I have an idea", because having just an idea means nothing. So, on my graduation day, I approached him with a script. Based on my experience working on My Uncle Tudor film, I know that Frederik is the best person to work on this film, and the project was selected for the Ex Oriente film development training organised by the Institute of Documentary Film.
How will what you learned from making My Uncle Tudor help you step up to making your feature documentary?
I see many connections between my previous film and Last Letters From My Grandma. They both explore the concepts of memory, trauma and the legacy of the past. At the same time, Last Letters From My Grandma is a more complex and mature work. For me, it is a huge step forward as a filmmaker, but also as a human being.
What are you hoping to achieve from presenting it at Re>Connext?
This will be my first time at Re>Connext, and it is an important step for the film because it will be presented to a large audience for the first time. I am open to feedback and would be glad to hear interesting opinions about my project. Together with my producer, we aim to find people interested to participate in the production of the film both financially and artistically. I think it is a huge plus that we're in the early stages of production and the people joining the project can contribute their own bit to the film.