Two years after he won Venice's Golden Lion with A Pigeon Sat On A Branch Reflecting On Existence, Roy Andersson is hard at work in his Stockholm studio on his next feature — but don't mark your festival diary until 2019.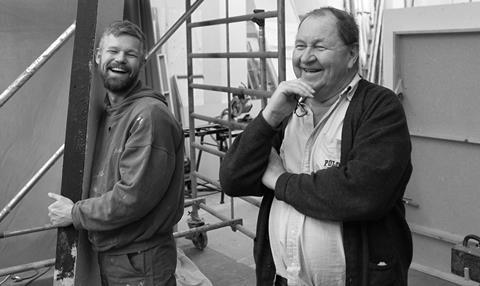 Roy Andersson is not a film-maker who can be rushed. It has been a little over two years since the veteran Swedish director won Venice's Golden Lion with A Pigeon Sat On A Branch Reflecting On Existence, and he is now ready to start shooting his next feature on January 2, 2017. Test shoots are already underway; it will take him about two years to film. Add on the time it will take to edit and complete post-production, and it is likely the new feature will not be delivered until April 2019. Philippe Bober's Coproduction Office is selling the film.
When Screen International visited Andersson at Studio 24 in Stockholm in August, the film's working title was On Endlessness. Other ideas include On Inexhaustibility, On Infinity and The Inexhaustibility Of The Human Condition. The film has been referred to as the "fourth" in Andersson's Living trilogy, following Songs From The Second Floor (2000), You, The Living (2007) and Pigeon (2014). "There are a lot of connections but I regard it as isolated," says Andersson, who will turn 74 in March.
His latest film will be an episodic tableau mixing social commentary and absurdist humour, like his earlier features but with some new approaches. "It's close to the past films, but the big difference is that it's the first time I've done a so-called voiceover," Andersson reveals. The voice is from "some kind of fairy that is aware of everything," he adds. "The first idea is that we would see her [on screen] but now I think we only hear her."
As of now, the film is planned to contain about 45 scenes, although that could change by the final version. There is a separate production binder for each scene, and lovely watercolour paintings of each situation painted by Andersson line the studio office walls. There is no dialogue-heavy script. As the film-maker says, "A sketch says much more than a text, half the time. The sketches say enough."
Team effort
Andersson is preparing the film with his usual team — producer Pernilla Sandstrom, line producer Johan Carlsson and cinematographer Gergely Palos — and will shoot nearly all of it on sets built at Studio 24, the studio and company Andersson established in 1981 when he was involved in making commercials. Dozens of individual sets will be built one by one (on the day of Screen's visit, a miniature skyline and a café are visible), which will then be struck to make way for the next group of sets.
Sandstrom explains that Andersson reveals the film in pieces to the team: "He doesn't tell the whole film at once. It's one scene then another, and that makes a whole feature."
"It's a little timeless, but connects to our time and past time," the director says of the new feature. According to Andersson, some scenes will journey back in time to the Second World War era. Some are likely to include a couple, loosely inspired by Marc Chagall's paintings ("floating over both misery and happiness"); Hitler in his bunker ("who had a dream to conquer the world but failed"); "a defeated army leaving the city they wanted to conquer now going to become prisoners of the enemy"; "three ladies singing a very happy song because they love to be alive"; "a man getting lost wandering into the wrong café"; "an injured veteran playing a mandolin in a metro station"; and "a divorce prosecutor who doesn't trust banks and keeps his savings under his mattress".
Sandstrom explains that Andersson can be inspired at any moment. She recalls one example a few months ago, as they sat in a Stockholm café near their office. "He saw a man pass and said, 'He should be an army general.'" A member of the development team chased after the man, and Andersson found his general.
There are many other characters to meet: an angry dentist, a midwife who loves champagne, a young girl going to a birthday party in the rain, a distracted waiter, a priest having a nightmare that he is being crucified, and a father who murders his daughter in an 'honour killing'. "It's a big mixture of serious things, important things, banal things," the director says of his typically ambitious approach. "I'm inspired by literature, art, life itself. I don't try to plan it, it comes to me."