Halina Reijn's unlikely love story is one of the controversial entries for this year's international feature film Oscar.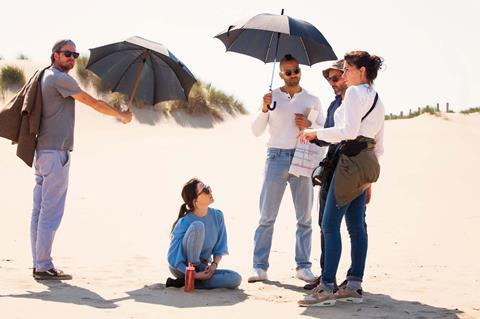 A female psychologist falls in love with a serial rapist. You could easily imagine this as a starting point for an arthouse provocation from the likes of Gaspar Noé or Lars von Trier.
Instead, in Halina Reijn's debut Instinct (which is the Netherlands' international feature film Oscar candidate), the premise sets up what has been acclaimed in some quarters as a subtle and nuanced drama, exploring power, sexuality and gender.
The film — which is being sold by Germany's Films Boutique and stars Carice van Houten and Marwan Kenzari — sparked what is thought to have been Toronto International Film Festival's longest ever post-screening Q&A after its North American premiere there.
Reijn has long been one of the Netherlands' leading stage and screen actresses, famous for her searing performances in plays by Belgian theatre director Ivo van Hove. She is also friends with van Houten, with whom she runs the production outfit Man Up.
Reijn had wanted to direct feature films for some time and had been developing various ideas with production company Topkapi Films. The idea for Instinct was sparked after seeing a TV report about true cases of highly educated female psychiatrists having sexual relationships with dangerous inmates.
"Halina is really a creator, a storyteller," Topkapi's Frans van Gestel (a producer of Instinct) says of the director. "She is extremely aware of development and of the whole process of filmmaking."
Filming on a low budget
Topkapi built the project slowly, putting Reijn together with writers — the director gelled with Esther Gerritsen, whose screenwriting credits include Dutch features Dorst and Nena — and piecing together the finance. Van Gestel kept the budget low in spite of the presence of two major stars in van Houten (Game Of Thrones) and Kenzari (who starred in Disney's Aladdin).
"I wanted to make it on a low budget with the biggest possible creative freedom," the producer says. The Netherlands Film Fund was an early supporter as was local distributor September Films, and van Gestel avoided setting up the project as an elaborate co-production.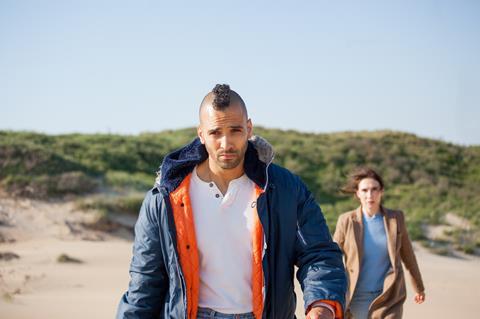 The producer describes Reijn as "a team player", who is used to "collaborating and to the creative process of building characters and stories. On top of that, she is very smart and she learns really fast."
Interviewed in the autumn after taking Instinct to Locarno, Toronto, London and Chicago among other film festivals, Reijn is typically busy. She is appearing in two stage productions — an adaptation of Woody Allen's Husbands And Wives and her solo piece, The Human Voice by Jean Cocteau. She is also shooting her ongoing TV series Red Light, which is being made through Man Up and also stars van Houten.
It's a breakneck schedule which often involves shooting in the day and going on stage in the evening. She also has a trip to Los Angeles to support the Oscar campaign for Instinct. (US distributors are still negotiating to acquire the film at press time.)
Reijn is now looking to direct her first English-language feature.
"For me as a director, everything changed. All of a sudden, my whole horizon changed," Reijn says of the intense interest generated by Instinct. "The movie is so controversial. It is getting a lot of attention. Everybody remembers it or wants to see it or heard something about it. Just the pitch of it — a therapist falls in love with a serial rapist in jail — I think a lot of people react to that.
"There is a huge hunger for art that talks about boundaries, sexuality and power," Reijn continues. "You feel there is a huge hunger and need for this kind of movie."
Reijn has been reading Ronan Farrow's Catch And Kill: Lies, Spies And A Conspiracy To Protect Predators. While her film has no direct overlap with the Harvey Weinstein scandal, it touches on some of the same questions that Farrow's book and She Said by Jodi Kantor and Megan Twohey both raise.
"Our film is not a social drama. It is not a realistic movie. It's an abstract experiment about sex and power, control and boundaries," Reijn says. Instinct, she suggests, looks at "the beast inside" its characters, "human behaviour and the grey areas".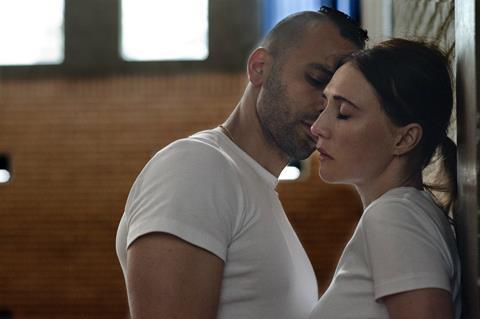 Reijn worked with fellow Dutch filmmaker Paul Verhoeven on Black Book, in which she appeared, and admires his work. "I do think we have similarities. I was also inspired by him. His movie Elle is, I think, one of the best movies ever but it is a totally different genre. It's almost a comedy genre with very dark undertones."
She also points to the influence of van Hove, whose stage productions also deal with issues of power, consent and sexuality. "He [van Hove] will never give you a moralistic idea about good and evil," she says.
Instinct is deliberately ambiguous. It is not clear which characters are the most damaged and dependent.
While she was attending BFI London Film Festival, Reijn took part in a panel on 'Sex, Nudity and Intimacy on Screen', sharing the panel with two intimacy coordinators. She acknowledges that she was initially very sceptical about their role. "When I heard I was going to be on a panel with intimacy coordinators, I thought, 'What was that about?' To me, it felt very prudish, very annoying and why would they even exist." However, by the end of the panel, her opinion had completely changed.
As she points out, movies with action sequences always need fight instructors. "If you do a fight without an instructor, somebody is going to get hurt and also everybody is going to be so nervous that nobody is really going to do anything."
Intimacy coordinators, she realised, have an equally liberating effect. They ensure everyone is prepared and comfortable. "I have been in a lot of situations as an actress where I've felt alone and very insecure about what was expected of me."
Man Up has a policy of avoiding gratuitous female nudity. On Red Light, nudity is included but it is a point of principle that it is from a female perspective. "For a long time, I do feel that even me, I've been conditioned to see women in a certain way," she suggests. "We are conditioned to have a male gaze, all of us. That's just the way the world is."
After many years as an actress, Reijn is now looking to put "the focus on directing", both on stage and screen. "I am definitely interested in doing English-language movies and I am looking at a lot of projects now."
If she does work in Hollywood, Reijn adds, it will be on her own terms. "I am very obsessed with my own slate of ideas. There are companies interested in those ideas and I will have to make the right choice."