Sally Riley, head of drama at Australia's ABC, discusses the type of shows she is commissioning, and the role of the public broadcaster in the country's scripted landscape.
Asked where ABC TV fits in the Australian drama market, Sally Riley doesn't hesitate: "We are at the centre. The ABC has always championed Australian creatives, Australian stories, Australian drama."
The national public broadcaster plays an undeniably important role in the local drama market. Of the 21 Australian drama series that went into production in the year to June 30, 2021 (including comedy but not children's shows), nine were for ABC, according to funding agency Screen Australia. The remainder were for commercial free-to-air (FTA) channels Seven, Nine and Ten, while one was for pay-TV service Foxtel. Cameras rolled on 25 additional drama series destined for social media and SVoD — from TikTok to Netflix.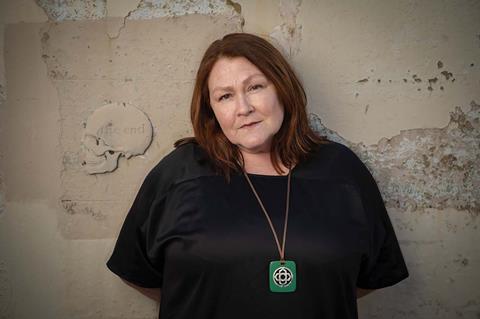 ABC contributed $31.4m (a$43m) towards production of 17 children's, adult and online shows, 80% of the three commercial FTAs' $39.4m (a$54m). Australia's entire slate ranges in budget from less than $36,500 (a$50,000) to more than $22m (a$30m) per project, according to Screen Australia.
Riley, who has been head of drama, comedy, entertainment and Indigenous at ABC since 2016, commissions six or seven dramas per year for the broadcast channel depending on the number of episodes. At Australia's 2021 AACTA Awards, The Newsreader, set in the cutthroat world of TV news, won the series category and Fires, about Australia's devastating bushfires, won the mini­series/telefeature category; both aired on ABC. Riley herself is being presented with the inaugural commissioner of the year award at Screen Producers Australia's annual conference in late March.
Locally, The Newsreader and crime dramas Mystery Road and Jack Irish are the highest rated ABC dramas of the last two years. Most popular dramas score 1.5 million-plus viewers on their first run across the channel and the ABC iview streaming platform (Australia's population is about 26 million).
Riley is known in the industry as a straight-shooter. Asked if Australian drama can compete on the global stage, she pauses. "Yes, and no. We have the talent and the creatives but unless we have a partner willing to take [financial] risks, it's tricky because of budget [limitations]. Just take the cast costs on some shows and that rules us out immediately." Riley tried unsuccessfully to secure new Australian vampire series Firebite, produced by See-Saw Films for AMC+, and she admits it is harder for ABC now that the streamers have upped the ante for projects, talent, crew and even government funding. "It's an ongoing challenge but we're up for it," she says.
In a government review of television regulation in Australia, ABC's own submission outlined that it contributes "roughly half of the budget of each [scripted] programme it commissions". The rest comes from other government sources — Screen Australia and tax rebates — and distribution advances, "which are generally diminishing". Commissioning platforms like ABC must pay at least $321,000 (a$440,000) per hour for dramas that have Screen Australia as an investor.
Worldwide production delays caused by the pandemic have dampened the appetite of distributors to pick up dramas, notes Riley, who adds that she cares very much how widely shows are seen abroad. "It is important for Australians to watch but I want the world to see our shows, as many people as possible."
Top-selling ABC titles by value of sales in the past five years include immigration drama Stateless, The Newsreader, sci-fi tale
Cleverman, paranormal series Glitch and psychological mystery Wakefield, according to Screen Australia. Stateless and Glitch both sold to Net­flix, while The Newsreader has been licensed to more than 80 territories, including the BBC for the UK and Arte for France and Germany. Cleverman, meanwhile, has been picked up by Sundance TV and the BBC, and Wakefield by Showtime for the US.
Riley says the quality of ABC's work is shown by its ability to lure stars such as Cate Blanchett (Stateless), Katherine Langford (Savage River) and Thomas Jane (Troppo). Despite not having the deep pockets of the streamers, Riley says the local industry comes to ABC "because they like working with us. We are collaborators with great relationships, they know what they're going to get with us, and they do see us as the home of Australian drama."
Commissioning decisions come down to story and, says Riley, audiences want to feel hope right now. "We want characters with emotional journeys that resonate and universal themes, all those things," she says. "What Australia has that is unique is our incredible landscapes. Landscape plays a huge role in Mystery Road. And we have talent."
Big issues also sit at the heart of some of the dramas: Total Control showed the brutality of politics from an Indigenous woman's perspective while Fires conveyed the horror of the bushfires of late 2019 and early 2020. "[Co-creator] Tony Ayres came to us just after the fires happened and said, 'We need to do something, we need to talk about this. The community needs a cathartic moment.' We said yes straight away."
Riley describes the ABC slate as eclectic and her own taste as broad. Her remit is to service a wide audience. While ABC TV's core audience is aged 55 years and over, the drama commissioned for iview is more of a magnet for younger audiences — the irreverent Superwog for example.
Support network
Riley lets slip that making multi­million dollar decisions can be "terrifying", but feels well supported by her team, which includes four executive producers. "They are people who devour content and are all very experienced," she says. "My deputy Alex Baldwin will always play devil's advocate, which is an absolute necessity when you're working in the creative area and there are massive ideas floating around left, right and centre. He's also key to solving the challenge of financing, bless him."
She describes herself as inclusive, a problem solver, direct when needed, and a passionate collaborator — especially on scripts and in the edit (Riley takes an executive producer credit on all ABC dramas). "Getting involved creatively, that's the fun part," she says. "I like to be part of the team. I'm good value in post… Talking story with creatives fires my brain up. I'm an over-sharer. I have a wide life experience."
Riley, from the Wiradjuri Indigenous nation, grew up in a tiny inland town. Her father, a shearer, died when she was a teenager. Not long after, she travelled around Australia searching out Indigenous rock and cave art. In Confessions Of A Headhunter, an acclaimed short she directed 20 years ago, bronze heads stolen from colonial statues are melted down to create a sculpture of an Indigenous woman and her children at Botany Bay, where explorer James Cook landed and raised the Union flag.
Riley was initially recruited by ABC in 2010 to set up an Indigenous department — the channel had Indigenous-themed programmes but no unit. She previously had a similar role at Screen Australia, and her role in the rise of Indigenous filmmaking has been immense. ABC TV launched diversity and inclusion commissioning guidelines in early 2021, formalising what it has been doing for years.
Riley says all their partners expect diversity now, and it gives audiences a more interesting experience. Commissioning 60 half-hour episodes of serial The Heights, for example, gave opportunities to female directors and actors of different linguistic and cultural backgrounds. The series aired during the daytime schedule on BBC One in the UK from June 2020.
Looking ahead, local content quotas on the commercial FTAs have been relaxed recently, so expect fewer commissions from them. Little wonder that applying quotas to streamers as a way to boost drama production is being heavily discussed right now. And that ABC's role in the Australian drama market has become ever more important under Riley's stewardship. Ns
In the pipeline: Upcoming ABC series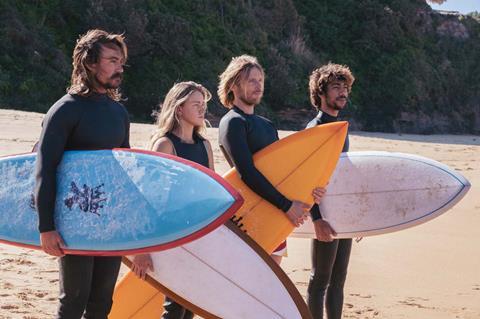 Barons
Production companies: 2Jons, Micanical Media, Fremantle
Distributor: Fremantle International
A group of 20-something friends in the 1970s share a love of surfing. Their desire for freedom and the perfect wave takes them from the beach to billion-dollar empires, but along the way friendship turns into bitter rivalry. Currently in post.
Mystery Road: Origin
Production company: Bunya Productions
Distributor: All3Media International
In 1999, a charismatic young constable (Mark Coles Smith) takes up a new job in the town where his estranged father lives. In post.
Savage River
Production company: Aquarius Films
Distributor: Dynamic Television
Miki Anderson (Katherine Langford) returns to her hometown after eight years in prison. But the community is in no mood to let her forget the past, especially after it is rocked by murder. In production.
Troppo
Production companies: EQ Media Group, Beyond Entertainment, in association with Renegade Entertainment
Distributor: AGC International
In tropical Far North Queensland, disgraced ex-cop Ted Conkaffey (Thomas Jane) is recruited by an ex-con-turned-private investigator to solve the disappearance of a Korean family man and tech pioneer. Aired in February.