Screen speaks to the Palestinian actress and director ahead of receiving an honorary award at the Abu Dhabi Film Festival.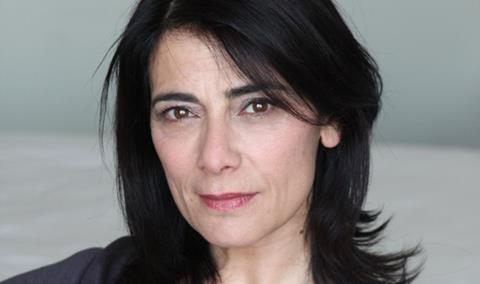 "One of the great artists of the Arab screen" is how the Abu Dhabi Film Festival characterises the great Palestinian actress and director Hiam Abbass, who will be receiving a Black Pearl Career Achievement Award at this year's Festival.
Abbass is shortly to be seen on screen as Moses' mother in Ridley Scott's biblical epic Exodus.
"I am playing Bithiah, the Egyptian mother who adopted Moses," Abbass says of Exodus, in which Christian Bale will star as Moses. "That's going to be a lot of fun."
This marks the latest film she has made with a big name western director, following on from Steven Spileberg's Munich, Julian Schnabel's Miral and Peter Kosminsky's TV drama, The Promise.
Abbass has had French citizenship since 1991. Even so, she keeps strong ties to the Middle East and admits to her frustration that it is so hard for talented young Palestinian filmmakers to shoot their movies.
"It is the financing part which is the hardest thing to get as a Palestinian," she says.

"We don't have a government that helps. If you are a Palestinian from Israel, you can apply to the Israeli fund but you k now if you do that, the Arab world will not programme your movie. It's a big issue - what door to knock on as a Palestinian?"
Early on, Abbass acknowledges, she was sceptical about westerners telling stories set in the Middle East.
"At the beginning of my career, that used to ring an alarm like 'what does he (the western director) know about us but I am really embracing this idea now," she says.
"Very early in my career, I started to like these different ways of treating the subject."
The actress speaks highly of Spielberg, with whom she worked very closely on Munich. The US director, despite his strong ties to Israel, was respectful of the Palestinian position and was already to listen to her.
"Whether people like or do not like his cinema, he is still a master," she says.
"It is very interesting to see how he works - his rapidity and creativity on set….he knows what to shoot and where the pieces come together."
Abbass is currently writing what should be her second feature as a director, after her debut with The Inheritance in 2012. The new film will be set in the seething melting pot of contemporary Paris where people of different nationalities and religion live crammed together.
"My idea is to develop the whole movie from the point of view of a student who is studying philosophy," Abbass says of the movie, which is set to be produced by Agat Films.
She is yet to decide whether or not she will take an acting role.
Abu Dhabi audiences will also have the chance to see her in her new comedy Peace After Marriage, directed by Ghazi Albuliwi.
Meanwhile, she is looking to collaborate again with Israeli filmmaker Eran Riklis who directed her in Lemon Tree (2008).
Abbass, who was born in northern Galilee, has lived in Paris for more than 20 years. "I don't think about it really. It is part of me. My kids were born there. My life is there. I pay my taxes there!"
The prolific actress and director recently completed a short, marionette-themed film Le donne della Vucciria, which she shot as part of fashion company Prada's Miu Miu Women's Tales.
She shot the movie in Palermo and acknowledges that she quickly fell in love with Sicily but doesn't feel herself to be a fashion world insider.
There is nothing reticent about Abbass. She is fiercely opinionated and respects artists and directors who show the same political engagement she does. What she can't stand is blandness or evasion.
"I don't like people sitting between two chairs. That makes me uncomfortable," she asserts.
"I don't care - you can be against me but we still can talk. I like to know what you think.
"Politics for me is everyday life. It is not only to express yourself against your government or any other government in the world - it's your positions on humanity and what is going on in life."
The actress adds that she likes people who "have the courage to think differently…otherwise, everything is easy, everything is boring. One of the things I do not appreciate in life is collective thoughts."