Radical change is needed to redress the imbalance of female directors in the UK, according to a new report by Directors UK. But what does the industry make of the findings?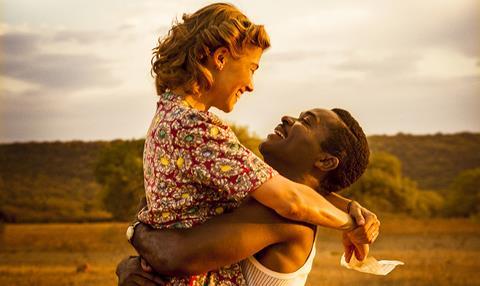 Gender equality has long been a topic for industry discussion, with debate intensifying over the past 12 months.
"Where are the women?" is an oft-heard lament. An extensive report, commissioned by London-based campaigning body Directors UK and authored by analyst Stephen Follows, has been published this month. It attempts to answer the question of the UK's missing female directors and makes proactive suggestions as to where to find them.
'Cut Out of the Picture: A study into the gender and inequality amongst directors in UK film' examines all 2,591 films made in the UK from 2004 to 2014, using data from sources including the British Film Institute (BFI), HM Revenue & Customs (HMRC) and educational institutions to explore how female film-makers are faring at all levels. It discovers that only 13.6% of working film directors in the UK during the time period were women.
The report comes hot on the heels of the European Audiovisual Observatory's 2014 report 'Female Directors in European Film Productions', which found just 16.3% of European films made between 2003 and 2012 were directed by women. A further report on gender equality in the European film industry has also been published by the European Women's Audiovisual Network. It found that just 21% of the films in seven European countries including the UK between 2006 and 2013 were directed by a woman.
Directors UK avoids accusations of deliberate misogyny, suggesting the lack of female film-makers can be attributed to an "unconscious, systemic bias" towards male directors.
"The fact that [as the report reveals] women are better represented in sectors like hair and make-up, costume and production design leads me to agree," says Elizabeth Karlsen, co-founder of Number 9 Films, whose credits include Carol, Youth and the upcoming Colette.
"Ultimately, it's the fact we live in a patriarchal society governed primarily by white males. And, in the industry, these are the stories that are told, about white males, made by white males and, seemingly, for white males." Director Amma Asante, who is putting the finishing touches to her third film, A United Kingdom, describes her experiences of working in the UK film industry as "divided". She has first-hand experience of this bias.
"The straight-white-male default is, sometimes, passed through both male and female gatekeepers," she suggests. "Women also have the tendency to believe the default existence is straight, white and male. My issue is that as a woman, and as a woman of colour, lots of people want to talk.
"People want to have conversations, to ask me what I want to do next. But it's the outcome that matters. Don't pat yourself on the back because you've chatted to lots of women about their projects; pat yourselves on the back if you have actually managed to bring some of those projects to fruition."
Fall in funding support
The report also reveals that public funding for female-directed films between 2004 and 2014 declined. During this decade, 21.7% of films receiving public funding had a woman at the helm. Among the top 12 UK-based public funding bodies included in the study, the percentage of female-directed projects backed over the period ranged from a low of zero (Screen East) to a high of 42.1% (Creative England).
In total, however, overall public funding support for films with female directors fell dramatically in the seven years from 2008 to 2014, from 32.9% to 17%.
Ben Roberts, director of BFI Film Fund, welcomes the work of Directors UK in this area, but he points to the BFI's ongoing commitment to equality in all roles in the film industry and the BFI's 'Three Ticks' initiative.
"The introduction of our BFI Three Ticks initiative in 2014, since revised as the BFI Diversity Standards [in 2015], and the dialogue generated through reports such as this and the upcoming 'Calling the Shots' report from the University of Southampton, rightly ensure a continued focus on issues of under-representation across the screen industries," he says.
"In the full funding year from 2015-2016, the number of female directors supported by the BFI rose to 34%," he adds. "Our aim being that with further effort this will continue to rise. We are also interested in improving representation for women in other roles and departments, and we hope the BFI Diversity Standards will encourage this. It's interesting to note the number of features we support that are produced by women is consistently around 50%."
Bold suggestions
The report is bold in its assertion that institutional change is needed, suggesting a target of 50% gender parity for all public funding of film by 2020, the development of UK tax relief to establish formalised diversity requirements and an industry-wide campaign to rebalance gender equality.
"There's a lot of wordplay about quotas and targets, but we need to be setting a benchmark. We have to look at it globally," says Kate Kinninmont, head of London-based Women in Film and Television. She cites the Swedish Film Institute's success with gender parity in public funding.
"Do we in the UK, who have had a film industry for a very long time, really want to be left behind?" she asks.
For Asante, such affirmative action is no longer a choice, but a necessity. "In the past I've talked of my concern about quotas," she says.
"I've always wanted the feeling that I'm in the room because I deserve to be there. I totally understand, however, that if we're going to bring real change, then maybe it has to be forced. And these suggestions are perfectly realistic, as long as there's a will. Diversity has become the buzzword of the industry, but if there isn't a will to take up good suggestions that come out of solid research, then what has all this been about?"
Cameron McCracken, managing director of Pathé UK, and a backer of Asante's A United Kingdom, believes the report's recommendations make solid financial, as well as ethical, sense. "If you're smart and picking the right material, you can engage with a broader audience," he points out.
"It's very important to do that because these progressive films not only entertain, they move the dial a little bit. It's important those public institutions support change, and the commercial entities look at it and realise they can make money. That will help broaden the sorts of stories being told."
Gender parity as commercial good sense is a view shared by Roberts. "Last year's Suffragette, not only written, produced, directed and starring women, but the film that opened the BFI London Film Festival and took $14.6m (£10m) at the UK box office, was evidence, if needed, of the commercial reasons for films made by and for women. Diversity in film unlocks creative and commercial opportunities, and is a subject that demands serious engagement from all sides of the film sector."
Andrew Chowns, CEO of Directors UK, is hopeful real change is achievable and tangibly close. "People are sick of nothing happening," he says.
"We're not just paying lip service to it with schemes that don't really lead anywhere — what we're thinking about is how we can get more women actually working on a film or TV show. That's the end result we want." ns Women directors at film festivals
Directors UK report a 'funnel' effect
The Directors UK report aims to explore the root causes behind the statistics, and make recommendations as to how the imbalance can be corrected. By looking at figures across film-related courses and entry-level industry roles, it finds women make up 50.1% of film students and account for 49.4% of runners and production assistants.
The resulting observation, that women are entering the industry in the same numbers as men only to disappear within it, is described by Directors UK CEO Andrew Chowns as a 'funnel' effect. "The workforce is 50/50 at the point where people enter," he says. "But at every stage of their career as a director, women are being removed to such a progressive extent that by the time you get to major features [the number of women] is absolutely negligible."
The statistics on this displacement are stark. Although only a small percentage of directors in the study made a second film (14.6% of women, compared to 18.9% of men), this gender divide widens to a chasm as budgets increase. While 16.1% of directors of films budgeted at less than $220,000 (£150,000) were female, women accounted for just 3.3% of films more than $44m (£30m).
"The fact it's twice as difficult for a woman to make subsequent films means there's something illogical, in market terms, going on," says Beryl Richards, chair of Directors UK. "You can't get away from the fact the system is definitely skewed against women."