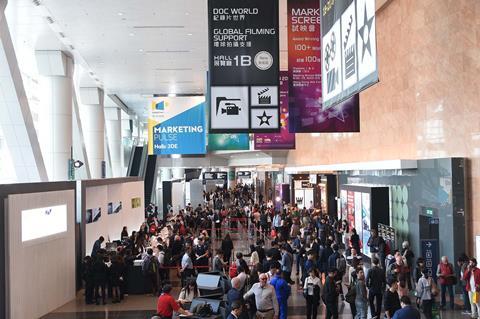 It's a sign of the shifting sands in the global content industry when the largest film-trading platform in Asia starts talking up its connections to the worlds of TV and streaming. But that is certainly the case with this year's edition of the Hong Kong International Film and TV Market (Filmart, March 18-21).
Filmart has long had a dedicated 'TV World' section, with broadcasters such as Studiocanal, Deutsche Welle and major Asian channels selling their programming, and the market also attracts many buyers from ancillary platforms. But this year, the Hong Kong Trade Development Council (HKTDC) — Filmart's organiser — has made a special effort to encourage the world's leading streaming and OTT platforms to attend.
In addition to Asian streamers such as iflix, HOOQ, Viu and China's Youku, iQiyi and Bilibili, visitors this year include global giant Netflix and US-based platforms that focus on Asian content such as Crunchyroll and Viki.
"We want people to know that we're not just about film, we also have TV — and we want OTT platforms from around the world to be familiar with Filmart," says Peggie Liu, HKTDC senior service promotion manager. "For the streaming platforms, it's not just about acquiring content, they also need to do original productions and co-operate with local companies."
Filmart's TV and streaming focus is also evident in this year's seminar programme, which features a series of interviews with industry leaders, including iQiyi CEO Gong Yu; HBO Asia CEO Jonathan Spink; Lionsgate president, worldwide TV and digital distribution Jim Packer; and Sean Park, marketing director for YouTube International Markets. The conference programme also includes sessions on blockchain, VR/AR and documentary distribution, as well as a panel about Asian OTT platforms moderated by Screen International.
But the annual event, which takes place at the Hong Kong Convention and Exhibition Centre (HKCEC), is not taking its eye off the world of feature films and theatrical distribution. As usual, Hong Kong and China's film studios will occupy elaborate booths on the trade-show floor, while pavilions will be hosted by the Korean Film Council (KOFIC),
UniJapan, Independent Film and TV Alliance (IFTA), European Film Promotion (EFP), UniFrance and Film Export UK.
Key date
While many of these sellers may be feeling the strain after attending Sundance and Berlin's European Film Market (EFM) back-to-back, they say they still regard Filmart as an essential pitstop on the international circuit. "Filmart's value is the ability to meet with Asian buyers who don't attend the EFM in February, especially with Chinese New Year being at the same time," says Laura Voros, Highland Film Group's executive vice president for sales.
SC Films International CEO Simon Crowe describes Filmart as "one of the main international markets", despite taking place just a few weeks after Berlin. "East Asian buyers are under-represented in Berlin, so it provides an opportunity to catch up with them post-AFM, and you can also start pitching what you're going to take to Cannes," says Crowe, who is also chairman of Film Export UK. "It fits nicely in the middle of those two events."
Lydia Rodman, director of sales for Visit Films, says Filmart is one of the few international markets that hasn't been slowing down in recent years: "We do deals with clients that we weren't able to meet in Berlin, as well as package deals with VoD buyers for library titles. For clients I do see in Berlin, I'm often able to get deals papered from conversations started during EFM, or to get early sales on new titles just announced from SXSW or Tribeca."
But many sellers agree that it's become more difficult to sell into mainland China following its regulatory restructure (see sidebar) and some of the more mature Asian territories have also become tougher in recent years. Keiko Funato of Paris-based Alpha Violet observes that "the market for arthouse films in Korea and Japan has slowed down considerably". Crowe describes this as a global phenomenon as audiences increasingly focus on US studio and local-language product: "We're still selling across every territory, but there's definitely an economic squeeze going on at the moment, whether it's the currency situation or local production being preferred."
Picking up the slack, some of Asia's developing markets are starting to look more promising. "We see some Southeast Asian markets coming up — especially Vietnam, where box office is growing and there are more active buyers," says Emico Kawai of Japanese studio Nikkatsu Corporation.
Meet the filmmakers
Outside of its buying and selling activities, Filmart is still regarded as a key event for meeting Asian filmmakers and production companies. This is helped by the fact the market takes place simultaneously with the Hong Kong Asia Film Financing Forum (HAF), which this year will present 23 projects from 10 Asian territories and an expanded works-in-progress section.
In addition to TV World, thematic pavilions include locations showcase Global Filming Support; Doc World, focusing on independent documentary producers; the Business of IP (BIP) Zone, offering access to lawyers and consultants; and the Hong Kong Animation & Digital Entertainment Pavilion.
Looking beyond this year's edition, Filmart attendees will be relieved to learn the market will take place slightly later next year, with the dates confirmed as March 25-28. The move follows Berlin International Film Festival's announcement it will also run later in 2020 (February 20-March 1) to avoid clashing with the Oscars (February 9). Filmart organisers say they made the decision "after taking into consideration the dates of Berlin and MIP-TV, as well as the availability of the HKCEC".
Market focus: Selling to China
A government overhaul has slowed down business but sellers are as keen as ever to crack the market.
A lot has happened in mainland China since last year's Filmart. Firstly the Chinese government overhauled its regulatory infrastructure, shutting down institutions that had existed for decades and replacing them with new ones. Regulation of television is now handled by the National Radio and Television Administration (NRTA), which sits under the State Council, while a new Film Bureau is being set up directly under the Publicity Department of the Chinese Communist Party.
Secondly, as if that wasn't enough to spook the industry, the scandal around Chinese actress Fan Bingbing's tax evasion prompted the government to launch an industry-wide claw-back of unpaid taxes — Chinese companies have reportedly paid back a whopping $1.7bn so far. While the impact has been felt most keenly by the local production sector, some of the companies hit by this unexpected tax bill have been involved in financing or acquiring foreign films.
Sales companies were already finding their Chinese clients were having difficulty moving money overseas, but with these new regulatory issues, they say that sales to China have been slowing down since the beginning of this year. "The market is not as aggressive and Chinese distributors are being more cautious with buying for both theatrical and VoD," says Visit Films' Lydia Rodman. "There's a particular hesitation to acquire US-produced films, due to the current US-China tariff battle and the ongoing hostilities in trade policy between the two countries."
One of the biggest problems for sellers and their clients is the backlog of films at the new Film Bureau, both local and foreign, waiting for censorship clearance before they can be released. While this will be resolved eventually, it will likely take some time for the new officials to figure out their censorship criteria and priorities.
Simon Crowe of SC Films International, which has sold animated features including Ozzy and White Fang to China, says: "We have to be optimistic about China, because it's gone from being a market that had zero value against it five years ago to being one of the few territories that is growing and has a huge appetite for all kinds of content. We have to find a way."
Meanwhile, Filmart organisers say China's production slowdown means that some high-profile exhibitors either won't be attending or will have a smaller presence at the market this year, but that the delegations of entertainment companies hosted by provincial governments is making up for the shortfall in numbers. Also, the number of mainland buyers may be down this year, "but our aim in the future is to focus on the quality not the quantity of the buyers", says HKTDC's Peggie Liu.