Starring Game Of Thrones' Ellie Kendrick, the film premieres in TIFF's Discovery strand on Friday (Sept 9).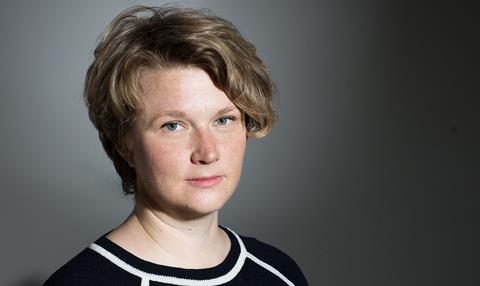 Writer/director Hope Dickson Leach didn't necessarily make it easy on herself with her debut feature film The Levelling. "The final scene has cows, [a fake] dead cow, guns, a rain machine, and intense performances. "It was a tough day, the rain machine fell into a ditch…but everyone rallied and we got through it."
It was worth it for a drama that TIFF Director and CEO Piers Handling now calls "a small jewel of a film."
The story follows Clover Catto, a trainee veterinarian who has to return home to her family's Somerset farm after her brother's death. The farm has been slow to recover from devastating floods, and Clover also struggles to reconnect with her emotionally distant father (David Troughton) who is resentful that she had moved away leaving the men to run the farm.
Dickson Leach makes her feature directorial debut with The Levelling, which was made as part of iFeatures, the low-budget filmmaking scheme from Creative England, the BFI and BBC Films to support films made outside of London. Wellington Films' Rachel Robey (London To Brighton, Better Things) produced. The cast also features Jack Holden and Joe Blakemore.
The film premieres Friday (Sept 9) at TIFF (in Discovery, sold by Mongrel International) and it will later screen at the BFI London Film Festival.
Dickson Leach, a 2007 Screen International UK Star of Tomorrow, got her MFA in film-making from Columbia University and previously made acclaimed shorts including The Dawn Chorus and Morning Echo.
She sees connections between her previous short films and her debut feature. "It felt in lots of ways like a continuation of themes I'd explored in shorts: grief, dysfunctional families, exploring the complicated nature of human relationships and how to respond to big human events."
Clover's strained relationship with her father is key to the story. The writer/director did consider telling the story through the perspective of the father, but ultimately loved the idea "of someone coming home, the outsider, and someone who is trying to find out what happened like a detective, that's a compelling lead."
She was hugely impressed with her lead actress Ellie Kendrick, whose credits include Game Of Thrones. "She's phenomenal. She worked so hard to figure out who this character was, she did so much of her own homework, that's such a gift. She surprised me constantly, she was completely inspirational."
"I'd lived with Clover for a few years writing the script, but then you have to say, 'I'm going to hand her over to you and see what she becomes.' That is both terrifying and liberating. We both loved Clover and looked after her."
The father is played by Troughton, who is also known as playing a farmer on legendary British radio drama The Archers. "It was interesting for him, in some ways he knows a lot about farming but spending time talking to a real farmer on a real farm helped him to understand it in a totally different ways."
The setting in Somerset puts a distinctive stamp on the film. Dickson Leach describes herself as a "city girl" who grew up in in Hong Kong and now lives in Edinburgh, but found farm life intriguing. "Finding a location for this story that would give the story a lot more depth was everything for me," she says. "The [2013-2014] floods in Somerset felt like a fantastic metaphor for what's going on in this family relationship. Rivers were not being dredged, the floods happened because the rivers were silted up. And here is a family that has stopped talking and the channels of communication stopped…It felt rich, cinematic context for this story."
The iFeatures development process meant she could go to Somerset to do research the story of the floods and farming life on the Somerset Levels. "That added so much to the story," she says.
She has huge respect for farmers and pays tribute to the real-life farmers that helped during the film's production. "It's a really difficult industry to be in," she says. "I wanted to make sure the complexities of that were in the film…it's not straightforward."
Cast and crew got stuck in learning how to milk cows (Kendrick was particularly adept), and learning about a working farm's schedule (which includes a lot of time cleaning up cow excrement). Working with animals also had it's challenges, especially on a modest budget. There were cows, a Belgian hare, and an obedient local dog.
The dead animals were even more tricky, because the movement of dead cattle has to be strictly regulated. That meant some trickery with a plaster dead calf for one scene, and a fake dead cow made out of wires and cow hide for another pivotal scene.
But it's of course mostly a film about humans. It's important that her debut film tells the story of a fully fleshed-out young woman. "There are so few three-dimensional female characters on screen. As a woman, as a feminist, I enjoy watching films about women," she says. "In the arthouse world there are lots of stories about women but not as many necessarily being told by women. I think there is a difference. The actress as a conduit for a male director's vision that is different from the actress as a conduit for a female director's vision. They are real and beautiful in a way that's not about objectifying them."
Dickson Leach is also one of the founders of Raising Films, an initiative for parents working in the film and TV business. She says that being a mother while shooting her debut feature was a challenge at times, shooting 400 miles away from home, when her older son had just started school; a tight budget meant she needed to take her two sons with her during location scouting. One son came to visit the set and yelled that he wanted his mother back home. "I'm not sure we got it right but we couldn't have done it another way," she says. "Each child is different, each stage of their life is different, so I'm happy to be talking to more parents through Raising Films to be better prepared next time."