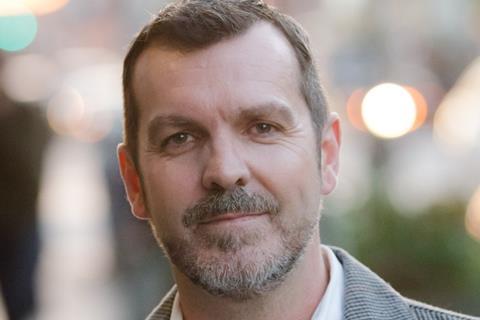 Hot Docs returns for its second year as a purely virtual event from April 29-May 9 as Toronto's stay-at-home order remains in effect during a third lockdown. However programming head Shane Smith is ebullient about an "incredible range of stories and quality of films".
While the pandemic resulted in some 10% fewer submissions this year, the fact that festivals and markets have been online for more than a year helped programmers track projects and filmmakers.
The result is that 219 films from 66 countries in fact marks an increase on the number of selections from last year, when some filmmakers opted out after Hot Docs pivoted to an online event in the early stages of the outbreak.
Around a dozen films that did not take part in the 2020 edition have been invited back.
Ann Shin's A.rtifical I.mmortality is the official opening film, although every festival selection is available online from April 29.
Selections include Elle-Maija Tailfeathers' Kímmapiiyipitssini: The Meaning Of Empathy, about the opioid crisis in the Kainai First Nation community in Alberta; Chris J Russo's Lady Buds, in which six female cannabis growers in California come up against the corporate machine; Yung Chang's look at the Covid crisis in Wuhan Wuhan; Nicolas Molina's Gaucho Americano, about Chilean gauchos working as sheep farmers in Idaho; and Sheona McDonald's Dead Man's Switch: A Crypto Mystery, which investigates the death of cryptocurrency exchange entrepreneur Gerald Cotton.
Industry programming encompasses 20 pre-recorded pitches from 16 countries in Hot Docs Forum running May 4-5; more than 20 keynote and industry conference sessions involving culture writer Jenna Wortham, and filmmakers Stanley Nelson, Jennifer Holness and Tailfeathers; and a panel on women speaking up and being heard.
Smith talks to Screen about planning the festival, reaching a wider audience, and why documentaries matter more than ever.
How did you approach planning Hot Docs this year?
Planning a festival when you're unsure of what it can physically be has been daunting. We'd planned various iterations of the festival since October, always tweaking or adjusting based on the latest situation until we knew we had to make the call that there was nothing physical possible for this year.
When did you make the decision?
It was around mid-March when the projections were that there was going to be an increase in cases and you knew cinemas weren't going to be open, non-essential businesses wouldn't be able to open… and then the decision was taken out of our hands due to the pandemic.
How do you feel about this year's selection?
We didn't know how the pandemic might have affected the work and filmmakers' ability to complete the films, so we were heartened by the incredible range of stories and quality of the films.
How has Covid-19 manifested itself in the films?
The more I talked to filmmakers, the more I learned that almost no-one escaped it. Some films might have been completed before the pandemic but they had to adapt to working remotely in post. You start to see lingering effects in terms of how interviews have been done: subjects putting on or taking off masks, even if it's not a film about Covid. Some of the films felt Covid-adjacent, as the impact of the pandemic seeped into storytelling or production elements.
Is the festival geoblocked within Canada?
We were able to expand the reach of the festival to across Canada this year. Last year it was restricted to Ontario. And that is partly because we launched an effective, national Hot Docs At Home streaming platform and built an audience across the country and we wanted to offer the festival from coast to coast as well. The industry conference team has made a lot of that industry conference available free globally, so that's another expansion this year as well.
How do we watch the films?
All the films are launching on day one at the festival. We negotiated screening caps [the number of streams available, roughly equal to three per film] with all the rightsholders, so that we can ensure we're not harming any of their opportunities. And then once you click play, you've got 48 hours to finish viewing — similar to buying a film on demand.
What virtual elements might you keep once the in-person festival returns?
We've all crossed the digital divide from a festival perspective and I don't know that there's any going back. The advantages we've seen is the reach of our festivals: many of us are able to reach audiences that we couldn't previously and bring the films to audiences outside of the major city… And we've seen that the industry understands this opportunity as well, and the revenue-generating potential it offers for the rightsholders.
I think there's going to be a modified, hybrid version of many festivals moving forward that includes an online component and probably would prioritise the physical event, the in-person experience, because that's the thing we haven't been able to replicate in a really tangible way. And that's the piece I think we're all aching to be able to have.
What's the future for the Hot Docs At Home platform?
It launched in April last year and has been a great way for us to stay connected to our audience. We have a member base of over 8,000 people so this was our way to continue to be able to offer programming. We've expanded that to talks, lecture series and other kinds of non-fiction content including our podcasts festival. I think it will continue to exist even when cinemas are operating again.
Is this platform helping to make up for lost revenue from no physical ticket sales?
Yes, the platform has been really beneficial in terms of keeping the organisation going and even expanding opportunities and outreach. We've expanded what our audience can be… It's really helped us survive and even thrive during the pandemic, allowing all kinds of additional programming opportunities and revenue-generating opportunities, both for Hot Docs and for the filmmakers.
Talk a bit about the films
Our international and Canadian competitions – the two signature feature competitions – have some of the strongest ever. This year four of 10 in the international competition come from Latin America. We have Gaucho Americano from Chile, a great, intimate story with a huge environmental scope. And we have The Silence Of The Mole from Guatemala, an amazing political thriller about a story that we don't often see about what's going on.
This is the second year for our Markers programme for filmmakers pushing the boundaries, a more experimental-focused programme. That includes films like A River Runs, Turns, Erases, Replaces, and Faya Dayi and Users out of Sundance this year.
The Systems Down programme is about the system working against us and how people are responding to that to bring about change. A great group of films include Sieged: The Press Vs. Denialism from Brazil, which is a harrowing look at the Covid crisis, and Bolsonaro's government and his handling of the authoritarian playbook that we saw in America under Trump. Faceless, about the protests in Hong Kong, is also in there.
Are there many movies about the pandemic?
We have about nine or 10 of them looking at the pandemic from a variety of perspectives and countries. We knew there would be fatigue with the pandemic, but we wanted to ensure we were able to bring stories that we hadn't seen.
Have you seen an increase in films from Indigenous filmmakers?
Absolutely. It's been a big part of the conversation in the last few years in terms of authenticity and storytelling, and that's something Hot Docs has been very focused both on the funds we run, and also in the way we're looking at these stories. Elle-Maija Tailfeathers's first feature documentary [Kímmapiiyipitssini: The Meaning Of Empathy] is an incredible look at the opioid crisis in an Indigenous community.
There's also Firestarter – The Story Of Bangarra about an Aboriginal dance troupe in Australia; and a couple of Sámi-directed films in the festival [from Indigenous people of Finland, Norway and Sweden].
Why do you think documentaries are so popular now?
We live in a crazy world and I think people are looking for answers and explanations and understanding of this world. And the power of documentary, ability to dive deep into the issues of the day, and help explain the world to us from different perspectives. Documentaries are so well positioned to be able to take us on the journey that we need to go on as we try to figure out what our next steps are as humanity on this planet.