It took three years for an all-female team to create London teen-girl drama Rocks. Screen talks to the feature's Bafta-nominated filmmakers.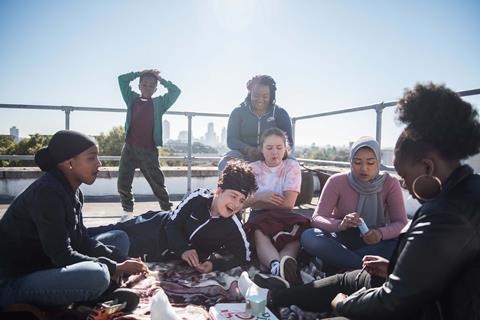 It was while travelling the world with their 2015 historical drama Suffragette, and taking inspiration from interactions with young female audience members, that director Sarah Gavron and producer Faye Ward first started talking about the idea of making a UK teen-girl feature. But, initially, it was easier to frame the idea in terms of what they didn't want it to be about.
First sexual encounter, self-harm, social media and girls' focus on self-image — all those topics were off-limits. "And we wanted to avoid anything that hinges around boys," says Ward, who launched her own Fable Pictures in 2016. "We wanted to make a film about female friendship that centred girls' experiences."
Both the British Film Institute (BFI) and the UK's Film4 were among the backers of Suffragette — a conventionally scripted drama marketed on the basis of its resonant subject matter and starry cast led by Carey Mulligan and Meryl Streep. So they were the first port of call for development funding for this new feature, which had the working title Untitled Girls Film and acquired the name Rocks after shooting had completed.
But it was not the easiest pitch, recalls Ward. "'We don't know what it is yet. We don't know who's in it yet. We're not sure what it's about. But we do know that we want to capture this girlhood spirit in a bottle. And we want it to be about an ordinary girl, not an extraordinary girl.'"
This was back in 2016, a full two years before cameras would start rolling on the story of Hackney, east London schoolgirl Rocks (Bukky Bakray) who is forced to care for her little brother (D'angelou Osei Kissiedu) after their sole parent disappears, calling on her female friendship group for help while trying to stay off the radar of social services.
To tell an authentic story of modern girlhood, Gavron, Ward and fellow producer Ameenah Ayub Allen (an assistant producer on Gavron's Brick Lane, 2007) knew a conventional approach would not work. So they used the development funding to bring in a casting team to recruit teenage girls who participated in workshops. These would inform the writing, storyline, characters and ultimately the cast.
Casting director Lucy Pardee, who had worked on Andrea Arnold's Fish Tank and American Honey and is noted for her achievements in street casting, began visiting schools and youth clubs in 2016, and spent a whole year in what she calls the "research phase" of the process. Also boarding early were screenwriters Theresa Ikoko and Claire Wilson. Ikoko was juggling a job as a youth worker in London's Islington with her own writing, notably 2016 play Girls. Ward knew Wilson from her days at Alison Owen's Ruby Films, which had developed an as-yet-unmade literary adaptation with her. "We wanted the piece to have more than one writer as we felt it would contribute to the spirit of a collection of young women," notes Ward.
Ikoko and Wilson attended multiple workshops over a nine-month period, watching, listening to and working with girls recruited by Pardee and casting associate Jessica Straker. Ikoko recalls: "It would just be like, chat about boys they were into, music they like, parents that got on their nerves, girls they were beefing with." Wilson adds: "That energy, it's like rocket fuel."
The pair came up with a first-draft script in late 2017, but did not feel they had captured the essence of the girls' energy. ("You could have made it and it would have been a decent film," suggests Wilson, "but it wasn't special.") Then Ikoko, who had separately been working on a screenplay about two siblings, inspired by her own childhood, fashioned this into a story she presented to Wilson, Gavron and Fable development executives Hannah Price and Anu Henriques. "It was like, that's what we've been trying to say the whole time," explains Wilson. "And it feels like a story that needs to be told."
"Theresa described it as a love letter to her older sister and all those who have to grow up before they should have to," adds Gavron.
The core group of girls narrowed down to 10 in January 2018, including Bakray, Kosar Ali, who plays Rocks' best friend Sumaya, and several others who feature in the friendship group. Pardee remembers that Bakray had participated in the first year of devising workshops, "but she had hidden her light, in terms of her acting ability, pretty successfully".
When it came to the formal casting phase, Bakray was asked to improvise having a disagreement with a friend. "She smashed it," says Pardee. "She revealed true, believable, moving emotion in what she did. I was like, 'You've been hiding this from us, because you're completely amazing.'"
Conversely, it was clear from Pardee's very first encounter with Ali at her school drama class that she had an instinct and ambition to perform. "My radar just went 'ping'. I knew she had a watchable, fizzy, brilliant quality that would translate to screen."
Moving into production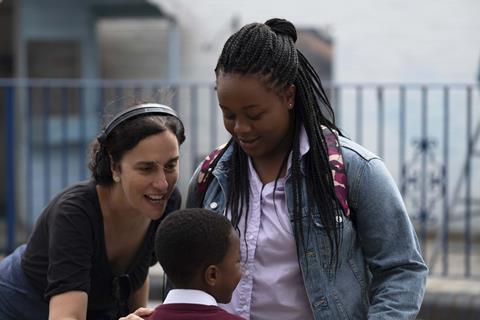 While Ikoko and Wilson worked on the screenplay, aiming to deliver a shooting draft in March 2018, Gavron and the Fable team prepared for a shoot that would need to occur during the school summer holidays in order not to disrupt the education of their young cast.
Although Rocks was virgin territory for Gavron, she stresses that she is not the first director to work with untrained actors or with a screenplay emerging from improvisation. "We were standing on the shoulders of other filmmakers," she explains, and she spoke with Shane Meadows' producer Mark Herbert and Ken Loach's producer Rebecca O'Brien to learn about their respective approaches. "It felt like we were on a learning journey, and we wanted to understand that."
Gavron wanted her shoot to maintain the same free-flowing spirit that had been vital to the devising workshops, and teamed up with a predominantly young and female crew that would be a visible and inspiring example to the cast. She also knew that with a core cast of untrained actors, expanding on occasion to classroom scenes with a large cast of first-time supporting artists, she would need plenty of directorial support.
The director stayed close to the performers, while Fable's Henriques — whose creative role grew during the making of the film, recognised in her credit of associate director — stayed by the monitor, watching closely and feeding back as the takes ran. Ikoko and Wilson were present for most of the shoot. Fable's Price, an associate producer on Rocks, was also on hand working with the writers and directors.
With each scene, the shooting gradually transitioned from rehearsal to filming, and there were no calls for 'Action' or 'Cut'. Single takes ran up to 45 minutes in duration.
Gavron calls the process a "flattened hierarchy", explaining: "It was listening, making a quick decision about what and how to refine it amongst ourselves — not just Anu and me, but the bigger creative team a lot of the time as well. It's hard to put your finger on exactly why things were decided when, but it somehow happened. The honest truth is I couldn't have made this film without all these people having very involved collaborative creative roles."
Ward adds: "Sarah is the director, but also Sarah understood from the beginning to capture the spirit that she can lead the charge, definitely, because that's her job, but she would take counsel from everybody involved." Pardee agrees: "Sarah made a huge amount of space for us to have our creative input. She listened to all of us."
Director of photography Hélène Louvart (Happy As Lazzaro, Never Rarely Sometimes Always) was working with a second camera operated by Rachel Clark, and a third camera on five of the shooting days. Editor Maya Maffioli worked out of Gavron's own house during filming, and shifted her working hours so the director could view rushes with her every evening and on Saturday — vital given the free-flowing, high-energy nature of the shoot.
While wrangling the 150 hours of camera footage plus further recordings captured by the cast on iPhones — with help from assembly editor Hoping Chen — Maffioli was also able to give directorial input. "She was brilliant at feeding back immediately what she felt we needed," explains Henriques. "For example, we were doing a lot of intense character, very close camera. And she was like, 'It would be nice to have a little bit of breathing space,' and encouraged us to get some big shots of London and Hackney so we could locate ourselves. She was part of that story-building process."
Awards success
Rocks won five prizes including best film at the British Independent Film Awards, and jointly led the Bafta nominations alongside Chloé Zhao's Nomadland with nods in seven categories — or eight, if you include Bakray's nomination for the rising star award. It is a feted film that its financiers — including Altitude Film Entertainment, BFI, Film4 and The Wellcome Trust — are proud to have backed.
Further validation came, especially for the cast, when Net­flix acquired the film, ensuring it reached a wide audience subsequent to Altitude's September 2020 release into the Covid-challenged UK cinema space.
Given all the success, it is easy to forget how high the risks were. "It wasn't like Faye or I had a track record of working in that way," says Gavron. And although the production always felt stretched during the 40-day shoot, the $4m (£2.9m) budget is not insignificant for a film lacking major marketable elements. Tellingly, pre-sales were difficult to achieve for a film that for most international distributors would be a "wait and see", and Head Gear Films came in to fund the gap.
Producers often like to talk about how a picture's budget is "all on the screen" — in the star talent and glossy production value. In the case of Rocks, the budget is instead deeply embedded into its fabric. The film would not have achieved the same creative outcome without the two years of casting, improvisation and writing, and the large team needed to wrangle a spirited group of untrained actors, who were given space to improvise dialogue during the shoot. "Without those months of workshopping, the film would not be what it is," says Ward.
Each day's shooting hours were inhibited by the age of the actors, and the production spent money in many different directions, including chaperones for key cast and supporting artists. The filmmakers wanted the girls' own music tastes to be represented in the film, and music clearances were another cost.
It was also vital — creatively, for the untrained cast — to shoot the film chronologically, which added inefficiencies in terms of locations, and it was also deemed important to make the locations authentic to the setting. "It was definitely unwieldy," says Allen. "But I think there's so much energy that you get from the process. We were all on this adventure, and we all had to keep adjusting our brain to be fluid and open and allow this magic to happen."
Despite finishing Rocks in time for its September 2019 premiere at Toronto International Film Festival, Gavron has found herself amply absorbed by its afterlife — as have many of the creative team, including the provision of "aftercare" support for the inexperienced young cast. The director is now processing how the film will affect her future creative choices.
"In a way, I am a changed person as a result of it, you can't not be," she says. "And I'm grateful to all those people who have changed me, and made me think in more open ways. When you open your eyes and say, 'Let's open up our crewing process to women who we haven't found on our traditional lists, and let's open up our casting process to people we might not have thought of,' it's profoundly altering. I'm sure that will affect me going forward."