Amazon Studios' strategy is about working with its global distribution partners — not competing against them. Head of international distribution and strategic initiatives Matt Newman discusses the company's innovative models.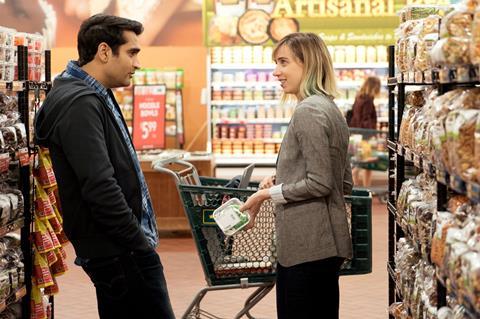 Amazon Studios has been expanding its global footprint. Since it began fully financing features several years ago, the company has built up its Prime Video streaming platform, largely underpinned by robust relations with the world's top international theatrical distributors.
The philosophy behind Amazon chief Jeff Bezos's content venture to feed Prime members exclusive entertainment perks and keep them shopping on Amazon essentially remains intact. Yet the film division is evolving into a top-notch operation driven by skilled executives who bring a nuanced, forward-looking spin to a traditional business model.
Amazon Studios' commitment to distribution of prestige and commercial entertainment through a theatrical component is no longer simply a headline-grabbing differentiator from, say, Netflix. The model has shifted gears, moving into self-distribution in the US and growing its international presence.
Matt Newman is in charge of international distribution and strategic initiatives. He has worked across various aspects of Amazon's business at a strategic operational level for five years, managing the fashion and consumables business in London before moving over to Prime Video and running film content in the UK.
Broader focus
The way Amazon Studios operates its film business has changed dramatically since Newman arrived in Los Angeles to take up his current post. There has been a broadening of focus from the US theatrical distribution partnership model (Roadside Attractions/Lionsgate have been key partners), to self-distribution in the US, to a global presence via a strong relationship with FilmNation Entertainment, the company's frequently used international sales agent.
Amazon Studios is also setting up its first international output deals. "Back in 2015, we released one movie, Chi-Raq," says Newman. "In 2016, we released 14 movies, all US acquisitions. We also started developing and financing more of our own movies in 2016, which has allowed most of our 2017 and 2018 slates to be made up of films where we have developed, financed and control worldwide rights.
"So we needed to develop a strategy to allow us to get those movies distributed or sold around the world and get as wide a theatrical release as possible, and allow us to get the movies on our Prime Video service around the world."
Amazon launched its Prime Video service worldwide towards the end of 2016. At that time, it had seven films in the pipeline that it had fully or co-financed: Todd Haynes' Wonderstruck, Doug Liman's The Wall, Mike White's Brad's Status (co-financed with Sidney Kimmel Entertainment), Marc Webb's The Only Living Boy In New York, Richard Linklater's Last Flag Flying, Felix van Groeningen's Beautiful Boy and Luca Guadagnino's Suspiria (co-financed with Manchester By The Sea backer K Period Media).
Newman says: "We had worldwide rights on those movies and wanted to ensure they got as wide a theatrical release as possible, and we also wanted to ensure we kept the rights we needed to exploit those movies on our Prime Video service in the countries where we were live."
To secure international theatrical distribution, the company embarked on an enduring collaboration with Glen Basner's FilmNation that started in Cannes 2016 with international sales on its first two productions: family mystery and eventual Cannes 2017 Competition selection Wonderstruck, and war thriller The Wall. While Amazon Studios will consider working with other sales agents, so far FilmNation has been its main partner. "We have a very close working relationship with them," he says.
At that market in 2016, the partners introduced a distribution arrangement that has become Amazon Studios' modus operandi whenever it licenses international rights on the five to 10 films a year on which it owns worldwide rights. Newman had seen how rising P&A costs and the exhibitors' large share of ticket revenue meant international buyers seldom profited from theatrical or home entertainment revenues alone, and spotted an opportunity.
Theatrical distribution had essentially become a loss-leading marketing push for ancillary revenue streams. By 2016, various SVoD services had begun to hold back streaming and TV rights when they licensed films, which made it harder for theatrical buyers to profit, and reduced the amount they were willing to pay for titles.
So the international team devised a structure whereby Amazon Studios sells all rights including streaming and TV to international distributors, and agrees to license back streaming rights from the buyer based on a percentage of local box office.
"The model allows us to ensure our [international] distributors are bidding for our movies based on the same terms, regardless of whether or not they have a pay-TV output deal," he says, "while ensuring our movies are set up in each territory with a local distributor who's fully incentivised to release our movies to their widest theatrical potential."
A film buy from Amazon Studios supersedes a theatrical distributor's existing pay-TV deal with another company because Amazon Studios retains streaming rights and pays a fee in lieu of those rights that mirrors the economics of a pay-TV deal. The distributor never controls the streaming rights and is not obliged to offer the specific film to its existing pay-TV partner.
Newman says the notion of an arrangement that offers the same rate card to buyers keeps Amazon Studios' partners "whole", bucking a trend whereby streaming services, in retaining streaming and TV rights, were making it challenging for theatrical buyers to recoup, let alone earn a profit.
In the market
After Cannes 2016, Amazon Studios brought two titles to each subsequent market. FilmNation launched sales on The Only Living Boy In New York at AFM later that year, followed by Last Flag Flying and Suspiria at EFM 2017, and Beautiful Boy and Gus Van Sant's recent Berlinale Competition selection Don't Worry, He Won't Get Far On Foot at Cannes 2017. Sierra/Affinity sold Brad's Status at AFM 2016.
At the recent EFM, FilmNation introduced Amazon Studios' Tom Harper-directed hot-air balloon adventure The Aeronauts, starring Eddie Redmayne and Felicity Jones, which had already pre-sold to eOne for the UK and Canada, and TMG in Germany. Basner and his team closed further pre-sales in Berlin for Italy (Lucky Red), the Middle East (SR&Co), Portugal (Nos Lusomundo), South Korea (The Coup Corp), Taiwan (MovieCloud), Hong Kong (Bravos), Singapore (Shaw Renters), Turkey (The Moments), Switzerland (Elite), Hungary (Cinetel), former Yugoslavia (Cinemania), Israel (Lev) and Greece (Seven).
The Aeronauts will also go out through Amazon Studios' output deals, an inevitable development as the company grows its international distribution footprint. The first deals to be announced are Australia/New Zealand (Transmission), Scandinavia (Scanbox), Japan (Gaga), and Spain and Latin America (Telefilms).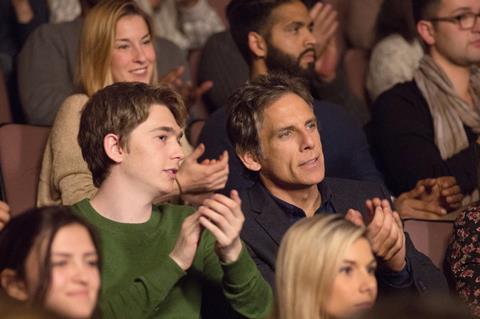 When it comes to the theatrical release, Amazon Studios is happy to leave it up to local expertise. Whereas in the US the company pays its own P&A costs (and did so before it moved into self-distribution when it partnered with the likes of Roadside Attractions), that is not the case elsewhere.
"Internationally we're selling the movie for an MG," Newman says. "We do stay pretty closely involved and maintain approval of a lot of things but our local distributors are now the ones putting up the P&A and releasing those movies, so it's a different dynamic. They truly have skin in the game with each purchase."
He continues: "We leave it to our local distributor to decide the widest possible release for each movie. So that means in the UK it's a 16-week theatrical holdback in order to achieve that widest possible theatrical release. We fully honour and respect those holdbacks for theatrical. Each territory has different theatrical holdbacks and we embrace those."
Newman says Amazon Studios is yet to close a deal with a US major in an international territory, but that does not mean it will not happen. "We're not opposed to that and are constantly in discussions with different people," he says. Local-language productions are not on the cards, for now at least.
Rules of engagement
As a buyer, Newman and Amazon Studios executives scour festivals and markets for content and tend to acquire the world rather than individual territories. There are no plans to change that approach, although the company will acquire a slew of available territories, as it did on Oscar contender The Big Sick at Sundance 2017.
In that case, besides the US, Amazon Studios picked up the UK, Germany, Spain and Japan, among others, and licensed rights to Studiocanal in the UK, Weltkino in Germany, Inopia in Spain and Gaga in Japan. In each case, it licensed back streaming rights, and worked closely with the distributors on marketing the theatrical release and the eventual release on Prime Video.
The Big Sick, which has grossed $43m in the US and $56m worldwide theatrically, is live in more than 45 countries on Prime Video. The Wall is live in more than 80, Wonderstruck in more than 25, and Sundance 2017 acquisitions City Of Ghosts and Crown Heights in more than 200 each.
Amazon Studios is notoriously protective of proprietary information and extracting any kind of viewership intelligence pertaining to Prime Video is a pointless exercise. Besides, Newman claims not to have that kind of information yet, and the executive at a data-driven company is happy to keep things general. "The Grand Tour is one of our most popular shows on a global basis. On the movie side, all of our independent films and our blockbusters definitely get engaged."