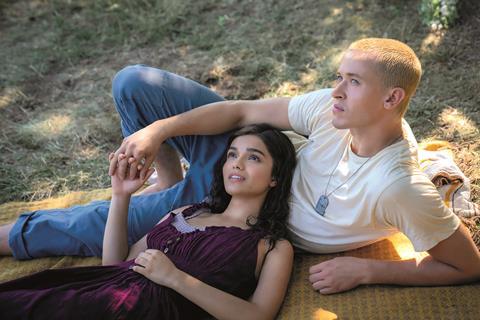 A major overhaul and realignment of Germany's federal subsidy system is now the centre of attention, as the coalition government in Berlin begins hammering out a new German Film Law (FFG) to come into effect from 2025.
A tax-based model, like the FISA+ scheme that was introduced successfully in Austria at the beginning of 2023, is one option being considered to take the place of the existing incentive schemes, while there is also growing support for an investment obligation to be imposed on platforms, similar to those in place elsewhere in Europe.
Last year German locations hosted several international productions, including Scott Free thriller Berlin Nobody, an adaptation of Nicholas Hogg's 2015 novel Tokyo directed by Jordan Scott; Zen­tropa's period drama The Bastard; love story Bawaal from India's Nitesh Tiwari; Alice Troughton's debut The Tutor; Lionsgate prequel The Hunger Games: The Ballad Of Songbirds And Snakes; and Rupert Sanders' The Crow reboot.
Meanwhile, AppleTV+'s psychological drama series Constellation saw the UK's Turbine Studios set up its own Cologne/Berlin-based operation Turbine Studios GmbH to handle production, instead of drawing on a local production services company as it had done for Netflix's Munich — The Edge Of War in 2020.
"We made the case that such a show could be staffed solely with German HoDs — with the exception of the production designer [Andy Nicholson from the UK]," recalls Justin Thomson, one of Turbine Studios' co-founders.
"The fact the production received a combination of regional funding and the GMPF [German Motion Picture Fund funding programme] makes us very competitive on a global scale," adds Daniel Hetzer, co-founder and managing partner of Turbine's German operation. "We spent a very high eight-digit number just in Germany.
German locations are now being lined for Justin Kurzel's dystopian drama Morning, starring Benedict Cumberbatch, a SunnyMarch, Jaywalker Pictures and augenschein production. Also in the pipeline are Christophe Gans' horror reboot Return To Silent Hill, from Davis Films and Hassell Free Productions; A24's pop melodrama Mother Mary, directed by David Lowery and starring Michaela Coel and Anne Hath­away; and Ildiko Enyedi's Silent Friend, a co-production between Pandora Film, Galatée Films, Inforg M&M Film and Radiance Films.
THE LOWDOWN
European status
Germany is a member of the EU and a participant in the Schengen Agreement. Its currency is the euro.
Financial incentives
The German Federal Film Fund (DFFF 1) is open to small and medium-sized projects with total production costs of up to $21.7m (€20m). It offers a rebate of up to 20% of German production costs to a cap of $4.3m (€4m) for features, documentaries and animation spending at least 25% of the total production costs in Germany and guaranteeing a German theatrical release. A total of $21.7m (€19.7m) was paid out in grants to 36 international projects in 2022.
Production service providers hired to produce a film or defined segments such as VFX can apply to DFFF 2 for funding of up to 25% of approved costs for projects having total production costs of at least $21.7m (€20m). Total funding from DFFF 2 in 2022 was down by $14.6m (€13.5m) to $31.3m (€28.9m) compared to 2021, an indication of a shift away from feature production to series. Full details X dfff-ffa.de/en.html
Funding awarded by the German Motion Picture Fund reached an all-time high of $91.4m (€84.4m) in 2022, paid out to 43 high-end series (up from 19 in 2021) as unused DFFF 2 monies were reallocated. The maximum amount possible to allocate to a single project under the scheme — $10.8m (€10m) — went to Apple TV+ series Constellation. Full details.
Infrastructure and crews
International projects increasingly source many of their heads of department locally when shooting in Germany. The big studio hubs of Studio Babelsberg (Potsdam), Bavaria Studios (Munich) and MMC Studios (Cologne) were joined in spring 2022 by Penzing Studios, a major facility 30 miles west of Munich. The former Berliner Union-Film Studios is currently being transformed into a home for green and sustainable filmmaking, named Atelier Gardens.
Size matters
While the country's filming hubs are no more than an hour apart by air, shoots will have to meet mandatory minimum ecological standards before being able to access public funds from July 2023. Studio Babelsberg, Bavaria Studios, MMC Studios and Penzing Studios are all less than an hour's drive from their respective city centre hotels.
First person to contact
Anja Geissen, DFFF funding consultant