As Turkish cinema flourishes on the international festival circuit, Antalya Film Forum is the place to meet local filmmakers and source exciting new projects.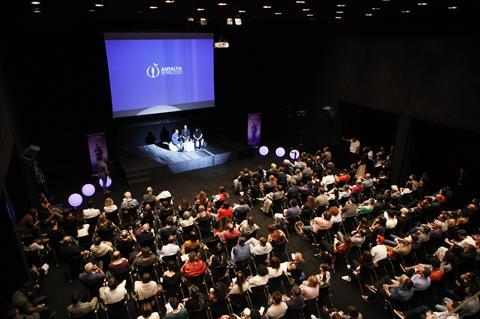 As one of Turkey's top producers, Zeynep Atakan is well accustomed to visiting the various co-production events held at festivals around the world. In 2013, when she was first modelling Antalya Film Forum, she had plenty of examples to draw on.
"Our motto was that the Turkish film industry should be able to create with the world," says the Forum director, whose work with Turkish director Nuri Bilge Ceylan includes Winter Sleep and Once Upon A Time In Anatolia. As a producer who has worked with French and German partners to get Ceylan's films financed, she knows first-hand what a struggle it can be to piece together budgets from multiple sources.
"I've been to almost all the co-production markets," Atakan reflects. "Each was a different experience for me."
The one that registered most strongly was CineLink in Sarajevo, which provides practical support and encouragement for young directors from the region seeking international support and exposure. And it is not just the ideas behind CineLink that Atakan is now drawing on — it is the personnel too. Antalya's strategic adviser is Mirsad Purivatra, who launched the CineLink Co-Production Market in 2003.
Based on the premise that a successful co-production market is the best place to spot emerging local talent, the Forum has grown gradually each year.
In its first edition, the event concentrated on works-in-progress and narrative feature pitching. A focus on documentary films was added to the mix in the second year. The Forum has since added further strands. The new platforms are Projects Looking For Producers, which focuses on script development, the presentation of projects the festival has supported via the privately backed Sümer Tilmac Antalya Film Support Fund, and short film works-in-progress. A selection of finished shorts will also screen in shorts@antalya. Additionally the Turkish TV and Radio Corporation (TRT) presents an annual project development award with a prize of $13,500 (try50,000).
"We are hoping that any project developed in Turkey will have the chance to be shown worldwide," says Atakan.
Projects to have passed through the Forum include Tolga Karacelik's Ivy (Sarmasik), which was pitched in 2014 and went on to have its world premiere at Sundance the following year. Young Wrestlers, a documentary produced by Istanbul and Amsterdam-based Kaliber Film, was selected for the Berlinale and returned to win two awards at Antalya last year. Baris Kaya and Soner Caner's debut feature Rauf won the work-in-progress award at the 2015 Forum and was also selected to screen at the Berlinale last year.
Global guests
International visitors to the Forum have previously included Piers Handling, director and CEO of Toronto International Film Festival; Croatian producer Cedomir Kolar; sales agent Cat & Doc; Elad Samorzik, artistic director of Jerusalem Film Festival; ARTE/ZDF producer Meinolf Zurhorst; US producer Jim Stark; and industry veteran Renate Roginas, who has been presenting the Forum's Villa Kult Residency Award since 2015. Last year it went to Turkish writer-director Emre Kayis for his project The Anatolian Leopard.
Originality, creativity, international potential and feasibility are listed as the four essential qualities that projects must possess to be selected for the Forum. Projects tend to have relatively modest budgets, in the $350,000 (€300,000) to $825,000 (€700,000) bracket. The selection process is rigorous and objective, based on a points system. Atakan herself does not see the projects until they have been shortlisted.
"I check the points given by the consultants and the notes they've written," she says. "Since I know the Turkish industry well and know what the project is trying to say, I can choose one or two projects and add to the list."
Atakan takes the time to personally contact all the producers who did not make it to the final list and explain why they were not chosen. She will also stay in touch with successful producers to check on the progress of their projects once the Forum is over. "Going through this development process is more important than getting an award," she suggests.
There are 10 projects in the Pitching Platform for Fiction Feature Films, and some highly regarded filmmakers in the mix. Burcak Uzen (Beginner) is presenting Is There Bread In Heaven?, which is produced by Mehmet Karaca. Kivanc Sezer, whose My Father's Wings premiered at Karlovy Vary in 2016, is presenting his new project Little Things, to be produced by Soner Alper.
"Usually, they don't even have 50% of the financing for the film [in place]," Atakan says of the stage at which the projects tend to arrive in Antalya.
As a producer herself, she understands the budgets and the ambitions of the filmmakers. The Forum attracts younger filmmakers and one or two more experienced figures. They know they have to fight for financing.
Pitching tends to take place in English and the filmmakers are required to bring a translator if they are not fluent. The issue of language was very carefully considered by Atakan and she concluded filmmakers who are seriously looking for international co-producers must be able to communicate with potential partners — and few of those partners will speak Turkish.
"In the Turkish film industry, there are extremely talented people with great stories," says co-producer and marketing consultant Claudia Landsberger of Netherlands-based BaseWorx For Film, who is attending the Forum for the third time. "Turkey has an amazing storytelling culture. There is a lot of history, and very beautiful projects with all these political and historical issues. There's a lot of interest from the western European countries. There are stories about wild bears, remote villages, stories from the colourful folk culture, stories about moving to the city and about immigrants.
Finger on the pulse
Atakan juggles her role at the Forum with her demanding commitments as a producer working with Ceylan. She explains the activities complement each other, with the Forum allowing her to engage with young filmmaking talent and keep abreast of new developments in film financing. Antalya is also an excellent networking hub, attended by producers, co-producers, distributors, sales agents, film funds and festival directors.
The increasing presence of Turkish titles at international festivals attests that local filmmakers are getting films made and seen. Atakan regards co-production as crucial to the continued flourishing of the film sector — and that is what Antalya Film Forum seeks to facilitate. This is the place where the Turkish industry meets the rest of the world.
Some 200 local and international film professionals are expected to attend the Forum this year. That is not a huge number when compared to events such as Cannes or Venice but Antalya is more intimate and less of a stampede. The Forum may only be four years old but it already feels like a permanent fixture on the festival calendar.