Actress Billie Piper makes her directorial debut with Rare Beasts, which has its world premiere at Venice's Critics' Week on August 31.
Rare Beasts – described as a pitch black comedy or 'anti-rom-com' – follows Mandy (Piper), a modern woman and single mother still dealing with the separation of her parents (David Thewlis and Kerry Fox). She falls in love with a complicated man Pete (Leo Bill). Piper also wrote the original script. Vaughan Sivell produces for Western Edge Pictures, in association with Ffilm Cymru Wales, Moffen Media, Fields Park and 42.
Piper is a former singer who has starred in TV hits including Doctor Who, The Secret Diary Of A Call Girl and Penny Dreadful. In 2017, she won an Olivier Award for best actress for her role in the Young Vic's stage production of Garcia Lorca's Yerma.
How long did you know you wanted to direct?
If I'm honest I've always loved writing and I really danced with the idea of becoming a writer since I was very young. I got my teeth stuck into writing this story. I needed a bit of pushing with the idea of directing – I'm fascinated by directors' work. I'm a massive film buff, I've studied a lot of films. But I needed somebody to say do it, basically, and someone did – my friend [director] Wayne Yip. It made more sense to do it as a writer/director rather than a director for hire. I don't know that I could direct someone else's writing.
How did Rare Beasts start to develop in your mind?
When I turned 30 [in 2012], I saw a lot of female crisis emerging around me. It was interesting to me that the world was pushing us to feel progressive and liberating yet I saw a lot of women falling apart. I found that really interesting, I felt that no one was talking about that. It seemed wrong to moan. Ultimately this film to me is about a female nihilist trying to navigate this liberated progressive time in women's history, and the crisis and confusion that comes with that. Those themes have been on my mind for seven years. It was finding a way to frame all of that and be brutally honest about it.
How much of this story do you identify with personally?
I identify a great deal with the themes in this film. And my friends and all their woes. That feels exciting that it comes from a place of truth, but then it's gone into my mind and been reimagined and dramatized and heightened.
The film is full of sparky banter. Do you enjoy writing dialogue?
I love dialogue. I've always been a bigger fan of wordy films. I sit less comfortably with films where nobody is saying anything. I like vibrant language and I wished we all talked more like that. Just a bit more honest and with a bit less subtext. Even though I know it can be quite challenging. And the characters do feel beastly at times when they speak, it's people at the end of their ropes and there is a desperation in what they are saying. Comedy comes out of crisis.
Was it challenging to also star in the film?
I knew it would be one less thing for me to worry about. I didn't pore over the performance in a way that I would have done normally. I wanted to get my stuff done and focus on other people. And I was six months pregnant by the time we finished shooting.
After working with many directors over the years, what kind of director do you think you were?
I knew I had to choose the right people for the jobs and they had to be really skilled. You couldn't cast an actor who wanted the character to be likeable. Sadly that's something most actors like to do. I needed someone to go with it, and I was lucky to find those actors. Really in terms of directing there was so little to do with the lead cast because they were so good.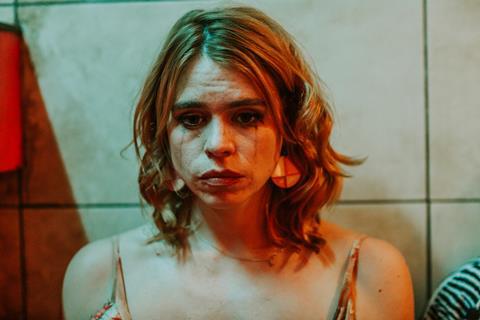 Why was Leo Bill right to play Pete?
I knew Leo as an actor and I've always thought he was brilliant. I've only seen him play character roles and I wanted to see him play a leading man. He's so good in this. Even if you loathe the character, he goes there, he goes for it.
As you've mentioned, these characters aren't always likeable. How do you think audiences will respond?
I think ultimately this film will be quite divisive. We can recognise parts of these people, or find it offensive because it's not polite. I don't think men or women are always likeable and I'd like to see more of that on screen. Otherwise we're just lying to each other. What all of these people share, and their common ground, is that they are all being rejected, and when they are rejected, they behave appallingly.
Some people will think, "Why is this woman going anywhere near him?" The truth is we make really peculiar choices in life. And they are based on our lives as a child, that can totally inform where you go romantically. Sometimes people make really fucked-up choices. One of the things that makes them enjoyable is that when they are together and it's going well, there is this sort of rat-a-tat between them. They have this ability to verbally challenge each other.
Were there any filmmakers who inspired this film?
I'm a massive fan of Paul Thomas Anderson – I'm profoundly moved and excited by his storytelling. He heavily invests in characters. And Noah Baumbach's The Squid And The Whale had an enormous effect on me.
What did you want for the visual style of Rare Beasts, which has a sort of fairytale quality to it.
I feel like because the story felt heavy there is a very British way of telling a story like that – in that Mike Leigh, Ken Loach way – and that can be brilliant. But I wanted to find a way to make this story less gritty and reimagine it a bit, so it felt more enjoyable. I'm happy with what we were able to achieve.
The film is coming out during the era of #MeToo. Does that feel like good timing?
Obviously I had this idea before #MeToo started. But I feel like it's amazing timing. This story plays with that idea that women can do everything on our own. We sort of can. We can be powerful at work, we can be successful. We can have casual sex, we can buy sperm. We can pretty much do everything on our own but that's hard.
It's hard to be alone and even my most liberated friends choose to be in relationships and sometimes with lesser men. We do want to belong and share intimacy and be loving but the modern world makes us harder to do that. A lot of women are finding it really tricky as well to navigate and coexist with men. I think that will level out. I'm raising two boys so that concerns me all the time.
What does it mean to you for the film to premiere at Venice Critics' Week?
I don't know if I've ever been so moved. I did Yerma in New York and thought that was the most satisfying professional experience of my life, and this has temporarily topped it. I'm so scared as well. You've got to try to have such conviction.
What's next for you?
I'm about to start filming a show, I Hate Suzie, that Lucy Prebble and myself have created. We've been working on it for about five years. It's very exciting. It feels daring in the same way as Rare Beasts feels daring in parts.