The US-based Australian producer Bruna Papandrea says she knew as soon as she read early scripts for the HBO limited series The Undoing that "it fell so into everything, not only that I wanted to make but that I wanted to see."
It's not just that the series – about a successful therapist whose life is thrown into turmoil by a violent death and the disappearance of her husband – is the sort of female-led psychological thriller for which Papandrea has always had a liking. There's also the fact the project reunites her with old friend and fellow Aussie expat Nicole Kidman, who stars and serves as executive producer, and with David E Kelley, creator of Ally McBeal and other groundbreaking TV hits. Kelley has adapted Jean Hanff Korelitz's novel You Should Have Known for the series and serves as showrunner. Susanne Bier is directing all of the episodes and Hugh Grant stars opposite Kidman.
Those elements made The Undoing an ideal project for Made Up Stories, the development, production and finance company that Papandrea started two years ago with the intent of delivering female-centric content and enabling female writers, directors, producers and actors to tell their stories.
Made Up Stories has offices in Los Angeles and Sydney and is active in both film and TV. "I don't see them as two different things," says its founder and CEO, who now lives in Los Angeles. "We have a small group of women who work for us in TV and film and we read everything and talk about where does it best fit."
But TV offers the most opportunities right now, suggests Papandrea. "I'm always acutely aware of these amazing female-driven shows," she says, citing Ally McBeal and Felicity as examples she cherished as a young TV watcher. "Certainly in the last 10 years, premium TV has done a much better job of putting those kinds of really interesting, complex women on screen.
"It's just because of the pure volume of TV. There are so many more outlets. You're able to take risks [in TV] in a way that more traditional film is not.
"Films used to do it a lot more," she adds. "But everyone always thinks it's an anomaly when it works [in film]. The truth is, there's a huge audience, a huge thirst, not just for female-led stories but for big female ensembles."
Striking out on her own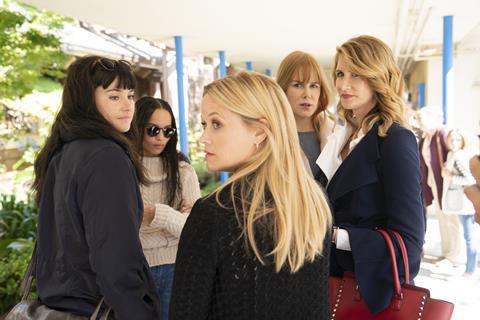 It was an ensemble project – the one that makes The Undoing a reunion of sorts – that helped convince Papandrea it was time to set up her own venture. As partner to Reese Witherspoon in the actor-producer's Pacific Standard operation, Papandrea notched up credits on features including Wild and Gone Girl before serving as executive producer when the company made its TV debut with Big Little Lies, the HBO limited series created by Kelley and starring Witherspoon, Kidman, Shailene Woodley, Laura Dern and Zoe Kravitz.
The Emmy-winning series – which will return for a second season this summer, with Papandrea again among the executive producers – arrived in the same six-month span of 2017 as The Handmaid's Tale and the Wonder Woman feature.
"All of them were received incredibly well by the public," notes Papandrea. "The wind was at our backs, and of course, when you make a show like Big Little Lies it does bring in other material.
"It was at that prime moment that I decided I wanted to take one step further and, yes, put more women in the centre of stories, but also put more women behind the camera. And by that I don't just mean directors, I mean female novelists, female creators, female storytellers."
To give Made Up Stories the ability to "curate" partnerships for its projects, Papandrea has so far avoided an overall deal and set up series at a variety of US outlets.
For cable network TNT, the company has completed dark mystery thriller series Tell Me Your Secrets, with Houda Benyamina, a Cannes film festival prize-winner with Divines, among its directors. For Facebook, it made Queen America, the dark comedy with Catherine Zeta-Jones that the social media platform offered its users last year.
After The Undoing, Made Up is planning towards the end of 2019 to shoot Pieces Of Her, a crime series based on the Karin Slaughter novel that has been given an eight-episode order by Netflix.
TV and film slate
Having started her career in features – with Better Than Sex, a 2000 Australian rom-com that helped land her a six-year stint working in London for Anthony Minghella and Sydney Pollack's Mirage – Papandrea still keeps a foot in the theatrical world.
Made Up's Australian horror comedy Little Monsters premiered at Sundance a few months ago and the company's dramatic thriller The Nightingale is set to open in the US in August after winning the special jury prize at last September's Venice film festival.
Sci-fi drama Lucy In The Sky starring Natalie Portman, which Papandrea produced with Witherspoon, is in post-production and The Dry, Pacific Standard's drama with Eric Bana, is just finishing its Australian shoot.
Future film projects include The Thing About Jellyfish, an adaptation of Ali Benjamin's best-selling children's novel in development with Witherspoon's new company Hello Sunshine and Universal, with Stranger Things' Millie Bobby Brown attached.
Made Up's TV development slate, meanwhile, takes in properties that are high-profile and, in one case at least, a bit surprising.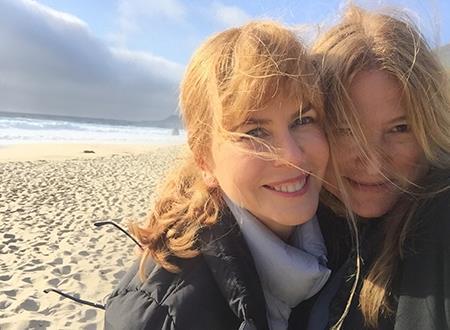 Nine Perfect Strangers, the latest book from Big Little Lies novelist Liane Moriarty, has been optioned by Made Up in concert with Nicole Kidman's Blossom Films (also a producer on The Undoing and the Big Little Lies series).
A series version of The Lost Queen, Signe Pike's novel set in sixth-century Scotland, is in the works as what Papandrea hopes will become a sort of "Game Of Thrones meets Elizabeth".
And Made Up is close to starting a casting search for its dramatised version of renowned editor Tina Brown's The Vanity Fair Diaries, for which a script has been written by Rachel Caris Love, a writer on NBC's action drama series Blindspot.
The surprise in the slate is that Papandrea – who also serves as an ambassador for Reframe, the Women in Film/Sundance Institute initiative to further gender parity in the media business – is also applying the Made Up ethos to material from an era with apparently very different ideas about gender equality.
Last month, the company revealed a partnership with Agatha Christie Ltd for a new series, to be developed with Endeavor Content, inspired by the dozen crime novels and 20 short stories Christie wrote between 1927 and the early 1970s with her Miss Marple character as the unlikely amateur sleuth.
Papandrea says the details of the series, includuing whether it will have a period or contemporary setting, are still under discussion. But as a producer with a mission as well as an eye for literary material, she sees plenty to work within the Marple oeuvre.
"I'm in awe of Agatha Christie," she says. "I think she was so ahead of her time. I almost think of [the planned series] as a coming-of-age story of an older woman. That's what excites me about it: creating something really inspirational with this woman at the centre.
"I feel very strongly that women of a certain age are underrepresented on our screens and I'd like to change that."