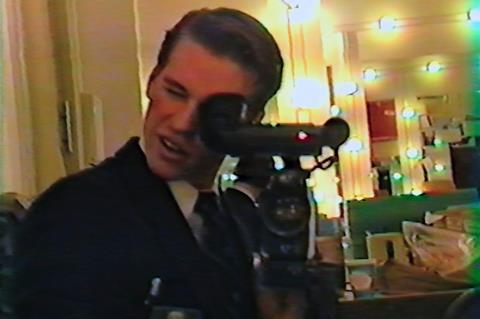 In Cannes Premiere entry Val, longtime editors Leo Scott and Ting Poo (editor of 2018 best documentary short Oscar winner Heaven Is A Traffic Jam On The 405) team up for their joint directorial debut as they film the daily life of Top Gun, Tombstone, and Batman Forever star Val Kilmer and weave in footage from thousands of hours of home movies Kilmer shot over several decades documenting his personal and professional life.
The highly eccentric Kilmer, in remission after throat cancer, attends fan conventions, enjoys time with his grown-up children Jack and Mercedes, and reflects on the childhood death of his younger brother, his relationship with Joanne Whalley, and career highs and lows. Jack narrates words by Kilmer. A24 financed Val and handles international sales. Amazon is the distributor in North America and Latin America.
How did Val come about?
Leo Scott: Around 2011 I was editing a comedy directed by Harmony Korine [segment called The Fourth Dimension] where Harmony had cast Val to play himself as a motivational speaker. I emailed Val to say how great he was and he replied immediately. We got talking and I moved to LA and started documenting his one-man show [about Mark Twain]. He shared the videotapes and asked me to digitise them. I did it for about nine months in maybe 2014 and we started putting together the beginnings of a story exploring [how an actor builds a] character.
Ting Poo: Leo and I were friends and worked at the same editing house. He showed me the Val tapes and my jaw just dropped… Leo said they were on hiatus and now that Val was in remission it might be a good time to pick it up. Val was super enthusiastic and gave us his blessing. That was around 2018.
What did you set out to make and what did you end up with?
TP: What we all agreed upon was to take all those scenes and events of his life and give him an opportunity now, with some hindsight, to comment. He's always wanted to tell a story about acting and his process and we definitely had the material to support that.
It could be easy for viewers to fall in love with Kilmer a bit in this film. He shows no self-pity and you really root for him.
TP: Our number one goal was to give people a sense to fall in love with him the way that we did; to know how funny he is to know how complex and spiritual he is. He's kind of an enigma and has been throughout his career. Just giving him a peek into who he really is something that will be special for fans.
When you know somebody so intimately, how does that affect the process of telling their story?
LS: He's such an interesting person so you actually learn more about him by looking at old material, and making more sense of his life now.
TP: I'm not sure if it makes it harder or easier, but it makes you more determined, because you feel more of a responsibility to convey the person you know.
There is hilarious early footage of Kevin Bacon and Sean Penn mooning backstage while the three actors were starring in a play.
LS: Yes and you see Kevin Bacon go, "Wow Val, is that a real video camera?" It was a legitimate question. Not only did Val have one of the first video cameras, he always had the cutting edge cameras.
And we see tense exchanges on the troubled shoot of The Island Of Dr. Moreau, starring Kilmer's hero Marlon Brando, where John Frankenheimer asks Kilmer to switch off the camera.
TP: A lot of people are going be fascinated with that footage. There was a documentary made about that movie that doesn't have [something like this] because it was made with stills and third-person accounts.
Whose idea was it to have Jack do the voice-over?
TP: It was a no-brainer because he was in so many of the scenes when we were starting to shoot and one of the best parts about Val is the person he is when his children are around. We felt Jack should be the voice."
Has Val seen Val? What do you hope people take away from it?
TP: Val's seen the film many times and he's incredibly proud of it. Our hope is that it inspires people to go out and be creative in the way that he is.