As president of Condé Nast Entertainment, Dawn Ostroff turns original stories from the publisher's magazine brands into films, TV shows and digital content. She tells Jeremy Kay about the company's dynamic approach to IP.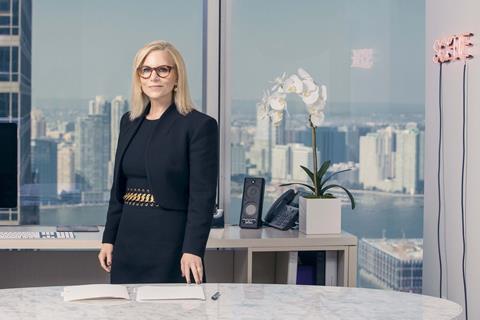 Exploiting the intellectual property of iconic brands across multiple entertainment platforms has been something of a Holy Grail for publishing companies. Fortunately for Condé Nast CEO Bob Sauerberg, he knew exactly who he needed to bring in to launch Condé Nast Entertainment (CNE).
Highly regarded in the TV industry for her taste, acumen and energy, Dawn Ostroff was credited while president at networks such as The CW and UPN with developing hit shows including Gossip Girl, America's Next Top Model and the drama Platinum, penned by 12 Years A Slave screenwriter John Ridley. Yet Ostroff had become intrigued — and perhaps more than a little concerned — as she watched The CW viewers migrate to digital platforms in search of new content. So when Condé Nast came knocking in 2011, she seized the opportunity and took the decision to relocate from Los Angeles to New York.
"I knew [digital] was a big component," says Ostroff, a former broadcast journalist and senior executive at 20th Century Fox Television, of the opportunity. "Being able to grow something from scratch that was digitally led and at the same time positioned at the forefront of where the business was going to go was of great interest to me."
She set about familiarising herself with Condé Nast's stable of household names such as Vogue, Wired, The New Yorker, Vanity Fair and GQ. The goal was to create in CNE a 'next generation' studio that would siphon its sister company's IP and original material into content geared towards a dynamic range of platforms and audiences.
Progress at CNE has been steady as the slate of product grows in stature. Ostroff presides over a content conveyor belt that develops feature films for theatrical release, TV series and a multitude of digital videos that vary in length, depending on subject matter, destination platform and brand audience.
The features operation is poised to break out with Robert Redford heist film Old Man And The Gun, among others, after an early stumble with the 2016 Nicolas Cage drama Army Of One. That film was based on a GQ article and never made it to theatres. Ostroff fared better with her follow-up, firefighter drama Only The Brave, based on the GQ article 'No Exit' about the Granite Mountain Hotshots fire unit in Arizona. The resulting film impressed critics, but achieved only an $18m domestic gross after its release through Sony last autumn.
The CNE president has assembled a "pretty robust" features slate of some 35 development titles geared towards the more mature market. The company packages and produces its films, and works with financiers to find the best distributor. Old Man And The Gun is based on David Grann's 2003 article in The New Yorker and will open through Fox Searchlight on an unspecified date. Set to begin production this year is King Of The Jungle (working title), based on a Wired article, with Johnny Depp as fugitive antivirus software entrepreneur John McAfee. No distributor was attached at time of writing.
Ideas from IP
"When it comes to film and television," Ostroff says, "most of the time — probably 95%-97% of the time — the ideas come from IP in our magazines or our sites, or from our library. Once in a while, we'll do a great concept that has nothing to do with any of our brands or IP, and we'll still go forward and package it, pitch it, develop it and sell it."
CNE contests part of a recent Fast Company report, which culled data that allegedly originated from five years ago stating the company pays journalists $2,500-$5,000 for a 12-month option on their articles (the average industry fee can range from $5,000-$75,000) with a maximum 1% share of the purchase cost if the project becomes a go feature. CNE sources insist that as the company has matured, so the pay range for journalists has gone up, based on the writer's experience and other factors.
Long-form shows include the acclaimed Last Chance U for Netflix (adapted from a 2014 GQ article on college football) and The New Yorker Presents on Amazon Prime Video, in association with Alex Gibney's Jigsaw Productions. In December, Ostroff struck a first-look deal with Paramount TV and Anonymous Content to make scripted series.
Source material for digital content hails from a far broader pool than features. "When you look at our digital video business, a significant amount — probably 90%, if not more — comes from original concepts from our team because it's content we know will work on any given platform," Ostroff says. "So most of the time it's not connected to specific IP, but it is associated with, or we make it for, one of the brands and [it] is programmed across multiple forms of distribution."
Discussing digital content, she shies away from traditional labels such as 'scripted' and 'documentary'. CNE strives to embrace next-generation storytellers, and definitions are fluid as material flows from comedy series to informational videos, celebrity interviews, news and commentary. CNE produces around 5,000 videos a year, both editorial and branded, such as 73 Questions, Fear Box and You Sang My Song, and the content is distributed across a digital network spanning around 60 partners across some 2,300 websites. Among the latter are 21 so-called 'O&Os' — owned and operated branded sites such as Vogue, The New Yorker, GQ and Wired.
"It might be relevant content about how to bake holiday cookies from Bon Appetit," Ostroff says, "or it might have [something] to do with Meryl Streep from Vogue or men of the year from GQ." Major destinations for CNE content include YouTube, AOL, Yahoo! and MSN; over-the-top (OTT) services such as Apple TV, Roku and Xbox; VR/360 platforms such as Google Daydream, Jaunt and Samsung; and partner networks including WWD, Los Angeles Times and Chicago Tribune.
CNE also operates The Scene, a social-video network of premium, curated digital content culled from the company's IP stable or third parties, which skews towards multicultural women aged 18-24 and runs over multiple platforms. According to the company, The Scene generates more than 100 million views a month. Overall, CNE reports that its short-form content drove a company record 11.76 billion video views in 2017, marking a 161% increase over 2016.
Growing ad revenues
The company operates an ad-based model and sells YouTube ads and ads on CNE O&Os in a similar way to how networks sell on-air advertising. Ostroff notes ad length has shrunk from 60 seconds to 30, and now to the latest trend of six seconds.
While CNE is a privately held company and declines to make public any financial information, a story in the New York Post in 2017 reported the company had become profitable for the first time, one year ahead of schedule. Screen International understands the figure was in the region of seven figures.
At time of writing, the latest intelligence from comScore revealed November was a record month for CNE on YouTube with 189 million video views, up 161% year-on-year. In the late-November Thanksgiving week alone, the company generated 61 million video views on YouTube, registering the best week in the company's short history. November 21 produced a record single day with 14.1 million views, 422,000 likes and 52,000 new channel subscribers.
The average reader age of a particular Condé Nast print product does not necessarily equate to the same user age on that brand's website. The video component, Ostroff says, "is reaching a much younger audience, an audience that may not have known about some of these brands because they're finding them on YouTube, and on all these other platforms like Snap. Suddenly, they're relevant to a whole other audience."
That is partly what appeals to the CNE president about digital and, in particular, short-form entertainment. "It's totally portable," she says. "It's not necessarily time investment. We view social media and video to be a pastime for us now… it's such a quick fix. We're living in a society where Gen Z and our younger millennials are used to getting quick bites of everything to feel very satisfied.
"That's not to say people don't watch long-form, because they do," she adds. "We have eight long-form series that are either on-air or in-production, so we make a lot of long-form series as well. But when you're looking at the short-form medium, it's also speaking to a generation that has a different type of attention span and are used to getting things quickly."
Generational language skills
The Gen Z and millennials, she notes, like content that is "out of the box" and are demanding about what, when and how they want to watch. "We speak to them in a different language," says Ostroff. "It's not to say what we make for them would not appeal to an older audience, but for sure what we would sometimes make for an older audience would not appeal to a younger audience."
So how does the TV maven in a brave new world view the changing face of television? "If we talk about the content we tend to call it longer-form content and, at some point, all the content's going to blur," she says. "Long- or short-forming won't matter to the generations coming up — entertainment is going to be entertainment.
"But I do think that TV as a distribution model is facing many challenges. Some of the challenges may be rectified in terms of streaming capabilities and digital assets for some of the TV channels. If you're talking about longer-form content, it will have multiple homes on digital platforms — be it a Hulu or an Amazon or a Netflix, or one of the OTT platforms like Apple or Roku.
"We'll all be able to find the type of content that interests us at any given time or moment in our life," continues Ostroff. "It will ultimately lead to more content for the viewer, the consumer, which is a big positive, and the choices of how we're going to view that content is going to be varied, and that will only serve the consumer in a better way."
So will digital platforms become more popular than traditional networks? "At some point we will see where that juncture is going to happen and how. I don't know yet, it's all evolving. We're in an early inning with all of this and there is still a long way to go."