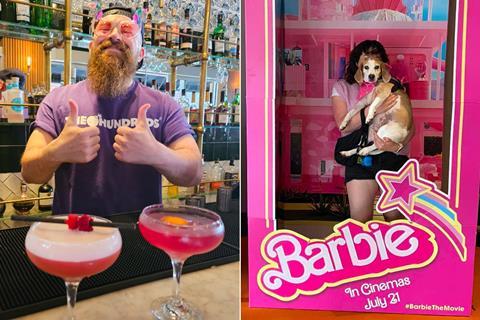 The Barbenheimer phenomenon has broken records across the UK-Ireland exhibition sector, with many cinemas having their best-ever weekends. The unprecedented dual-title success has also posed challenges, from running out of popcorn to finding room for other releases.
Box-office success for both Warner Bros' Barbie and Universal's Oppenheimer has been shared by all types of exhibitors. Cineworld and Vue both recorded their busiest-ever weeks; the former had 1.7 million admissions across all films at its 103 venues. It had 846,000 admissions for Barbie and 500,000 for Oppenheimer, including 120,000 in Imax for the latter where it was the market leader; and sold out 190 showings in that time across both films.
Odeon, the largest exhibitor with 110 venues, brought in 1 million admissions across the first four days, marking its busiest weekend since Avengers: Endgame in April 2019; while Vue Cinemas sold out an astonishing 2,000 Barbie screenings on the first weekend, boosted by its cut-price tickets available for as little as £4.99 in some venues. This contributed to the biggest admissions week in the chain's history, beating the previous record – for 2012's Skyfall – by 20%. Thirty-seven of its 91 venues had their best-ever week, with Barbenheimer comprising 80% of all admissions.
Barbie set a new record for the BFI Film Audience Network's Indie Box Office chart, with 62,975 admissions from the 37 chart-participating venues that played the film; while Oppenheimer's 34,915 from 36 participating sites was the best-ever opening result for a film that didn't make it to the top spot.
Picturehouse Cinemas recorded its busiest weekend ever across its 29 venues, including 50,000 guests in the first three days for Barbie. Almost 3,000 of the boutique chains' members did the double bill in the first three days; while it has also welcomed 500 dogs to see Greta Gerwig's film, through its dog-friendly screenings.
Both last weekend and this week have set new records for admissions, box office and food and beverage (F&B) sales in the 89-year history of Curzon Cinemas. It is 63% up on its best box office week, which was previously the third week of February 2020 when it had Parasite in cinemas, released through its own distribution arm. First-week box office on Barbenheimer has topped the entire run of Top Gun: Maverick, its highest-grossing title of last year. The weekend saw 260 sellouts across its 16-cinema estate, with roughly two for Barbie for every one for Oppenheimer.
Indies thriving
Independent venues shared in this success. Newcastle-upon-Tyne's Tyneside Cinema record its biggest weekend in its 86-year history, with Barbie as its number one opening title of all-time by ticket revenue and Oppenheimer as number six. Glasgow Film Theatre recorded its highest admissions weekend and week ever outside of Christmas and Glasgow Film Festival, and on fewer shows due to Oppenheimer's three-hour runtime. It was one of the venues where Christopher Nolan's blockbuster led the way, with 2,106 weekend admissions pipping Barbie's 2,060, boosted by being Scotland's only 70mm venue for Oppenheimer.
Amongst London's independent sites, Genesis Cinema had its biggest week and weekend ever, beating the first-week admissions for the Endgame opening week by Monday; with Barbie and Oppenheimer recording its number one and two biggest openings this year. Two-screen Rio Cinema did 3,594 weekend admissions for a £43,816 gross, and has sold 5,000 tickets including future bookings.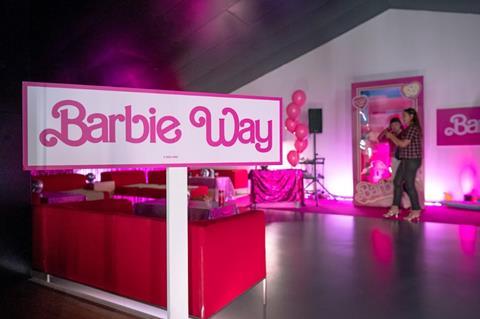 In Ireland, Dublin's Light House Group smashed its all-time admissions record, across its Light House Dublin and Palas Galway venues: 6,318 admissions for Light House (previous record: 4,373) and 2,623 for Palas (up from 1,524). It was the top-performing UK-Ireland site for Oppenheimer in the 35mm format; while its Barbie visitors included Nicola Coughlan, part of the film's cast, with her family.
The double-bill was a big seller across the market. Of the Cineworld Unlimited members who saw both films, 50% did so back-to-back; while 3,000 Picturehouse members saw both films within the first three days.
Full admissions figures arrive on a two-week lag, so are expected on August 10 for the first Barbenheimer week; early indications are that it may have been the UK-Ireland's biggest week ever for cinemagoing.
Popcorn sell-outs
The unprecedented demand posed unique resource challenges for many cinemas, especially independent venues that may have reduced staffing levels over the summer when blockbusters take hold.
Rio and GFT have both reported running out of popcorn kernels. "On Monday we had to visit every supermarket and health food shop in the high street to buy enough to see us through the day," said Oliver Meek, executive director at the Rio.
Curzon had to transport popcorn between venues to cover demand, selling 17,674 boxes across the week – and even calling in a favour from a local competitor to one venue when stock fell low. "Our ops team were calling around on Monday to force emergency orders through," says Curzon director of programming and distribution sales Damian Spandley.
Genesis has had its popcorn machine running non-stop, which caused a separate issue – almost exhausting the CO2 supply required to power it. "We needed to collect CO2 from the supplier in person as we couldn't wait for the delivery," said Callum Pawlett Howell, Genesis general manager. "We swapped the canisters just in time."
Although fine for popcorn, The Light House had to source extra watermelons due to the popularity of its special cocktail, the Margot-rita. The Tyneside sold out of its themed cocktails, with 264 from its bar café alone; plus 80 pink cannolis in its separate coffee and cocktails bar.
The major chains have reported staggering F&B figures. 907,000 portions of popcorn, 350,000 litres of soft drinks and 100,000 Barbie-themed Tango Ice Blasts across the first week at Vue; with 610,000 litres of popcorn, 230,000 litres of drinks and 49,000 portions of nachos on the opening weekend alone at Odeon.
Instead of bringing in extra staff, independent venues relied on the endeavour and high spirits of their existing teams. "We were doing a week's worth of business in a day with our normal staffing levels," said Howell. "It's been more about everyone mucking in rather than us being in a position to increase staffing," said Robert Stacey, audience, data and systems manager at the Tyneside, who credited the venue's "stupendous result" to "the hard work and dedication of our team", many of whom dressed up for the occasion.
"We have employees asking to come in and work because they are enjoying the atmosphere so much," said Alice Black, head of film programme at Light House Group. "We were well-equipped for the crowds; but this sustained amount of excitement – and pink – is new."
Bookings don't seem to be dropping off significantly, either. Cineworld is reporting 42,000 bookings for its Imax format alone for the second week of Oppenheimer, while London's BFI Imax has extended the run of the film, having all-but sold out its existing screenings. Demand "hasn't slowed down" at Picturehouse, according to head of marketing and membership Sam Clements. "Both movies have strong word-of-mouth and reward repeat watches," said Clements. "Following last weekend, audiences know they need to book in advance."
Spill-over
Heading into the second weekend, Barbie is at £34.7m, and expanding from 706 to 759 venues; while Oppenheimer has £19.4m, and will be in 697 sites, up from 675.
The next goal is to translate Barbenheimer's success to other films, including those that do not have multi-million marketing budgets. So far, cinemas are reporting a mixed picture.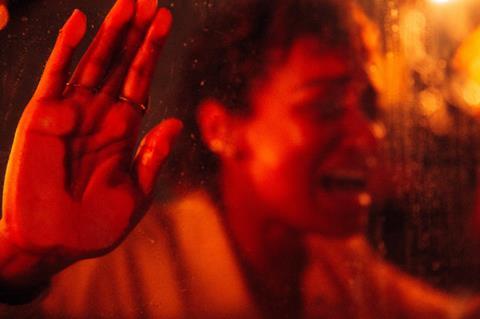 "We've definitely seen an uptick in pre-bookings across all titles, but the two most popular films are still Barbie and Oppenheimer," reports Clements from Picturehouse.
At the Light House, "customers are still very focused" on the Gerwig and Nolan films according to Black, who hopes that will bear fruit in terms of on-the-day bookings. "With most Barbenheimer screenings sold out this weekend, we expect that any casual walk-ups who haven't pre-booked for those titles will transfer to [Altitude's horror] Talk To Me or [Dogwoof documentary, on its second weekend] My Name Is Alfred Hitchock rather than walk away."
Stacey notes similar patterns at the Tyneside, with no "extraordinary conversion to extra sales" for its other titles this weekend, which include Talk To Me and Tull Stories' documentary Baato. "Audience behaviour for the last 18 months or so has been very skewed in favour of not booking until the day of the screening, and strong pre-sale figures for Barbie and Oppenheimer have really been something of an exception to the rule," said Stacey.
Altitude is opening Australian horror Talk To Me in 431 cinemas this weekend. In anticipation of the Barbenheimer phenomenon, it cut a 45-second 12A version of the trailer [the film itself is 15-rated], which it got onto evening Barbie shows in the past week plus Oppenheimer screenings throughout the day.
"We're keeping everything crossed for a strong weekend," said Ben Metcalf, Altitude's theatrical sales director. "A Barbenheimer bump would be most welcome."