Kate Winslet strolls around the set of Blackbird in November 2018 looking completely at home, wearing slippers and pyjamas (her character's) and walking a dog (her own).
She jokes that she never thought she'd become the kind of actress who brings her own dog to set, but there are several reasons she's feeling particularly at home here.
The showstopper house that serves as the film's primary location is very close to Winslet's actual home, near West Wittering in West Sussex on the English South Coast. She helped convince her neighbours to rent their showpiece modern home to the production, and now it's easy for her to walk to set every morning.
Blackbird — which premieres in Toronto as part of the Gala Presentations on Friday, September 6 — is the English-language remake of Bille August's 2014 Danish-language Silent Heart, scripted by the original film's screenwriter Christian Torpe. Three generations of one family come together over a weekend to be with their terminally ill mother before she takes her own life.
The ensemble cast includes Susan Sarandon as the matriarch and Winslet's mother, Sam Neill as the father, Rainn Wilson as Winslet's husband, Mia Wasikowska as her sister Anna, and Bex Taylor-Klaus as Anna's partner. Screen's 2019 Star of Tomorrow Anson Boon plays the grandson and Lindsay Duncan is on hand as a longtime family friend.
Director Roger Michell says he was drawn to the material's distinct approach to its subject matter. "What might initially look like a routine 'disease-of-the-week movie' is, in fact, a much funnier, odder, richer and more nuanced portrait of a family," suggests the director, whose credits include Notting Hill, Hyde Park On Hudson and Le Week-End. "The disease is never mentioned by name. Nor is there any debate at all around euthanasia. That's all happened before the film starts."
Producer Sherryl Clark of Busted Shark (and formerly of Bad Robot) developed the project and attached Michell, who she knew from working with him on 2010's Morning Glory.
Clark was talking to David Bernardi at Millennium Films about Jolt, which is now shooting with Kate Beckinsale in the lead, and mentioned Blackbird. Bernardi, a veteran of Imagine Entertainment, is a huge Michell fan and read the script soon after he'd joined Millennium. It's not the company's typical fare — it is better known for action hits such as The Expendables and the Olympus/London/Angel Has Fallen trio — but he fought for it.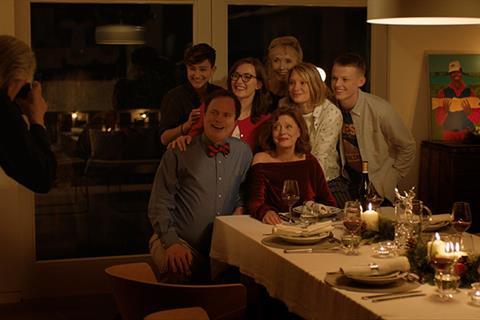 "Right away I knew it would be impossible to do at Millennium but also impossible for me to turn it down," Bernardi explains. Luckily, Millennium boss Avi Lerner was open to a different project for the company. The film was financed by Millennium's pre-sales as well as tapping into the UK Film Tax Relief.
The story is set on the US East Coast, but with Michell and Winslet on board, shooting in the UK became an attractive proposition, with the sandy coast of West Wittering doubling for the Hamptons.
Bernardi was impressed with Michell's calm style. "He knows what he wants. But he's not impenetrable — if there is a good idea, he'll hear it."
Clark says getting a "bucket list" cast was in part because they wanted to work with Michell: "He's amazing working with actors." The challenge was "creating a family that doesn't look like a movie family," she adds.
A family dynamic
They had five days of rehearsals pre-shoot in London. "Rehearsals were about getting to know each other and understanding the material," says Wasikowska. "It felt like we settled into this family dynamic quickly."
Michell's way of working impressed her. "He has a very quiet presence, he's not domineering. He casts people he trusts and he's always there, he's trusting, he's relaxed."
Sarandon jumped at the role after Diane Keaton had to leave the project because of scheduling conflicts. She says that while the cast and crew "are in a bit of a love bubble" at the gorgeous coastal house, she's also been in a "tricky headspace with this movie" because of Lily's emotional journey as she prepares to leave her family behind. Sarandon did research for the role in part by meeting a "beautiful and courageous woman who is going to [Swiss euthanasia clinic] Dignitas."
Having everyone staying in West Sussex together, and the actors spending their downtime around the house, made for "pretty intense esprit," says Michell. So much so that several key members of cast and crew got a blackbird tattoo when the shoot wrapped. "That's a first," says the director.