The Downton effect is pulling US audiences to UK films of a certain heritage.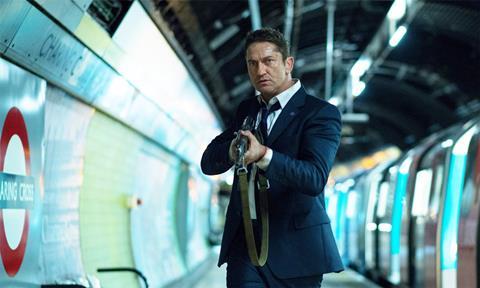 Thanks to the lure of the UK's tax incentives, locations, studios and post-production facilities, the UK can lay claim to some of 2016's major box-office performers.
US studio films qualifying as UK productions include Disney's The Jungle Book, which easily tops the chart of UK films in the US with its $364m gross, Universal's Jason Bourne ($162.2m), Warner Bros' Fantastic Beasts And Where To Find Them ($163.1m and counting), Fox's Miss Peregrine's Home For Peculiar Children ($86.2m) and Focus Feature's London Has Fallen ($62.5m).
A handful of independent UK films performed above expectations, partly by tapping into the 'grey' audience of older viewers who flock to UK TV series such as Downton Abbey. Stephen Frears' period comedy Florence Foster Jenkins, starring Meryl Streep and Hugh Grant, distributed by Paramount, took a healthy $27.4m, while Gavin Hood's military thriller Eye In The Sky, starring Helen Mirren, grossed $18.7m through Bleecker Street Films.
Dexter Fletcher's ski-jumping comedy Eddie The Eagle earned $15.8m through Fox, with Taron Egerton and Hugh Jackman heading the cast, Whit Stillman's Jane Austen period comedy Love & Friendship, starring Kate Beckinsale and Chloe Sevigny, took $14m through Roadside Attractions, and Richard Eyre's tragi-comic The Lady In The Van, a 2015 release with Maggie Smith and a host of stellar UK actors, grossed $10m in US theatres for Sony Classics.
More specialised UK films — several of them multi-national co-productions involving further English-speaking territories — also made decent showings. Noted award winners from 2015 that boosted their totals significantly this year included John Crowley's Brooklyn, starring Saorise Ronan, which ended up with a US total of $38.3m through Fox Searchlight; Lenny Abrahamson's Room, starring Oscar winner Brie Larson, which grossed $14.7m for A24; Todd Haynes' Carol, which garnered $12.7m via The Weinstein Company (TWC); Yorgos Lanthimos' The Lobster, which tallied $9.1m, also through A24; Tom Hooper's The Danish Girl, with $11.1m through Focus; and Andrew Haigh's 45 Years, with $4.2m through IFC.
Further UK titles to have made a mark are Mick Jackson's Denial, starring Rachel Weisz, which took $4m through Bleecker Street; Matt Brown's The Man Who Knew Infinity, with $3.9m through IFC; John Carney's Sing Street, with $3.2m through TWC; Susanna White's Our Kind Of Traitor, with $3.2m through Roadside Attractions; and Anthropoid, directed by Sean Ellis, with $3m through Bleecker Street.
Many UK titles cross over due to the universality in the stories with which US audiences identify. "You can do business with British films in this country," says Jack Foley, Bleecker Street's president of distribution.
"[Audiences] love the crew of perennial actors that are in a lot of these films. It's almost a Good Housekeeping seal of approval."
Universal's Bridget Jones's Baby, directed by Sharon Maguire and starring Renee Zellweger and Colin Firth, and Fox Searchlight's Absolutely Fabulous: The Movie, directed by Mandie Fletcher and starring Jennifer Saunders and Joanna Lumley, fell into neither the Downton nor the Good Housekeeping categories. Both disappointed in the US despite very strong performances at home.