Jin Cai, founder and CEO of Beijing-based Turbo Film Corporation, did not panic when she discovered how heavily pirated her sci-fi title, a Russian film called Coma, had been.
Instead, she read the comments and altered the film accordingly. Over 20,000 users had posted reviews on Douban, the Chinese equivalent to IMDb, and clips had been viewed more than 100 million times on TikTok.
Turbo's planned theatrical release in the summer of 2020 had been postponed due to the pandemic but, given the levels of piracy, showing the film in its original version was no longer an option.
"We don't think the feedback means Coma is not good, but that people have different tastes," says Jin. "Most like the visual effects and concepts but they don't like the pace, which is slow and [they find] the story is a little confused."
Turbo decided to change the story altogether through a new edit and new scenes based on unused footage. The Chinese adaptation took four months to complete. Jin calculates that around 80% of the original lines of dialogue have been changed. In essence, this is a completely different movie. It cannot be described as a remake because it still uses the original material but that material has been treated in a radically different way. The running time has been cut to 95 minutes from the original 111 minutes.
"The original film is about the concept of dreams. In our adapted version, we introduce the first, second and third parallel spaces, and scientific elements such as dark energy, dark matter and brain-computer interface," Jin explains. "The Chinese team has used Russian footage to tell a new story."
She hopes to release the film next summer on 10,000 screens as Super Space.
Adapting to the climate
Jin, who has previously released international films such as The Artist and The Counterfeiters theatrically in China, had pre-bought Nikita Argunov's title in 2016 from Moscow-based Planeta Inform on the basis of the concept design and demo. The original version was released in Russia in 2020 by Central Partnership and grossed $2.2m. It was released in the autumn of 2020 on digital and Blu-ray in the US by Dark Sky Films, and has also sold to territories including France, Italy, Latin America and Taiwan.
Anastasia Bankovskaya, director of sales at Planeta Inform, says the filmmakers were supportive of the Chinese reworking of Coma. "[Jin] has a very good gut feeling," says Bankovskaya. "She knows what will work and what will not. If she comes up with an idea to re-edit the movie, we can only say yes because we trust her."
Jin says she is already in talks with her Russian partners about a possible sequel to Super Space .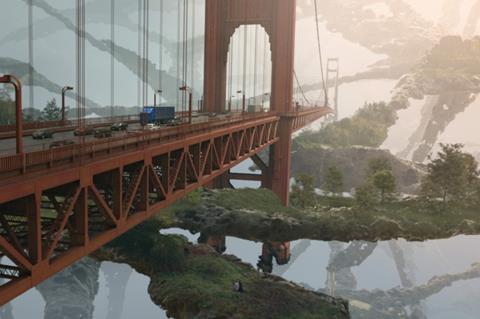 "The Covid‑19 pandemic has had a substantial impact on the film industry and the number of [new] films [being produced] has been drastically reduced," says Jin. "This way [of adapting existing films to the local market] might bring a second life."
Russian sales agents have increasingly targeted the lucrative Chinese market. On bigger-budget Russian movies, especially disaster, action, war and sci-fi titles, sales agents are asking for anything between 10% and 20% of the budget for the Chinese rights.
"China has been the most important market for us in terms of our revenue," says Vadim Vereshchagin, CEO of Russian production and distribution outfit Central Partnership. The company has a distribution deal with state-owned China Film Group for up to five of its films a year.
There are tough quota requirements and censorship laws to negotiate and the competition from local titles is intense. Vereshchagin calculates that out of the 20 new films Central Partnership handles each year, only three or so are likely to reach China. Those that make it through will almost certainly be cut. Their distributors will need a big P&A budget to have a chance of reaching a significant audience. Given the complexity of the market, sales agents are more likely to strike flat-fee deals rather than share revenues.
Nonetheless, those Russian films that are released theatrically will go out on thousands of screens. Notable successes over the last decade include Fedor Bondarchuk's war epic Stalingrad handled by Sony, which grossed $11.5m at the Chinese box office in 2013, and basketball movie Three Seconds (also known as Going Vertical), which grossed more than $12m in 2019.
Turbo took $11m in 2018 with Russian animated feature The Snow Queen 3: Fire And Ice (sold by Wizart). More recently, war movie T-34 (sold by Mars Media), released in December in China, has been doing decent business. Originally shot and released in 2D, it was converted to 3D for Chinese audiences.
Russian producers are now tailoring their projects for the Chinese market. "When we are now making all these big movies, we are already thinking, 'What do we need to do in terms of the script so it would fit also the Chinese audience and the Chinese censorship board?'" says Central Partnership's Vereshchagin.
The shared communist heritage between Russia and China also helps. "We Chinese people, we understand Russian culture. We are close to each other," says Du Liang, CEO of Airmita Cultural Development Co, which released Three Seconds and T-34 in China. "I love Russian films and I love the Chinese people. I want them to see more Russian films."
One selling point is a shared distrust of the US. Three Seconds, about the Soviet basketball team beating the US in the 1972 Olympics, was marketed to Chinese audiences as a chance to see the Americans get their comeuppance. This was a sports movie but the Chinese poster showed a Russian bear pitted against an American eagle. "It was important to show to the Chinese audience first of all that we're not alone, fighting against the Americans, and to show it's possible to win," says Du.
If Super Space does well when it opens, Turbo's Jin believes more Chinese and international companies will be open to the concept of "secondary creation", as she puts it.
Russian producers are in no doubt about the growing importance of the Chinese market for their films. "For the big titles, the ones you spend a lot of money on, China is an important market because of the money you can get out of it," says Vereshchagin."When we come to big productions, yeah, you've got to have China."