With indie producers and sellers piling into the animation space, can Europe measure up to the powerfully resourced US studio brands and capture the family market?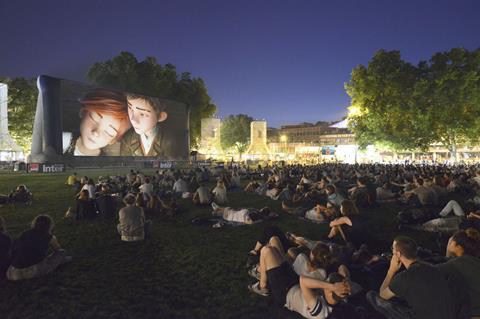 Independent animated film is flourishing in Europe as never before. In Cannes, the market was awash in animated projects, many of them represented by sales agents who generally handle live-action fare.
"I had lunch with friends in Cannes and one of my buyers told me that she was tracking 40 animated films this market," says Solveig Langeland, managing director of German animation specialists Sola Media, of the wealth of animated product. "I have the feeling every second sales agency has an animated film. Five years ago, we had very few competitors. Now, they seem to come from everywhere."
"I am certainly seeing more buyers who say they are actively looking for animated projects," agrees Mike Runagall, managing director of London-based Altitude Film Sales, which handled worldwide sales on Studio Ponoc's anime film, Mary And The Witch's Flower. "Some buyers are trying to diversify, maybe arthouse buyers you wouldn't necessarily always associate with animation are trying to branch out a little. That's a consequence of the market for arthouse films becoming tougher."
The obvious reason for the activity is the sector's solid box-office performance. "There is just an appetite in the family market," says Sarah Smith, director of Aardman's Arthur Christmas. She is one of the co-founders of ambitious new London-based animation studio Locksmith Animation, alongside her old Aardman colleague Julie Lockhart and Shine Communications' Elisabeth Murdoch. Twentieth Century Fox is releasing Locksmith's first feature, Ron's Gone Wrong, in 2020.
Recently a number of big-name actors have joined the voice casts of indie animated films, from Kate Winslet and Willem Dafoe in Manou The Swift to Felicity Jones and Thomas Brodie-Sangster in Dragon Rider. Even though these films will almost certainly be dubbed in non-English language markets, the stars' names are being used to raise the profile of projects with buyers.
The VoD platforms are also on an animation acquisitions drive. During Cannes, Netflix took worldwide rights to robot movie Next Gen for a reported $30m. This followed its pick-up of The Little Prince in 2016 and its involvement in Bron Animation's The Willoughbys and Guillermo del Toro's Trollhunters.
Annemie Degryse, owner of Belgian outfit Lunanime (one of the producers of A Cat In Paris), helped launch pitching and co-production event Cartoon Movie in 1999. She notes fewer than 200 participants attended the event nearly 20 years ago, but the March 2018 edition in Bordeaux had more than 900 participants from 41 countries.
"You are more likely to have something suitable for sequels or prequels and easily translatable in every language. Animated features do cross cultural barriers," says Michael Favelle, CEO of Australian sales and distribution outfit Odin's Eye Entertainment, which is expected to launch its own animation division soon.
Tax credits are now in place for animation production across Europe. It helps, too, that costs of animation are coming down as production values are going up. Another attraction is that animated films tend to have far longer shelf lives than their live-action equivalents.
But is there space for all this indie animation in the market? 'Independent European Animation: How can it impose itself on the international market' is the title of one of the industry panels at this year's Annecy International Animated Film Festival (June 11-16) . There are very different responses from leading players within the European marketplace.
"Unfortunately, it has proved hard for independent features to reach anything like the same level of box office [as the Hollywood majors], partly because the biggest films are supported by very big P&A and partly because audiences are extremely savvy about quality levels and the bar is extremely high," says Locksmith's Smith.
When it comes to branding, tie-ins and general marketing, independent animation inevitably lags a long way behind properties such as Frozen and Coco. Others point out the global market for animation is huge. It is quite possible for films to have significant success theatrically whether or not they are successfully released in the US or UK.
For example, China has a voracious appetite for animation. Russian company Wizart's animated franchises The Snow Queen and Sheep & Wolves have both made more than $100m worldwide, and it recently announced that The Snow Queen 3: Fire And Ice had grossed $11m at the Chinese box office alone.
It has been a common refrain among sales agents of live-action drama that the presales market is dying. That, though, is not so true for animation. Nicolas Eschbach, co-founder of Indie Sales, cites Finnish animated feature Moomins On The Riviera, which he was able to sell instantly to Phantom Film in Japan thanks to the popularity there of the Moomins franchise. Altitude's Runagall talks of a bidding war in South Korea for Mary And The Witch's Flower on the basis of a teaser trailer in Berlin last year.
What is increasingly apparent is that family-oriented animated features transcend nationality. In the international marketplace, a country of origin is largely an irrelevance. Distributors can customise the film for their own audiences. "The great thing about dubbing an animated film is that you can take ownership of it in your own country, not only in language but the tone of it and the humour," says industry veteran Ralph Kamp, chairman and CEO of Timeless Films, referring to his 2010 feature Animals United.
He points out how different distributors dealt with a key scene in which a water buffalo and a rhino argue over a water hole. In the English-language version, the water buffalo was a "Robert De Niro GoodFellas soundalike", while the rhino sounded like Clint Eastwood in a western. The Portuguese distributor made the water buffalo a city slicker from Lisbon and the rhino a yokel Portuguese farmer. It worked perfectly. Local audiences were convinced the movie, which made $68m globally, had been made specially for them — and did not guess that this Africa-set movie had actually been produced by Constantin in Germany.
Crowded market
Animation is now being made everywhere. One of the most eagerly anticipated films in Annecy this year is Tito And The Birds, sold by Indie Sales and made by Split Studio in Brazil, a country which until recently was not regarded as any kind of animation powerhouse. Belgium has such companies as Ben Stassen's nWave, whose The Queen's Corgi has been a strong seller for French sales agent Charades, and Belgium's Cyborn, which is partnering with Constantin on Dragon Rider. Both France and the Nordic region have long had booming animation sectors.
When it comes to imposing themselves on the international market, one of the biggest challenges for independent distributors is finding the best date to release their films — especially since titles have a better chance of success during school holidays, which become accordingly crowded.
The bad news is the Hollywood majors are upping the number of animated features they are releasing. In any given year, there are now between 16 and 20 studio juggernauts with which to contend. Even so, there are still gaps appearing in the market for distributors to exploit. For example, during the late May school half-term break in the UK, Signature released The Little Vampire on 100 Vue screens while Studiocanal gave a major marketing push to its Oscar-nominated animated feature The Breadwinner. They were up against Solo: A Star Wars Story and eOne's talking-canine movie Show Dogs, but both still saw an opportunity in a holiday period without a major Hollywood animated feature. Recent UK box-office successes such as Entertainment Film Distributors' Duck Duck Goose ($4.9m at UK cinemas) and eOne's Ballerina ($6.5m) showed a film did not need to be produced by Pixar to have traction in the marketplace.
Distributors are also exploring new ways of reaching audiences. Timeless Films' Monster Family was released in March in the UK by Altitude and Sky Cinema. The three biggest UK multiplex chains did not take the film because it was available simultaneously on Sky, but it still ended up in more than 140 cinemas.
Thunderbird Releasing managing director Edward Fletcher, who oversaw the release of My Life As A Courgette in the UK last year, talks of "looking" for animated films that can work with different audiences — titles that appeal not just to children but to arthouse aficionados as well. "Just having a purely kids' film, not doing TV and outdoor and other mass media, is very tricky," he notes.
The hazards are self-evident. Animated features take years to make. They are complex pieces of "project management", as Smith says. By the time they are ready, audience tastes may have changed. Insiders talk of the dangers of rushing projects to market or of starting presales too early. For now, though, demand still clearly outstrips supply. As Indie Sales' Eschbach notes when asked if there is too much independent animation now on offer: "The market will decide." There is no sign yet that saturation point has been reached.