For her concluding part of The Souvenir, Joanna Hogg brought new thinking, new partners and some notable departures in tone. Screen talks to the filmmaker, her fellow producers and star Honor Swinton Byrne about the change in approach.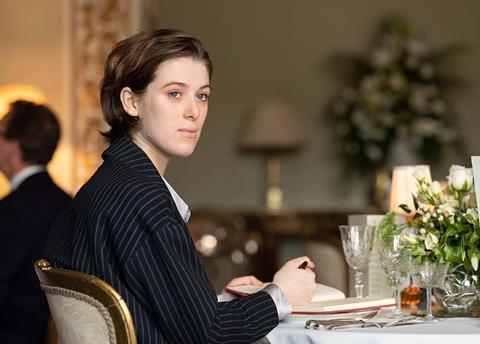 Back in 2017, when Joanna Hogg and producer Luke Schiller were putting together a plan to shoot Hogg's semi-autobiographical film The Souvenir, it was the filmmaker's original idea to tell the story across two features, shot back-to-back. Despite support from the BFI and BBC Film, it didn't pan out that way, meaning cameras cranked up again for The Souvenir: Part II in summer 2019 — back in the original Norfolk studio and locations where the first film was shot.
The disruption to Hogg's creative flow may have been initially unwelcome, but now she is happy to focus on the positives. Most importantly, the production pause brought a flood of new ideas — and Hogg, who does not work with a conventional screenplay, set aside her original creative document for Part II, and started anew. From a production standpoint, explains Schiller, "It was a very good thing, both practically and creatively because it allowed us to catch our breath, step back, look at what we did well, and look at what we could have done better."
The success of the first film — including the grand jury prize for world cinema dramatic at Sundance 2019 — also allowed them to expand the scope and scale of the second film. A24, which distributed The Souvenir in North America, jumped in, pre-buying territory rights to Part II, and Picturehouse Entertainment came in for UK rights, in place of the first film's UK distributor Curzon. Ed Guiney and Andrew Lowe's Dublin-headquartered Element Pictures also boarded as a producing partner.
"I enjoy having the producer hat on," begins Hogg, who assumed the role for the first time with her 1986 National Film & Television School graduation short Caprice, and for the second and third occasions with the two Souvenir films. "Every decision in terms of production for me is a creative decision, so it's inevitable I would want to be a producer." However, with the challenge of wearing those multiple hats on The Souvenir, "I thought, 'Well, okay, maybe we need a few more hands on deck.'"
Hogg had met Element — including Emma Norton, a producer at the company — in 2017. "Ed and I are big fans of Joanna's work," explains Norton. "It has always been a dream to work with her." One of Element's key filmmaker relationships is with Yorgos Lanthimos, producing all his films since The Lobster. "Joanna is a great admirer of Yorgos, and could see the way that we worked with him across his films," adds Norton. "I think she was curious about us."
Element was interested in becoming involved in the Souvenir project, but when the decision was made to proceed initially with a single film, it was agreed there was no need for the company's participation. However, Guiney, Lowe and Norton did visit the set — "friendly visitors," as described by Norton. Schiller welcomed Element's participation in Part II. "It was a luxury," he says, allowing him to focus on producing the film on the ground, with wider production, business affairs and legal matters handled in-house at Element.
Change of tone
In The Souvenir, film student Julie (played by Honor Swinton Byrne) falls under the sway of the mysterious Anthony (Tom Burke) who harbours secrets, including a heroin addiction. In The Souvenir: Part II, Julie is initially dealing with crippling grief, but through the course of the action, including the making of her amusingly troubled graduation film, gains confidence and agency, growing into herself. "I always thought Part II was about joy and acceptance," explains Hogg, "and so part of that is the humour and the energy and the kind of breadth of it."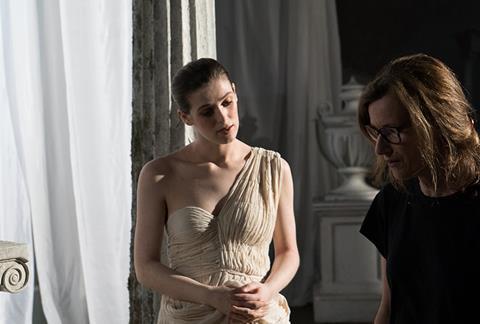 Part of that humour is provided by Richard Ayoade's rather pretentious, confrontational filmmaker character Patrick, who has an expanded role in Part II as a man boldly trying to reinvent the British movie musical. There is humour, too, in Julie's interactions with a trio of men, played by Charlie Heaton, Harris Dickinson and Joe Alwyn — these first two names playing a pair of actor characters, Jim and Pete, which resulted after an initially cast Robert Pattinson departed due to schedule conflicts, and Hogg split Pattinson's role in two. ("Joanna is very clever about how she responds to problems," is Norton's verdict on the Pattinson departure. "She's so calm.")
While Schiller, whose association with Hogg began when he served as line producer on her 2010 feature Archipelago, was used to her particular way of working, the lack of a traditional screenplay was a novelty for Element. "I think Joanna once said, 'If you work with a script, it's like painting by numbers, because you've done the work and now you just have to shoot it,'" explains Schiller.
Hogg does produce a manuscript about her creative intentions — documents that are "beautiful to read", says Norton. "It was an adjustment to learn that restraint," she adds, with reference to the usual process of producer script notes. "We were very respectful about allowing Joanna to have the conversations she needed, rather than the ones we needed. But we didn't really need them, because they were great documents."
Dress code
Element was also respectful of Hogg's particular method: shooting in scene order. Given that actors don't know where their character is headed, and are asked to improvise on-set, shooting chronologically is an essential creative tool. "It's economically not efficient," concedes producer Schiller, "but creatively it's magic."
Swinton Byrne explains that she knows nothing about each day's scenes at the start of the day, picking up clues from her costume — for example, certain outfits meaning she is likely to be visiting the house of her parents, played by Swinton Byrne's own mother Tilda Swinton and non-professional actor James Spencer Ashworth.
"The takes are usually really long," says Swinton Byrne, speaking to Screen International during her third year studying psychology at the University of Edinburgh. "Conversations go like an arc. It's trial and error." Hogg "never tells me what to do", but instead "she suggests things" — conversational angles that she might explore with another character. "It would just flow from there."
Hogg does not show dailies, so Swinton Byrne was not inhibited by seeing her own performance when making the first film. Naturally, she was then shown The Souvenir when the film was completed. "I was concerned about Honor seeing Part I, and that it would somehow make her self-conscious when making Part II," reveals Hogg. "But she's naturally very skilled. She's not trained as an actor, but you'd think she had been. I needn't have been worried, because she's so good at being in the moment when we're shooting the scene."
Swinton Byrne agrees that she became more self-conscious — but not necessarily in a bad way. "I was more self-aware, and more confident in myself. The second film was overall a much more fun professional experience." It didn't hurt that the character of Julie becomes less passive through the arc of the second film, making it easier for the actress to relate to Part II — "It's a no-brainer. At the end of Part II, it's like Julie becomes Honor."
Element and Hogg evidently found their collaboration on The Souvenir: Part II a fruitful one. Since finishing the film, which premiered at Cannes in Directors' Fortnight this summer, Hogg has gone on to shoot ghost story The Eternal Daughter, which she produces alongside Guiney, Lowe and Norton, with backing from BBC Film and A24.
"It did pop up quickly," says Hogg, who explains that she first thought of the story in 2008, adding, "The way I've interpreted it is very new." She wrote the creative document in the first lockdown in spring 2020 and then, because of the contained nature of the story, was able to shoot under Covid-19 restrictions in the final months of last year. Tilda Swinton — who first acted in Hogg's graduation short Caprice — leads the cast.
The filmmaker has another, bigger-scale project, which she has been talking about with Element ever since their first meeting, but "that's going to take a while to come to fruition". First will come a pause.
"What I'm looking forward to after The Eternal Daughter is finished and come out into the world is having a quiet moment where the new thing will come up. And I like not knowing what that's going to be."