Top Gun: Maverick is the belated sequel that took the world by storm and delivered 2022's biggest box-office hit. Producer Jerry Bruckheimer and director Joseph Kosinski tell Screen about the film's epic journey.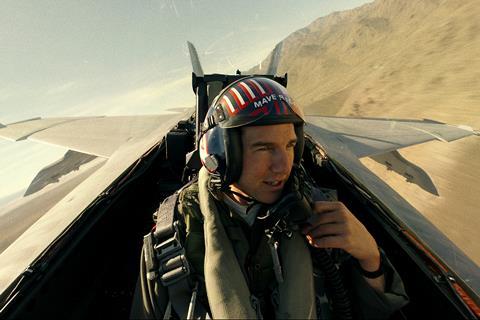 Released in May 1986, Top Gun catapulted its star Tom Cruise, director Tony Scott and producers Jerry Bruckheimer and Don Simpson onto the Hollywood A-list, becoming the highest-grossing film of the year as well as a recruitment ad for the US Navy. Inevitably, its makers started thinking about a sequel almost immediately. "But we never got it right," recalls the now 79-year-old Bruckheimer over Zoom, 36 years later. "What happens is you end up going on with your careers, so it became further and further in the rear-view mirror."
Indeed, while Cruise, Scott, Bruckheimer and Simpson reunited for 1990's Days Of Thunder, a Top Gun 2 seemed increasingly unlikely as the decades went by. Then, in 2010, "Tony got interested in doing another one, so we started developing something with him, about drones versus aviators," says Bruckheimer, who, together with Cruise and Scott, undertook a scouting trip to the new Naval Aviation Warfighting Development Center (aka Top Gun) in Fallon, Nevada. Two days later, on August 19, 2012, Scott jumped off a bridge in Los Angeles in an apparent suicide.
"It was really tragic," continues Bruckheimer, who lost producing partner Simpson in 1996. "We were on the path to getting a film made, but it would've been different. We didn't really have a script. We were doing research." They hit pause on the project out of respect for Scott. "But we still had the bit in our mouth and wanted to continue because we felt we had something. And Tom was getting excited. Although we didn't have the story locked in."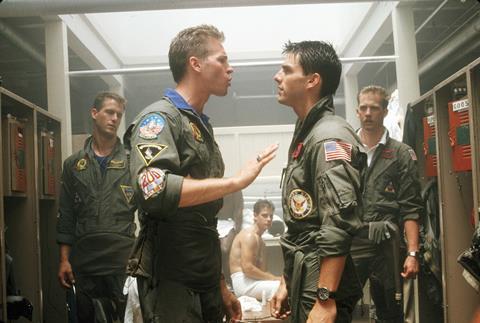 Story elements
Bruckheimer continued developing a script and, in May 2017, sent Tron: Legacy director Joseph Kosinski a draft written by Justin Marks. "I was a huge fan of the first one. I saw it when I was 11 years old, so [it] made quite a big impression on me," remembers Kosinski who, on reading Marks' work, found a couple of elements he liked. One was the character of Penny Benjamin, played by Jennifer Connelly in Top Gun: Maverick and mentioned but never seen in the original film, as Maverick's love interest. "I loved the idea of a fling alluded to in the first film becoming something more. And it had Maverick stealing an old F14 from an enemy airfield at the end."
But Kosinski, who directed Cruise in 2013's Oblivion, had a few ideas of his own. The biggest was to centre the story around the estranged son of Maverick's late friend Goose. Goose's son, a naval aviator with the callsign Rooster, is to be sent on a dangerous mission with Maverick, who has been brought in to train a group of flyers — the military operation taking both men into enemy territory and forcing them to reconcile.
Bruckheimer approved the story­line, says Kosinski, and the pair flew to Paris to pitch to Cruise while he was shooting Mission: Impossible — Fallout. The night before the meeting, Cruise called. "He said, 'Thank you so much for coming this far. It'll be great to see you no matter what happens tomorrow,'" says Kosinski. "I was like, 'Oh, Tom doesn't want to make this movie. He doesn't have any intention to make another Top Gun'. That was my sense walking into the room. Luckily, it turned out different."
Kosinski arrived with a look book of photos of advanced fighter jets and had even mocked up a poster of Cruise and the tagline: 'Feel the need'.
"I pitched the Rooster story first and could see the wheels in his head start to turn," he says. "That notion of Rooster and Maverick's relationship being the core of the film gave him an emotional reason to come back to this character. Then I pitched the opening Darkstar sequence where we find Maverick as a test pilot. I knew he would like that. And I pitched shooting it all for real, which was easy because I knew Tom.
"The last thing I said was, 'We can't call it Top Gun 2, we've got to call it Top Gun: Maverick.' That was the clincher, because he understood it was another rite-of-passage story, a true journey for Maverick. He took his phone out and called the head of the studio and greenlit the movie, which was crazy."
Returning to the US, Kosinski hired Eric Warren Singer, with whom he had worked on 2017 wildfire drama Only The Brave, to rewrite Marks' script, then spent a couple of days on an aircraft carrier where he "took a bunch of photos that ended up becoming the opening sequence" before he and Singer visited Top Gun.
"We broke the story of the final mission with the Navy, asking what's the scariest, toughest mission you could ever imagine being sent on?" Kosinski adds. "The one thing they added that we didn't put in was, 'And you do it at night.' I was like, that sounds terrifying, but we can't have the final battle at night."
After Singer completed his draft, Kosinski sent it to Cruise for feedback, before bringing on Ehren Kruger (Transformers franchise) to continue work on the script. "He came up with the idea of Rooster singing 'Great Balls of Fire', which was huge," says Kosinski. "Then, a month or two before we started shooting, co-writer Chris McQuarrie came on to tailor every character to the actor we had cast, which is a talent Chris has. It was a case of three writers each taking the ball down the field in a way that was successful." All three are credited with the screenplay, while Marks and Peter Chang, who had worked with Scott, received story credits.
Early on, Kosinski and Bruckheimer met with Val Kilmer, who played Iceman in Top Gun, because, says Bruckheimer, Cruise demanded he return. Kilmer had battled throat cancer, and a tracheotomy had impaired his ability to speak. "We didn't know if and how that was possible," says Kosinski. "It was Val who said, 'What if Iceman's sick?' And Ehren found a way to weave him in, in an emotional way."
When Kosinski had pitched Cruise, he included a photo of Miles Teller as a potential Rooster in his presentation. "I had just worked with him on Only The Brave, so knew he was an incredible actor. Tom had a lot of respect for Miles, even though he had never met him." Nevertheless, Kosinski arranged a test day with Cruise and three possible Roosters, Teller and Glen Powell among them. "Miles proved to be the right guy because he's as comfortable with the drama as he is with the comedy and can go toe-to-toe with Tom. And we convinced Glen to take the role of [fellow pilot] Hangman," he explains.
On the first Top Gun, the US Navy's involvement had been limited at best. "They didn't want to have us around at all," says Bruckheimer. "So Tom and I flew to Washington and met with the secretary of the Navy and he got it. He understood what this would do for the Navy, and said, 'Here's my home number.' But it wasn't open arms. The second movie was a whole different story. 'How can we help?'"
"The decision makers at the Navy are very likely of the age where they signed up when the first movie came out, so I certainly benefited from the success of the first film," notes Kosinski, who shot at Top Gun and aboard the USS Abraham Lincoln and USS Theodore Roosevelt. "They were very helpful. But we had to work inside their training structure. We couldn't tell them we want to shoot on the aircraft carrier this week. We had to wait for the carrier to be deployed."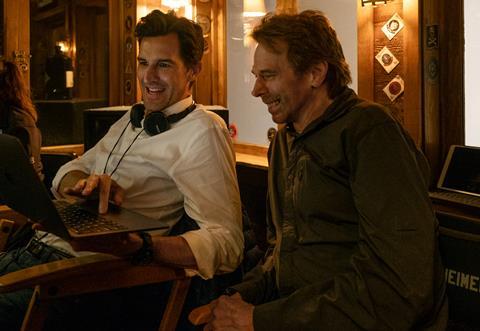 True to character
Throughout, Kosinski was keen to remain true to Scott's original Top Gun, even dedicating the film to him. "I had Tom, I had Jerry, I had Val, and my cinematographer Claudio [Miranda] was Tony Scott's gaffer on three films, so there was a lot of connective tissue," he says. "It is a love letter to aviation, a love letter to Tony Scott's filmmaking. That's why it was important to put Tony's name at the end. It's a bit of a fantasy world that Tony created and was fun to live in. At the same time, we wanted to tell our own story. I wanted it to feel like it was in the same universe until the third act, where I had a lot of fun flipping the whole aesthetic on its head with the snow sequence."
Cruise, an experienced aviator who pilots his own P-51 Mustang at the end, was insistent the flying scenes were shot for real, putting the actors inside the cockpit as they flew at high speeds. "Tom said, 'If we do this, I'm not going to do it the way we did it last time,'" Bruckheimer recalls. Scott had filmed his actors in fighter jets, but most of the footage was not usable. "Everyone threw up except Tom!"
Together with aerial co-ordinator Kevin LaRosa, Cruise designed a three-month flight school that included underwater survival.
"They started in a Cessna and graduated every two weeks to a faster, more aerobatic airplane to get them ready for the F18 [Super Hornet]," says Kosinski. "Because if you were to jump into an F18 without any training, you very likely wouldn't last long." Not every actor he approached was keen to undertake the training, however. "One said to me she didn't like to fly commercial. I was like, well, that's not going to work."
To film inside the F18, Kosinski and Miranda helped develop the new Sony Rialto camera with a sensor that separates from the camera body, meaning it can occupy very tight spaces. In addition to six Imax-certified cameras mounted in each cockpit, Kosinski had two planes flying with four cameras on the outside rolling continuously, four cameras on the ground, as well as a jet-to-jet camera and a helicopter-to-jet camera. "Time was so precious. To send a jet up and not get anything would be a disaster." He ended up with 650 hours of aerial footage.
Every morning there was a two-hour briefing before the cast flew in an F18 with a real Top Gun pilot at the controls. "The actors, pilots, Tom, myself and Eddie Hamilton, the editor, would go through the day's work. We even had little airplanes on sticks." After the briefing, Kosinski would rehearse his cast in a wooden cockpit on the ground, "like a stage play, including turning the cameras on, tapping their helmet for sound, until it became muscle memory".
They would then take off, shoot for a couple of hours, land and review the footage. "If they did it right, we'd all cheer, and if they did something wrong, we'd send them back up in the afternoon." While Kosinski did not go up himself, Cruise would sometimes fly them to location. "Tom has his own sporty jet, so when we were shooting at Inyokern [airport] or Leemore naval airbase, which is a two-hour flight out of LA, I would jump in the plane with him and fly to the set. It's always an adventure with him, but a lot of fun."
Shooting wrapped in mid-2019 for a planned May 2020 release, but after the pandemic hit, the film sat on the shelf for two years. The release date kept on slipping, and Apple reportedly wanted to buy the film from Paramount. But Cruise said no. "Tom was not going to let this go to streaming," recalls Bruckheimer. "He said this is a movie for theatres and for audiences collectively. It's a big-screen movie. And he was right."
Top Gun: Maverick eventually premiered at CinemaCon on April 28, 2022, before opening in the US on May 27, earning $1.5bn at the global box office, even without releasing in China or Russia, making it the biggest film of the year, as well as the biggest hit of both Bruckheimer and Cruise's careers. "It shows when you make a movie that is emotional, has unique properties, people will show up," says Bruckheimer. "They want a group experience. Opening weekend, I went to [Grauman's] Chinese Theatre and watched the audience have the greatest time. That's why I do it. That's why Tom does it. We want to entertain audiences."
Given the film's financial and critical success, there has been speculation regarding a best picture nomination, especially with calls for Oscar to reward more commercially minded movies. "That's up to the Academy," muses Bruckheimer, who has never been nominated in 47 years of producing, although the original Top Gun won best original song for 'Take My Breath Away'. "It's not always the small movie. We'll see what happens."
"I would love to see Jerry and Tom get nominated," says Kosinski, who is working with Bruckheimer, race car driver Lewis Hamilton and Brad Pitt on a Formula One movie due to shoot in the second half of 2023. "Jerry's had an incredible career. More people have seen his movies, probably, than most other producers working right now. He deserves it. It would be great to see the film rewarded for all the hard work everyone put in."