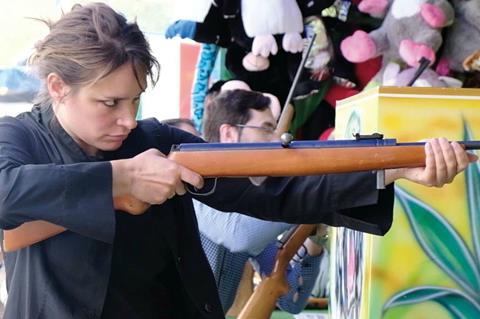 Argentinian filmmaker Lisandro Alonso touched down in Portugal this spring to begin the shoot of his ambitious upcoming production Eureka, which has been seven years in the planning.
It is his seventh feature after acclaimed works such as Jauja and La Libertad, and his first production shot outside of his native Argentina.
The director says the work is hard to summarise, but explains it includes a nod to classic westerns and also travels between different times and looks at the lives of Indigenous peoples. "It is about different ways of being in different societies," he says, adding that it will contrast the very rich with the natives of the Amazon.
With cast and crew assembled, Alonso and lead producers Fiorella Moretti and Hédi Zardi at Paris-based film company Luxbox, which also handles sales, were forced by the Covid-19 pandemic to shut down the set in mid-March before the cameras even started rolling.
Alonso flew home to Buenos Aires, spending lockdown helping his children with their schoolwork. Meanwhile, he has not stopped thinking about Eureka, which he hopes to start shooting in 2021.
"There is not a single day that I'm not thinking about how to shoot this scene or that scene. I keep reading and doing research. Maybe I can include new little things in the film," he says. "I try to stay positive."
One development that has boosted his spirits is being selected as one of the 20 titles in Locarno's The Films After Tomorrow initiative. A key plank of the festival's special edition 'Locarno 2020 — For the Future of Films', this unique initiative aims to spotlight and support independent filmmakers whose upcoming feature films have been affected by the pandemic.
Overwhelming interest
The festival received 545 submissions, following the announcement of the initiative at the end of April. Artistic director Lili Hinstin and her programming team whittled this down to the final 10 international projects and 10 Swiss projects (complete list below).
Two juries (which include Kelly Reichardt and Nadav Lapid) will hand out a prize of $72,000 (chf70,000) to each of the two winners on August 14, provided by the sponsors of Locarno's regular feature film awards. The festival has also managed to secure additional prize money for the international section in the shape of the Campari award, worth $53,000 (chf50,000), and the Swatch award of $31,000 (chf30,000). Furthermore, Swiss broadcaster SRG SSR has backed a prize offering a promotional tele­vision campaign worth $124,000 (chf100,000) to one of the Swiss projects on its completion.
The filmmakers will also be involved in the online festival through masterclasses and by helping to select films from past Locarno editions that have influenced their filmmaking.
"It is a great initiative from Locarno," says Alonso. "It will help our films to get press, some visibility, to have a platform. And it's important to help producers put these films out there as they try to refinance. It's a push to keep going, it gives us some stability."
The plan had been to shoot his France-Germany-Portugal-Mexico-Argentina co-production on and off for a year across Spain, Portugal, Mexico, Brazil, South Dakota, and other locations. It should be relatively easy to restart the shoot in parts of Europe — Moretti and Zardi are busy rearranging budgets and schedules — but Alonso fears it will be difficult to visit locations that are home to indigenous communities.
"It is more complicated than shooting in a studio. They are so fragile as communities and they don't have the same health structures [during Covid-19]," he explains.
Another high-profile filmmaker in The Films After Tomorrow international selection is Lucrecia Martel with Chocobar. The Argentina-US-Denmark-Mexico co-production is produced by Benjamin Domenech, Joslyn Barnes, Santiago Gallelli and Matias Roveda.
Billed as a "hybrid, creative documentary", it is Martel's first non-fiction feature and revolves around the murder of Indigenous activist Javier Chocobar in 2009 by a white landowner. Martel has been researching the project for a decade.
Buenos Aires-based producer Domenech, who works under the banner of Rei Cine, reveals that a dozen-strong team had been about to set off on a month-long final pre-production trip in March, which was postponed.
The main shoot, originally slated for June to December in the Tucuman province in northwest Argentina and Buenos Aires, is now tentatively scheduled for late 2020, early 2021.
Domenech is monitoring the situation in Argentina, and says: "We are working to find solutions to safely quarantine together and are mindful about preventing the spread of Covid-19 in vulnerable communities with less access to healthcare."
He welcomed Locarno's support, saying the project "needs every opportunity possible to underscore the political and cultural importance of the Chocobar case in Argentina and our region.
"The economic importance for the project is paramount," he adds, "since it can help deal with financial hardships related to the current economic and monetary unrest in Argentina, as well as compensate for expenses incurred in the delays and interruptions of the project."
Further projects in the selection include anthropologists and filmmakers Véréna Paravel and Lucien Castaing-Taylor's France-US co-production The Fabric Of The Human Body (De Humani Corporis Fabrica). It is billed as a triple portrait of the human body, the medical profession, and the city of Paris, created through the prism of five hospitals in the north of the French capital.
Paravel says Covid-19 has been a "total disaster" for the project. She and Castaing-Taylor were in Catalonia in March doing research when the region went into a strict lockdown. They found themselves in confinement there until June, without internet access and having to cross four police roadblocks to reach the closest food store.
"[It] has been ethically and existentially hell for us to be making a film about medicine, public health, and new ways to visualise the body, and not to be in Paris during the Covid-19 outbreak to bear witness to it all," adds Paravel.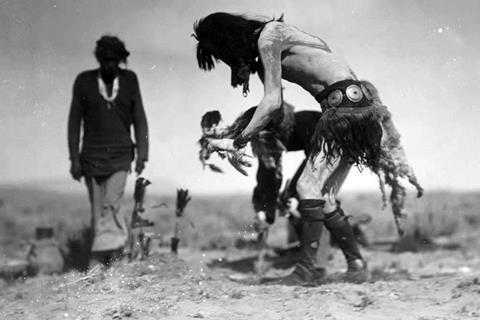 Intimate stories
In the Swiss selection, Anna Luif had a different set of frustrations. The shoot for her film Les Histoires d'Amour De Liv S., which was due to start on June 1 in Zurich, has been postponed a full year until June 2021. The story revolves around a woman in her 30s wandering around the lakeside city as she reminisces over past relationships, showing her love stories in six chapters.
"We can't make my movie with these conditions, it's a story with kissing and hugging and intimacy," says Luif. She has to wait a full year because the story unfolds in summer.
Luif recounts she was feeling anxious about the future of the film from March onwards. "I was so afraid that [Covid-19] would destroy my whole work, that we would start shooting and have to stop in the middle. When we decided to postpone for a year, it was actually better."
She previously screened her short Summertime and first feature Little Girl Blue in Locarno and says "we have such a home there". To receive The Films After Tomorrow spotlight, she explains, "has been something positive this year to talk about, to share something, to communicate. It's really beautiful."
With the shoot of her upcoming film on hold, Luif is writing other projects and continues to develop Les Histoires, working further on aspects such as the locations. "I hope this time will help me to make it even better," she says.
Some of The Films After Tomorrow projects are at later stages of production but still need the boost. Also in the Swiss selection, Raphaël Dubach and Mateo Ybarra's documentary LUX reflects on the human dimension of the Swiss Army. It finished shooting in late 2019 and was supposed to start editing in Paris in February, just as the virus took hold in Europe. As France went into lockdown, they started editing it themselves instead.
"We need to rethink the whole calendar to finish this film and need to find new collaborators for post-production," says Ybarra.
Dubach says he and Ybarra had already jumped a lot of hurdles to get the production to this stage, and that Covid-19 has added another complication.
"We had to convince the military to give us the chance to film inside the institution. Then, we had to build our own production company from scratch. Thirdly, we had to deal with the lockdown due to the pandemic and be very adaptive and reactive," he says.
Both filmmakers agree the Locarno selection is about more than the financial impact. "It brought light to the project, and we are already really happy about it," says Ybarra. "It also helped us to find extra financial support from private institutions as this selection gave credibility to our work, somehow."
The Films After Tomorrow 2020 selection
International
Chocobar (Arg-US-Den-Mex)
Dir Lucrecia Martel
Cidade;Campo (Bra)
Dir Juliana Rojas
Eureka (Fr-Ger-Port-Mex-Arg)
Dir Lisandro Alonso
The Fabric Of The Human Body (Fr-US)
Dirs Véréna Paravel, Lucien Castaing-Taylor
Human Flowers Of Flesh (Ger-Fr)
Dir Helena Wittmann
I Come From Ikotun (Fr-China)
Dir Wang Bing
Little Solange (Fr)
Dir Axelle Ropert
Nowhere Near (Phil-Mex-US)
Dir Miko Revereza
Savagery (Por-Fr-Bra-China-Gre)
Dir Miguel Gomes
When The Waves Are Gone (Phil-Fr-Por-Den)
Dir Lav Diaz
Swiss projects
Azor (Switz-Arg-Fr)
Dir Andreas Fontana
Far West (Switz-Port-It)
Dir Pierre-Francois Sauter
A Flower In The Mouth (Switz-Fr)
Dir Eric Baudelaire
L'Afrique Des Femmes (Switz-Ivory Coast)
Dir Mohammed Soudani
Les Histoires d'Amour De Liv S. (Switz)
Dir Anna Luif
LUX (Switz)
Dirs Raphaël Dubach, Mateo Ybarra
Olga (Switz-Fr)
Dir Elie Grappe
A Piece Of Sky (Switz-Ger)
Dir Michael Koch
Unrest (Switz)
Dir Cyril Schäublin
Zahori (Switz-Arg-Chile-Fr)
Dir Mari Alessandrin