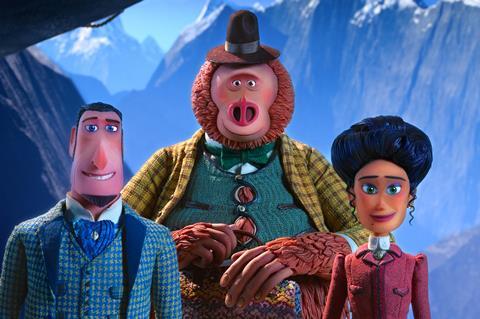 When Missing Link won the Golden Globe for best animated feature, no one was more surprised than the film's writer/director Chris Butler.
"I was genuinely shellshocked and don't even remember being on stage," says the UK filmmaker. "But the surprise was nothing to do with how highly we regard the movie. It was because we were up against the biggest movies of the year."
The stop-motion animation — the fifth feature from US studio Laika — was the true underdog on the night, up against the likes of The Lion King, Toy Story 4 and Frozen II — the second, third and fourth highest-grossing films of 2019 in the US. Missing Link ranked 117th. The win (Laika's first Golden Globe) went some way to vindicate the box-office performance of the film, which had an estimated budget of $100m but made just $26.2m worldwide.
"This was crushing for me," says Butler, whose debut feature was Laika's comedy horror ParaNorman, which grossed $107m in 2012. "We were sandwiched between the release of Shazam! and Avengers: Endgame. What can you do? It's so hard to get noticed in that scrum."
What made the poor performance more surprising was that expectations had been high for Missing Link, Laika's follow-up to Bafta-winning Kubo And The Two Strings on which Butler was co-writer. "Coming off Kubo, Travis [Knight, Laika's CEO] wanted to do something tonally different so, arguably, Missing Link is the most commercial movie we've ever made — certainly the most playful and colourful," says Butler. "But it obviously turned out not to be the case."
It is a burden that clearly weighs heavily on the Liverpool-born filmmaker, who dreamed of becoming an animator from the age of three, enchanted by Disney films like 1977's The Rescuers and the work of stop-motion pioneer Ray Harry­hausen. "Awards season has been great for my mental health because it's given us the chance to get the film out there again and people really love the film when they see it," he says. "But, by far, the most common question I get asked after these awards screenings is, 'When is the film coming out?' People weren't even aware that it came and went. That's what we've got to change."
Five years in the making and inspired by the adventures of Indiana Jones and Sherlock Holmes, Missing Link follows 19th-century explorer Sir Lionel Frost (Hugh Jackman) as he goes in search of a sasquatch (Zach Galifianakis). But what he discovers is a lonely, warm-hearted, intelligent creature who yearns to join his relatives in the Himalayas. Sir Lionel names him Mr Link but the creature names himself Susan, something that was played for laughs in the trailer but was intended as something more important. "I was trying to say something meaningful — that your identity is something you choose, not what others choose for you," says Butler.
Small steps
Next up is the Academy Awards, which has secured Laika's fifth consecutive nomination and while much was made of the lack of women and people of colour in the nominations, the paucity of LGBT nominees was also apparent. "I find the label 'gay filmmaker' annoying because I'm simply a filmmaker. But, of course, you want to change the world," says Butler, who helped include the first openly gay character in a mainstream animated film in ParaNorman.
"I've grown up in an industry where changes are happening but they're just incredibly slow," he continues. "When people talk about animated movies being inclusive, they're not. It's just spin. I want to see more diversity."
Perhaps some of that spirit will infuse the script he is now writing for Laika, but does not intend to direct while he takes a break. "I know it won't be long before I get the itch again," he adds. "I'm thinking about it now, just talking about it. It's an addiction."
Laika famously keeps future projects under wraps but Butler promises its sixth film will be something special. "Some of the stuff we're planning is not just radically different to what we've done before, it is different to what anyone's done before," he adds.
"Travis wants every movie to be different from the one before, he's really prepared to run with that and this will be as unexpected as anything we've done in the past. There is definitely more to come."